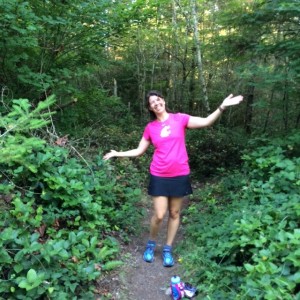 Holy sweat, Batman! I got in a bunch of workouts today even though I didn't fall asleep fast enough last night to get up at 5 and exercise before work. But it all worked out. (Haha. Get it?)
My co-workers went running again today and so I tagged along again. We went at 11:30 a.m. and it was probably close to 80 degrees. We aren't used to that kind of heat (I say that with a wink because I grew up in the Sacramento area where it gets up to the triple digits this time of year), so we ran pretty easy. Guys are funny because I feel like they are very concerned about their pace and if they are running fast enough. Or if they were faster than last time.
We ran 2.87 miles in just under 28 minutes or so.
Then I got home and it was too hot out to do anything with the kiddo outdoors (he's a true Northwest kid: "I hate the sun!"). He LOVES, like LOVES, American Ninja Warrior. So we caught up with that and I got in my Metabolic Effect workout that I'd intended on doing at 5 a.m. This time I used 20-pound dumbbells and I didn't die! Which is nice.
I did the circuit 5 times in 20 minutes:
8 lunge/row
8 chest press/crunch
8 static squat/row/extension
8 squat/curl/press
Then 5 minutes, AMRAP, of: push-ups and shoulder presses with 10-pound dumbbells.
After that, I did my running strength circuit because I knew I was going running later with my friend Renee and I didn't know if I'd have time to do it when I got home. It goes like this:
It is Week 2, Day 2
Pedestal Routine:
20 sec prone (plank)
20 sec lateral (plank)
20 sec supine (plank)
20 sec lateral (plank) other side
Myrtl Routine:
Clamshells x 10 each side
Lateral leg raise x 4 (neutral toe, toe in, toe out) each side
Donkey kicks x 10 each side
Donkey whips x 5 each side
Knee circle forward x 10, Knee circle backward x 10 each side
Hurdle Trail Leg forward x 10, Hurdle trail leg backward x 10 each side
Lateral leg swing x 10 (keep hips and shoulders quiet), Linear Leg Swing x 10 bent knee each side
After that I played Jenga Angry Birds with Karsen and we ordered pizza! But I only had a breadstick because after the hubs got home, I headed out to the nearby trails with Renee!
Have I mentioned how much I love trails?!
These are in a new growth forest area like 5 minutes away. It is an area where I've seen a bear before. But our bears are more scared of us than we are of them (I doubt it). SOMETHING was moving in the bushes twice on the run and I about jumped out of my Lulu skirt. "Save me, Renee!"
I did have my pepper spray, but halfway through the run, discovered I'd put the strap on backwards and so if I'd try to spray it, I would've sprayed myself. Brilliant. Anyway…
Trail Selfie!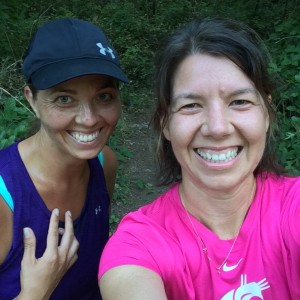 We ran 4.24 miles in about 53 minutes. I talked loud the whole way to scare away the bears. Really not that different than how it usually goes on runs with me…even without bears.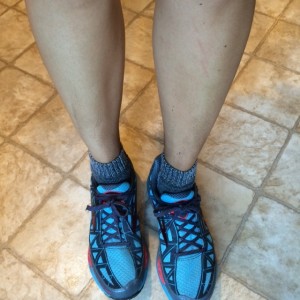 I'm SO stoked for Saturday's trail run.