I was just thinking this morning about how life can throw you for a loop sometimes and then, well, it happened here at our house.
T Junior was warmer than normal when he got up this morning. I took his temperature and discovered he had a fever. Advil. Nap. He seemed better afterward. He played. He ate and drank. But then (I assume after the Advil wore off), he got very hot and lethargic. At dinnertime, his temperature was 103.
We gave him Advil and put him to bed. But mostly what worried me was his behavior and his fear of standing up or resistance to being touched much. The after-hours nurse said to check him throughout the night and then call back if he wasn't improving.
An hour after bedtime, he still felt very hot. And I started to freak. I'm super paranoid about fevers because T Junior had a fever when he was five months old and it turned out to be salmonella sepsis (salmonella that seeps into the bloodstream). He was hospitalized for a week and he very well could have died, and it was the scariest thing I've ever been through in my life. I doubt I will ever get over it completely.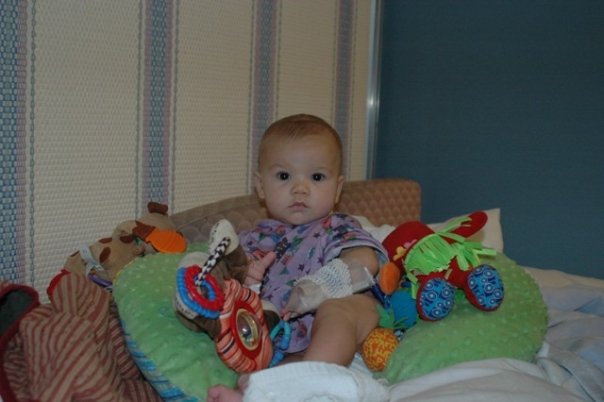 T Junior in the hospital in 2008 — after the antibiotics kicked in.
So, I try to be reasonable, but inside I was strrrrrrressssssssed. Add to that, I was supposed to get up before 5 a.m. Sunday to go run 20 miles with my awesome running buddy, Zoë.
I started to freak out, cry. I said, "Maybe I should cancel the 20," and Mr. T nodded, but in an understanding way, which made me feel better. I was in the midst of contacting Zoë every way possible when Chelsea, another awesome running buddy, texted me. I told her what was going on and…basically she talked me off the ledge. And I got ahold of Zoë, and of course, she completely understands.
So grateful for my amazing friends.
And my husband. Tonight, Mr. T asked T Junior, "Do you have a man-cold?" And T Junior whimpered, "Yes."
Twenty is going to have to wait. I'm a little upset about it. But. I've got a sick little boy who needs his mommy.
Happy Mother's Day!