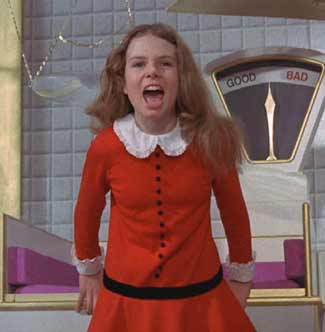 I have Veruca-Salt mentality.
I want it now. Doesn't matter what it is. I want to, have to, gotta have it right this very second. I want to be a marathoner. Tomorrow. I want to be an author. Yesterday.
So this will probably be one of my most challenging goals in 2011: have patience.
Does anyone know where can I get some of this quickly? They don't sell it on Amazon (yet), which is a shame because I have free 2-day shipping.
In order for me to figure out how I'm going to get me some patience, I reflected on why I am so impatient. There are a couple of reasons, I think.
1. Fear of dying. It may sound silly (not to mention, morbid), but I'm afraid I'll die before I get the chance to accomplish things. Especially the biggish things like the marathon and the book-writing stuff. I'm not so worried about ever catching up with the giant pile o' laundry in the master bath or finally painting the living room. But I can't even think about sitting next to Mr. T at T Junior's college graduation, wedding, etc., without getting a panic-attack. It's just that I know God has a plan for everyone, and obviously, I don't know what the plan for me is. If only I could get a sneak peek.
2. Losing momentum. I am a deadline-driven person. I need deadlines. I thrive with them. In fact, without deadlines I just sort of…eh. So, I fear if I don't act on my dreams right away, the enthusiasm I have for them will peter out. This spins me into a fury of "do it now" madness and I lose sight of other things going on in life. Not good.
Here's what I'm going to do about Number 1. I'm going to find some mantras. And when I'm feeling panicked or stressed, I will close my eyes and repeat the appropriate mantra. I just need to accept that I can't dictate my future, or the futures of my loved ones. (Honestly, that last sentence makes my heart race…must close eyes and breathe.)
Mantras for:
Life: "Que cera, cera" and/or "Breathe in-1-2-3, breathe out-1-2-3"
Running: "Slow and steady finishes the race"
Toddler: "1, 2, 3, 4, 5, 6, 7, 8, 9, 10"
3 Dogs: "11, 12, 13, 14, 15, 16, 17, 18, 19, 20"
Writing: "Think local, write global" and/or "Just 30 minutes"
Now, for Numero dos. I've been running for a year and a half now. I think I will be okay. I mean, I don't think I'm just going to up and stop running one day. I have no desire to stop running. I also love working out more now than ever before. I just like to get in a good sweat! I don't think I have to worry about this one.
Writing, on the other hand, is easy for me to stop. Writing is difficult and I don't actually like the initial act of writing. I looooove re-writing – carving creativity out of crappy first drafts. But the first-draft spewing is often daunting, discouraging and disgusting. I need to make writing a habit, just like exercising. Mr. T is on board to help me with this.
We are making some room-assignment changes in our house. This means the old TV room that never gets used will become more of an office-library with a big-girl desk and a real chair that's more leg-circulation-friendly than the old IKEA number we've got now. The nice TV will go in our room, up on the wall, and I'm envisioning us with our pillows and a huge bowl of popcorn in front of a movie. I can't wait!
But there is much to be done. So I will be patient. Breathe in-1-2-3, breathe out-1-2-3.