The Seattle Half Marathon was my first half marathon back in 2009. As my friend Carla pointed out to me, I've changed a bit between then and now. Click on the link to read my 2009 Seattle Half Marathon Recap. For the 2012 version, read on.
But please note: I like to take you on the run with me so my race recaps are long. They need an editor, but they are full of things I don't want to forget, or that I know I'll enjoy reading later. So I choose not edit them too much.
Race Morning
At 4:50 a.m. Sunday, I was calm and not even concerned about being overweight and undertrained for the 2012 Seattle Half Marathon.
Two things: 1) I ate my weight in pecan pie the week leading up to the half; the results of which I could see in my middle section. I was five pounds over where I would've liked to have been for the race. 2) My longest run was 10 miles on November 4 (and it wasn't a particularly good long run either, as it left me doubting the ability of my left ankle, which became very sore around Mile 7 of that run). My runs after that day were few and far between.
Saturday night, I was smart and got everything ready. I tried on my outfit—silver Team Sparkle skirt over my favorite cold-weather Saucony Ignite capris and my pretty fuchsia Lululemon jacket, which has these cool zipper vents on the front. Wearing my race outfit, I peeked in the bathroom to check on my son, who was getting ready for bed. "That's a pretty dress you have on, Mom!"
Before I went to bed, I put all my clothes together, put my timing chip on my shoe, found safety pins, made sure my watch was charged, put an extra foil blanket in a bag to take with me, etc.
I got in bed shortly after 9:30 p.m. Despite feeling tired, and no matter how much I told myself I wasn't nervous about the race, I still tossed and turned for over an hour. But at 4:50, when my alarm clock sang Christmas songs, I calmly got up, walked over to it, tapped the snooze button and went back to bed.
A few minutes later, I got up for real. It didn't take me long to get dressed since I had done all the work the night before, and I was thanking myself for that. My brain is slow in the morning. Once fully clothed, I went downstairs, and toasted two pieces of Ezekiel bread then made a PB and honey sandwich. I also grabbed a banana to eat just before the start.
When I went to the expo on Saturday, I purposely drove to the race start so I could check out the parking situation. In 2009, I parked at the garage right next to the start line, and it was perfect. So I knew where I was going for 2012, too.
On Sunday morning, I went out into the dark to get in my car and realized it had ice all over it. Cursing, I scraped the windows. I was already 10 minutes late to leave. Making toast took longer than I thought it would. Then down the road, it got really foggy and I had to slow down in places because I couldn't see. But once I was on I-5 headed toward downtown Seattle, it wasn't too bad and the traffic was light. I ate my sandwich and listened to my race playlist.
In Seattle, I had to sit in line to get into the $12 parking garage, but that garage is worth it! I was plenty early and pulled into a spot at 6:30 a.m. I sat there for a bit, then decided to go use the Honey Buckets before it got too busy. No lines yet!
By the way, I had my banana in my pocket and nobody even made a joke! Lame! An older man with wispy white hair asked me where to check-in, though, which I thought was funny. He already had on his bib and timing chip. I assured him there was no check-in and he could just hang out till the start. By the way, if this was his first race, then that really shows you that you are never too old to start!
Some of us bloggy friends had decided to meet in the coffee shop near the start and I realized it was basically one level above my car in the corner of the parking garage. So, it was coffee shop, a flight of stairs, my car. Nice.
I huddled in a corner of the open-to-the-parking garage coffee shop (not as cold as outside, but still chilly). At about 7 or so, Tiffany (Musings of a Runner Girl) and Alyssa arrived in purple Team Sparkle skirts and fun, crazy leggings. I ate my banana as we chatted. Then Zoe (Run, Zoe, Run) appeared in her purple Team Sparkle skirt. I must've missed the Memo on the skirt color.
Tiffany was running with a first-time-halfer friend. Having done that before, I knew they would have so much fun! Zoe and I decided we would start the race together and go from there. Zoe hadn't run double digit mileage since August, so she wasn't sure how she was going to feel.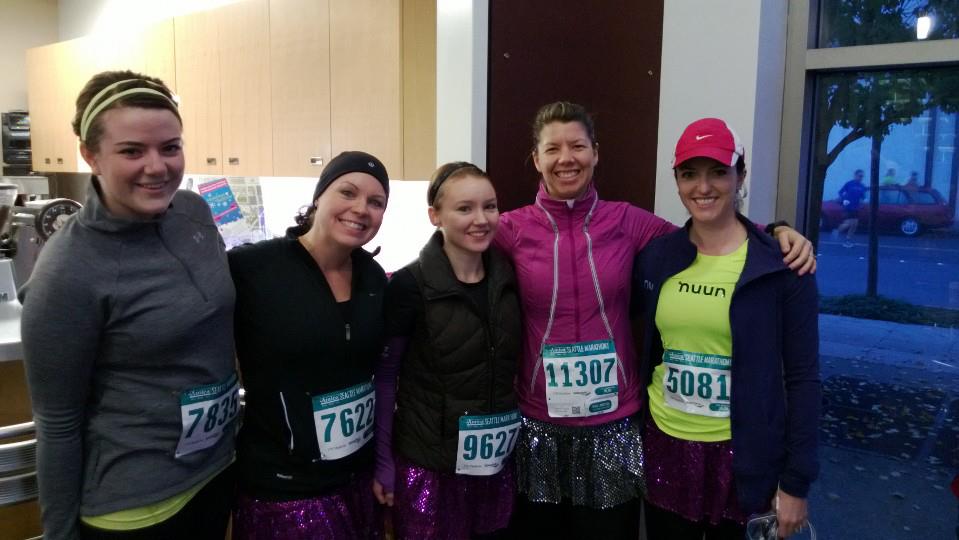 I didn't really have a solid plan for this race. I wanted a sub-2, and my pie in the sky goal was a 1:55, but I knew the course had hills and I knew I was undertrained. So, I wasn't expecting that and I wasn't really planning on trying for it. Just thought it'd be nice if it happened, you know?
We got a quick photo all together in the coffee shop, then we all walked across the street to the start. Zoe and I had to thread through a thick pack of runners to find a place between the 1:55 and 2:00 pacer. It was crowded, but we were only in there for a couple minutes before the National Anthem was being sung (really well, by the way), and then we were off. It only took us about a minute to cross the start line.
Mile 1
The Christmas lights on the shops and trees on 5th Avenue looked magical in the slight fog that was hanging in the air. The first mile, though, was a pain. It was very crowded and people were aggressively vying for position. Some people fell. I just hoped to make it through the first mile, which is slightly downhill, without that happening to me. Zoe and I pointed out funny stuff as we ran, including a woman in gold lamé bike shorts. Wow.
Zoe and I had the same idea to bank some time here, but it was hard with so many people. We had to weave a lot. The monorail thundered overhead at one point and I was reminded of my first half, this one, in 2009.
Crowded streets and varying paces slowed us down on Mile 1: 9:11
Mile 2 & 3
Most of Mile 2 is slightly downhill, but then turned onto the onramp. The onramp is almost a mile-long gradual, banked uphill. It just kept going and going. Not a lot of talking going on for half of the second and most of the third mile.
Downhill/uphill time for Mile 2: 8:29
Going up the on ramp on Mile 3: 8:51
Then, once you get into the I-90 tunnel, it flattens out. But almost all of Mile 4 is in the tunnel and my watch lost its signal right after we got in there. I skipped the first water stop in the tunnel.
I chose not to carry water or Nuun during this half because I wasn't really shooting for any particular time goal or anything. Zoe was carrying Nuun in a handheld. Smart girl.
No signal means Garmin recorded a wonky time for Mile 4: 12:13
Mile 5
The first few miles were over in a flash, and we were soon making our way down the steep hill that gets you off of I-90 and onto Lake Washington Blvd. In 2009, I was angry at the walkers going down this hill. But I was dumb then. Those people probably didn't get 10 blisters. This year, Zoe and I jogged down it, being careful not to fall or lose control.
On Lake Washington Blvd., it's mostly flat, and it is normally quite scenic. But the fog prevented us from even seeing the shore. The lake was completely covered.
I braved my first water stop. They are always so chaotic. I took some Gatorade and my hand was completely sticky afterward. Ew. I wished I'd grabbed water just to wash off my hand! I was hoping the Gatorade would help the side ache I was suffering from a little, but it didn't. I decided I would take a gel soon and hopefully that would help.
Somewhere along Mile 5, I was telling Zoe the story about seeing a boxer along this section of the race in 2009. My dog, AJ, passed away suddenly (and in my lap) a few weeks before that race. He was only 6. Seeing that boxer during the race in 2009 was like my Jayjers was there with me in spirit. I even crossed the street to pet this dude's dog.
As I was telling Zoe about it, we saw a boxer! I don't think it was the same one, but the timing was crazy!
Then, I think it was shortly after this that I somehow spotted Erika (This Spartan Will). I haven't met her in person, but I've been following her blog for a while and watching her Ironman training. She completed her race the weekend before Thanksgiving. Zoe and I got excited and waved. I can't tell you what a lift it is to see a familiar face in a crowd. Spectators are awesome.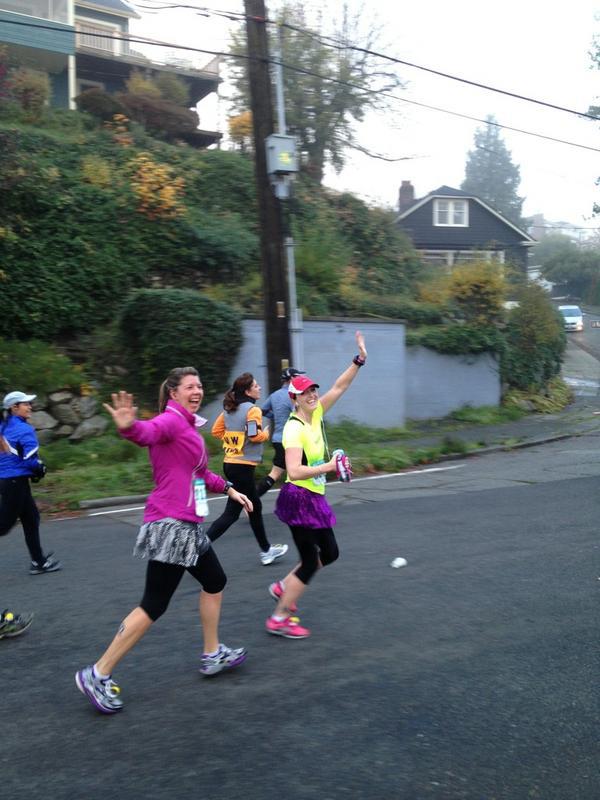 Just after 45 minutes into the race, I took my first PowerBar gel, then grabbed more Gatorade at the next water stop in the middle of Mile 6 to wash it down. I was right. It did help. My side ache went away…for a while.
Nice and flat, but Garmin was still confused from the tunnel Mile 5: 5:12 hahahaha!
Mile 6
"What's that clicking noise?" Zoe wondered aloud. I hadn't heard it, but now I did. "Sounds like you have a little rock stuck in your shoe," I said. "Wanna stop and get it out?"
She didn't, and we ran along to the soft click, click, click sound. I couldn't believe how fast the first half of the race had been.
Mostly flat and a normal Garmin signal for Mile 6: 8:46
Mile 7
Suddenly we found the Nuun crew spectating and Kim W. in her blue Team Sparkle skirt! She was refilling her handheld, so we ran on, thinking she'd catch up.
Mile 7 had a decent hill that challenged us. I remember nothing of this hill from 2009, so I was only expecting the giant double-hill that would come later to take us away from the lake to the arboretum. This one was a surprise, but we tackled it.
We ran along some nice winding roads in a pretty neighborhood. I think this is when Kim W. caught up to us. We chatted as we ran.
Fun times made for a quick Mile 7: 8:59
Mile 8
Zoe made a groaning noise.
"What's the matter?" I looked up. Oh. There it was. The left turn to the first part of the big giant double-hill. "I'm not going to kill myself on this thing," I said.
We started up the two-parter, then I slowed to a power walk. Zoe hung back with me. Kim W. powered up the hill within a hill. Walking felt good and it let us stretch our calves. At the top of the first part of the hill, a nice dude passed us and encouraged us. "We're just stretching!" I jokingly retorted. We were able to jog up the second part, though. I spent the rest of Mile 8 catching my breath.
The two-part hill made for a challenging Mile 8: 9:39
Mile 9
We knew Sybil (Sybil Runs Things) would be spectating just before the turn into the arboretum around the end of the ninth mile, so it gave us something to look forward to.
But my side ache was back. I knew it'd probably go away if I had my other gel, but I was determined to make it to 1:30 before taking it. I'd need it for the end because I knew there were some more hills before the finish.
I think the Seattle Marathon gets a bad reputation because of the hills. Yes, there are some real challenging hills. But there are also a lot of long downhills. Plus, the scenery is so pretty and distracting. Especially the arboretum.
Lots of spectators during Mile 9: 8:53
Mile 10
As we turned into the pretty trees section of the race, we spotted Sybil with her daughter! Another nice dose of energy from awesome spectators. And we also saw another boxer!
The roads wound through the arboretum for a little over a mile, I think. It is absolutely gorgeous and peaceful in there. But watch your step. The asphalt is cracked in many places. Actually, there are a lot of bad roads throughout the entire half. But that's Seattle for you.
I think it was in here when Zoe realized where the clicking was coming from. "That clicking sound," she said, "is my ankle!" A man in front of us turned around, made a face and said, "Oooooh." Yeah. Not good.
I took my last gel and got a water cup, as suggested by Zoe, at the next water stop. I dumped out the water and she squirted some Nuun into my paper cup. This was a tricky procedure. We must've looked ridiculous. But oh man. I really regretted not bringing Nuun. I do all my long runs with it. I needed those electrolytes on Sunday. The side cramp was really bugging me.
In hindsight, I may have also eaten too close to the race. I had my sandwich about an hour before, but then ate my banana only about 20 minutes prior to the start. I probably could've eaten my sandwich 1.5 hours before and eaten my banana with about 45 minutes left. I think all the blood went to my tummy to digest my food during the race thus causing the side ache. That's my theory anyway.
Zoe and I trucked on, but by the time we left the arboretum, my left ankle, which had been aching a little, started bothering me more and more.
As you leave the arboretum, there was a dude in devil horns tempting runners with Krispy Kreme doughnuts. I think he's there every year.
Pretty scenery for Mile 10: 9:04
Mile 11
My inner left ankle. I have to really focus on landing evenly on my left foot and then running through the step and pushing off of my big toe. My big left toe does not bend well, and after years of unconsciously avoiding pushing off of it while running (and walking!), I have taught my foot to do some funky stuff. I think this is why my ankle gets sore—from the funky swivel action I do to realign my foot with the ground.
I also do this thing where I scrunch up my left foot. My right foot is perfectly relaxed while my left foot is trying to make a fist. I have to think about relaxing my left foot.
Leaving the arboretum, we turned and there was another big hill. It was about Mile 11, and I was feeling ready to be done. My ankle was bugging me and I was ready to pick up the pace and get this thing over with. We started up the hill and Zoe's ankle was really hurting. She waved me ahead on the hill.
I couldn't stop. I knew if I stopped, I wouldn't be able to start up again, so I went on. And the faster I went, the less my ankle hurt. What's up with that? So, I just tried to keep the pace around the 8:30's.
As I ran a little faster toward the finish, it made me think of this English setter we had when I was growing up: Shelby. She wasn't a big fan of going on walks. What dog doesn't like a walkies? Her. You had to drag her off of our street. But on the way home, she would sprint! She wanted to be done! That's how I felt.
Heading home during Mile 11: 9:00
Mile 12
The race had reentered the city and I could almost taste the finish line. We ran through downtown, mostly down hills, then it flattened out for a bit. Around Mile 12, I saw Erika again! I was running hard, though, and all I could muster for a pose for her camera was to hold my index fingers up. When I did it, I thought, "What in the heck kind of pose is this?!" But it was all I could do except smile. Luckily, she got one of me without my disco/we're number 1 fingers.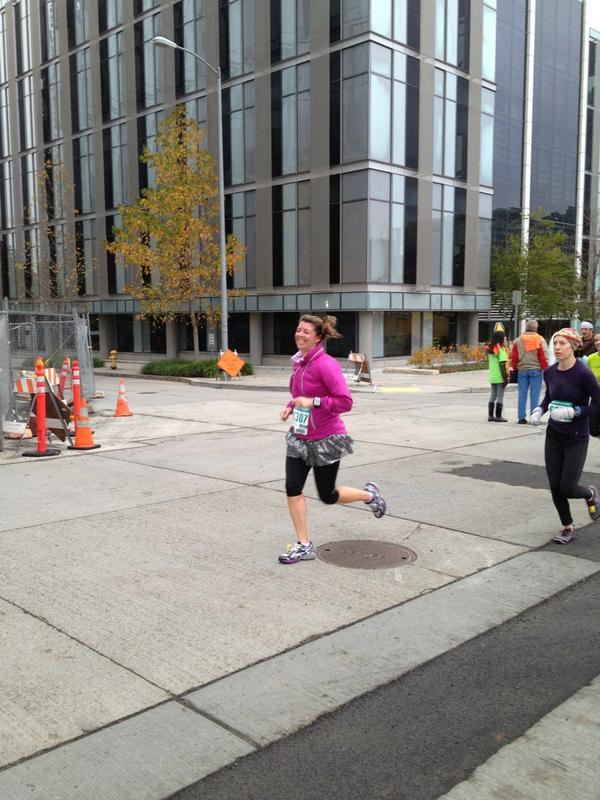 Right after that, I saw a girl pass me with freckles and red hair. I knew my college roommate was running the half—I hadn't seen her in years, but we'd reconnected on Facebook. I thought it was her, so I tried to catch up and say "Hi." This girl was hauling and totally in the zone. I caught up enough to realize it wasn't my friend, though, so then I backed off a bit. I knew there was another hill right before the finish.
Trying to catch another runner during Mile 12: 835
Mile 13
Pretty soon, I was heading up the hill on Mile 13 and I could hear the cheering at the finish line, which is on the field inside Memorial Stadium. Michael Jackson's "Don't Stop Till You Get Enough," came on my playlist.
I pushed as hard as I could through the finish chute. I love finishing on the field. The turf is soft and bouncy and you can really go. Your feet hurt from 13 miles of broken asphalt, but when you hit the field, it's like, "Aaaaah!"
I sprinted across the field, trying to pass people and find a good spot to cross where I might get a good photo. I threw my hands in the hair and crossed the finish.
Running to the finish in Mile 13: 8:18
Only .33 to go: 8:19
My final chip time was 1:57:53.
The Finish Area
Once stopped, I got my medal and about a minute later Zoe was there. I then regretted leaving her back at the hill knowing she wasn't that far behind me. But we'd agreed to start the race together and then split if we needed to, I guess.
We got our foil blankets from some adorable kiddos, and a volunteer, Kaye (sp?), said "Hi" to us and that she reads our blogs. Shout out to you, Kaye! Thank you for volunteering!
I have more thoughts on this race, but I'll save them for another post. This one's been long enough.
Overall place: 637/3663
Division place (35-39): 112/623
Chip time: 1:57:53
Official time: 1:58:57
Splits: 59:39, 59:18