1. Speed is Relative. Compare your new fast times only to your past times. Most of us are not looking to qualify for the Olympics so there is no reason to compare times to other runners out there.
2. Training. You can't get fast overnight. Most "fast" runners don't start out "fast." It takes some time, and some work to train your legs to turn over at a faster rate than what they are used to. (It has taken me two years to get to "my fast." Training should include a combination of speed work; long, slow runs; cross-training and rest. You don't need to run "fast" all the time to get faster.
3. Believe. If you want to run faster, believe you are fast. Think like you are fast.
***
I didn't do my long run on Saturday this week because we went to Pullman for the first Washington State University football game of the year. It was extra special because Mr. T's dad was going with us, and T Junior was sooo excited to go. Also, two of my Hood to Coast teammates live in that area, so I got to meet up with them!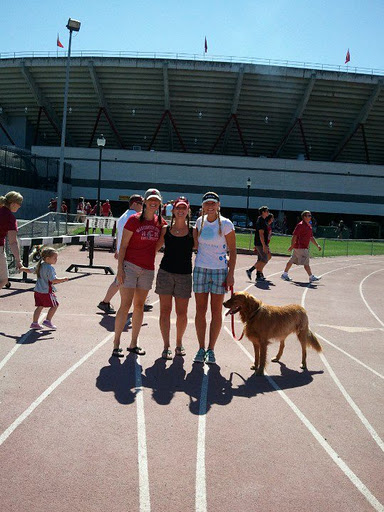 Okay. Now we are being normal. This is the same track where
I wandered out of my dorm room and ran 5 miles one night when
I was homesick in college.
We met near the track because they had kid activities for Harmony's kids and my kid. Well, my kid was too scared to go on any of the blow-up toys (bouncy house, obstacle course, slide). Instead, he could've stayed at the football-throwing thing all day.
I didn't get to visit with Harmony and Jess very long, though, because T Junior was tired and cranky (his fault for keeping us all up in the hotel room Friday night – argh). But I got to meet Cooper and see my friends for a few minutes, which was great. Thank you for coming out to see us, Jess! (She wasn't even going to the game!)
On Sunday, I completed my second to last long run before my half (coming up on Sept. 18). The schedule called for 9 miles with the final 5K at goal pace (8:47). Since my father-in-law is visiting, I didn't want to tack time onto my run by driving somewhere, so I did my 3-mile neighborhood loop three times.
The loop is actually good practice for the You Go Girl! Half since it has a combination of hills (up and downhill), sidewalk running, road running, and dirt and gravel running. I have not run the YGG 13.1, but I did the 10K last year, so I know at least half of the course.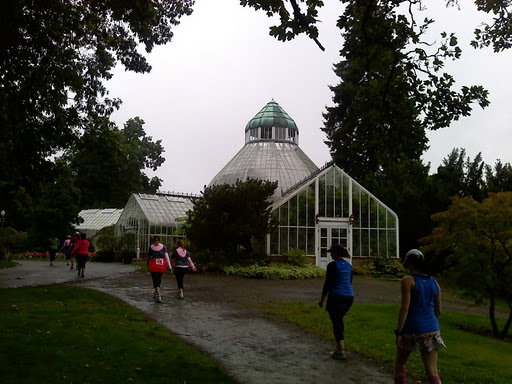 Last year's You Go Girl was muddy on this section.
Hoping for dry weather this year (but not too hot).
The loops proved easier than I thought they would (as in, I didn't get bored), and it was nice that they are almost exactly three miles, so I knew how far I had to go. Before the final loop at goal pace, I dropped my handheld off at my house, and I remembered I needed to run a virtual 5K, so I decided to add .1 on to the end of my run.
Mel (Tall Mom on the Run) made me a great plan, and an 8:40ish pace is no longer as tough as it first was. This is my training paying off. This pace isn't easy, but it's not so hard that I can't hold it for a while. I am, however, feeling a bit heavy. The scale says I'm only up a pound and a half, but I have not done any cross training in a couple of weeks, so I will be getting my 30-Day Shred on Tuesday and again Thursday.
Paces:
1: 9:36
2: 9:36
3: 9:28
4: 9:35
5: 9:39
6: 9:41
7: 8:26
8: 8:40
9: 8:27
.1: 0:51 (8:26 pace)
On Monday, I was supposed to run a 4-mile recovery run. But, with my FIL here and the travel over the weekend, I was so tired. I needed to sleep in. I wasn't sure I'd get to run, but I didn't let it bother me. Turns out, I did have a chance during T Junior's nap. I took Bennie with me and set out with the goal of two miles. Not the four I had scheduled, but oh well. I knew taking Bennie would help me stay at a slower pace and take it easy. (Sometimes, I look at my watch too much and want to run faster when I don't need to.)
We walked and ran, but we didn't quite make it to two miles (1.8) because of the heat. Once home, Bennie got comfy in his favorite spot: on top of the air-conditioning vent.
Later on, we went to get T Junior some new shoes. He picked out "running" shoes: black NIKEs with neon soles! He also liked a pair of Bratz Dolls sparkly cowgirl boots, but they weren't available in his size…