Four.
That is how many pounds I put on in November. And to think how long it took me to work four pounds off…no, don't think about it, it's depressing.
However. Imagine if I had not been running, even for the few (glorious, sunny) times that I got to go during vacation. Imagine if I had not been, at least, conscious of what I was eating. It's a scary picture.
I don't know how Southerners stay thin. There's just too much good food there. And lots of it: from Café Du Monde's famous beignets to daiquiris in the daylight on Bourbon Street and buttery biscuits with more butter to pancake-batter French toast on paper plates at Lily's Café in Northwest Florida. (But not the $5 buffet in Pascagoula, Mississippi. It's like Mr. T said, "Don't go to five-dollar buffet expecting a 10-dollar buffet." He is so wise.)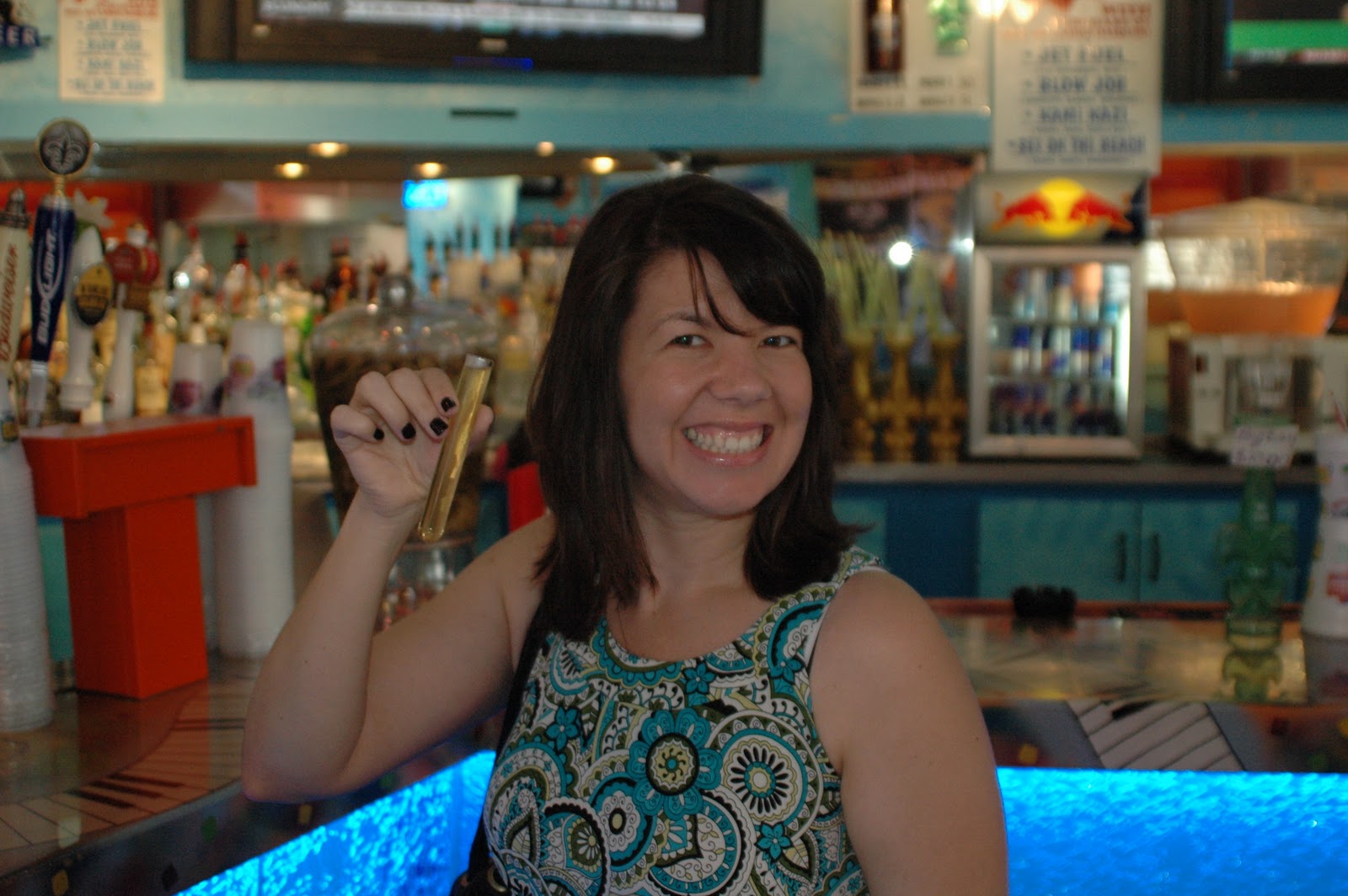 A free shot with my daiquiri? Why, yes, I think I'll take that.
Then, just when I thought I was out of the woods (er…in Seattle), Thanksgiving lured me to its cozy cabin with wine and eggnog and pecan pie. And the part of my brain that resists foods like these was completely warped from the South.
So, now, it's December and I'm back up to 160.8. And, now, I'm going to be aiming to take off the four pounds I gained in November. I know some people will say, "Why? Why try to lose weight in December? Just wait till January like the rest of the country."
But that's FOUR weeks I would be wasting. So, in honor of the four pounds I put on and because there are four weeks in December, here are four things I will be doing in order to lose weight before the new year starts.
1. Do the math. If I'm really good at counting my Weight Watchers points, I lose weight. That means counting (and writing down) everything that goes in my mouth. Even Christmas cookies. It's like that article in Runner's World said a couple months ago (to paraphrase): Losing weight is all about calories in, calories out.
2. Drink water. Water's basically free, right? But you'd be surprised how difficult it is to drink it while on vacation (especially when people are offering you free shots and stuff). Unfortunately, I got out of the water-drinking habit and have been having some trouble getting back into it. Not only is water good for you, it fills you up so you make fewer trips to the secret chocolate hiding space (not that I have one). It also cleans you out. Now that I'm reunited with my trusty water bottle, I soon hope to be running to the bathroom every five minutes again.
3. Go to bed. I need to go to bed earlier during the week. If I don't go to the gym before the day begins, I will not go. So I need to get to bed early enough to get at least 7 hours of sleep before rising at 4. Um, that means 9 p.m. (…which happens to be one minute from right now).
4. Cross-train. The problem with running is that on the days I don't do it, I tend to do nothing. I still need to burn some calories on those days. I will be hitting up the gym for some ellipticalling and biking adventures!
Well, now. That doesn't seem too difficult. (Famous last words.)