Running a marathon is a great goal. You accomplish something only a small percentage of the population dares to do. You experience setting out and accomplishing something big. And you get to put that 26.2 sticker on the ass-end of your minivan.
Buuuuuut. Let me tell you something about marathons.
You have to train for them. And training for a marathon is like being in all 9 circles of hell at once…for six straight months.
Here, friends, let me show you the 9 Circles of Marathon Training Hell.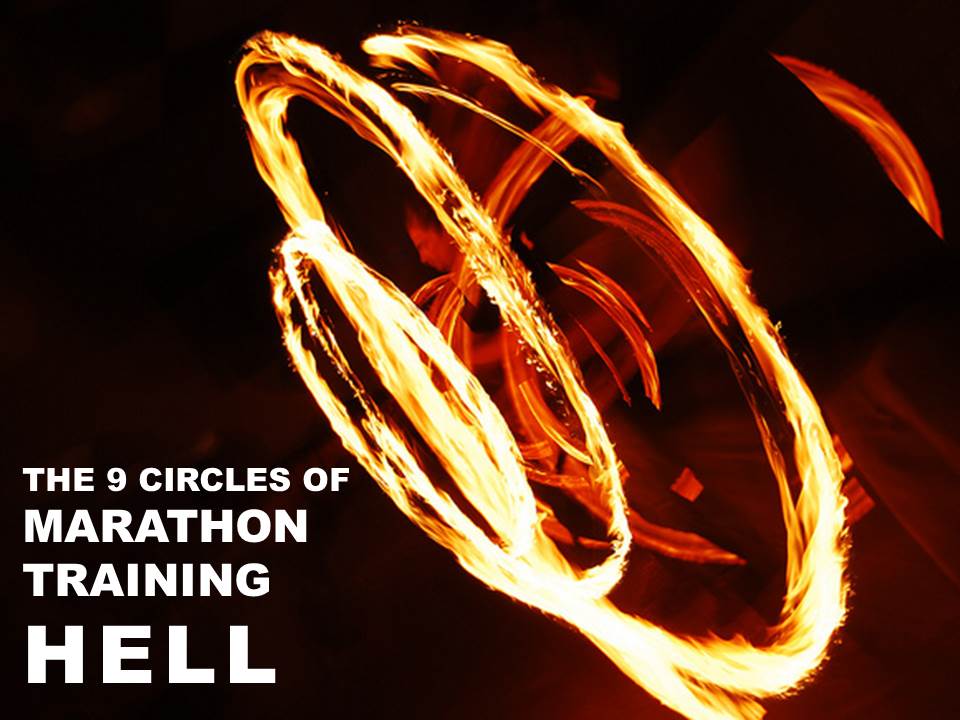 Limbo.
Should I even run this marathon? you ask yourself over and over again. You will continue to ask this while you are running the actual marathon.
Lust.
Oh, how I wish I was already done with this thing like *insert friend's name here*.
Gluttony.
Why the f*ck is my stomach getting so fa…ooh look! Someone brought donuts! Well, since I ran today…
Greed.
Okay, I need new shoes, and I have to drink water, duh, so I definitely need a hydration pack, and I don't want to get blisters, so of course I need $50 socks, honey, and…you know what, I should see what's new at Lululemon.
Anger.
Why the hell did I sign up for this stupid race? I don't even like running!
Heresy.
Every time I meet a new runner: You know what? Running's not even good for you. It's all about lifting weights and eating protein.
Violence.
This is brought on by a constant state of "hangriness." GET OUTTA THE WAY OF THE FRIDGE OR I'LL TEAR OFF YOUR ARM AND EAT IT WAMPA-STYLE.
Fraud.
What the shit am I even doing? Am I like the slowest runner on Earth? Does this even count as running? Because this feels like walking briskly.
Treachery.
Husband: How long's your run?
Me, every time: Two hours.
Actual time: Three hours plus stretching plus rolling plus bathing plus napping.
So, can you relate?