If you knew me in the 8th grade, saw me walking the dog yesterday, or you are my mother, you may be surprised to learn that I strive to be fashionable.
I like to think I can put a stylish outfit together–not as well as someone like Rachel Zoe, but somewhere between her and Amanda Bynes.
So it makes sense that putting on cute workout clothes is one of the ways I motivate myself to go run.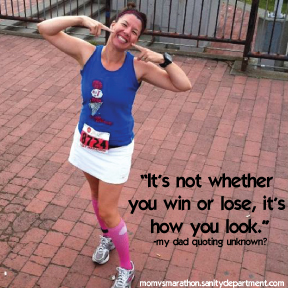 Maybe other people's motivation is something less superficial, like weight loss, sculpted calves or bragging on Facebook. But for me, it's also those things and cute running clothes.
I thought I would share a few of my favorite running outfits with my totally real Internet friends (not you, Spammers, I hope you comment on a site that gives you a Trojan virus where the sun don't shine–your parents' basement. BOOM!):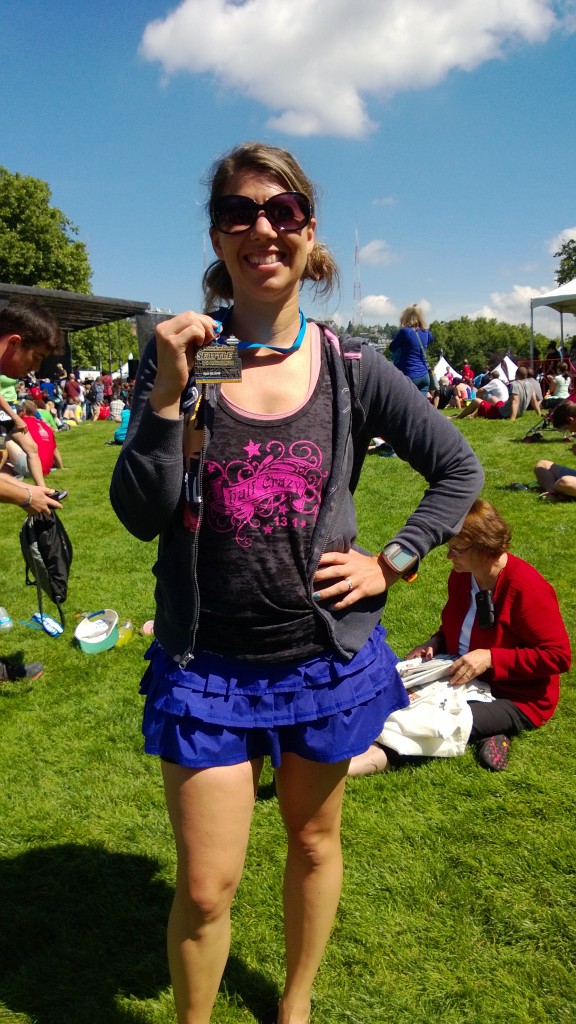 Behold! I feel sassy in my running skirt from Lululemon. This is a difficult feeling to achieve when you're almost 36.
I'm not really sure of any other time in my life that I've felt sassy. Snippy, yes. Sassy, no.
Here's a bit of advice: If you are in the Lululemon dressing room deciding between a $70 ruffle skirt and the $90 crops (Lululemon's fancy word for capris), get them both.
Sure, you won't be able to buy groceries for a week, but you've been wanting to use that six-year-old bag of dried porcinis anyway.
And now here's a chunk of advice: If you are a person who enjoys getting honked at from sick people who think it's funny to honk at runners, then definitely wear a Lululemon ruffle skirt during your run through an industrial area on your lunch hour.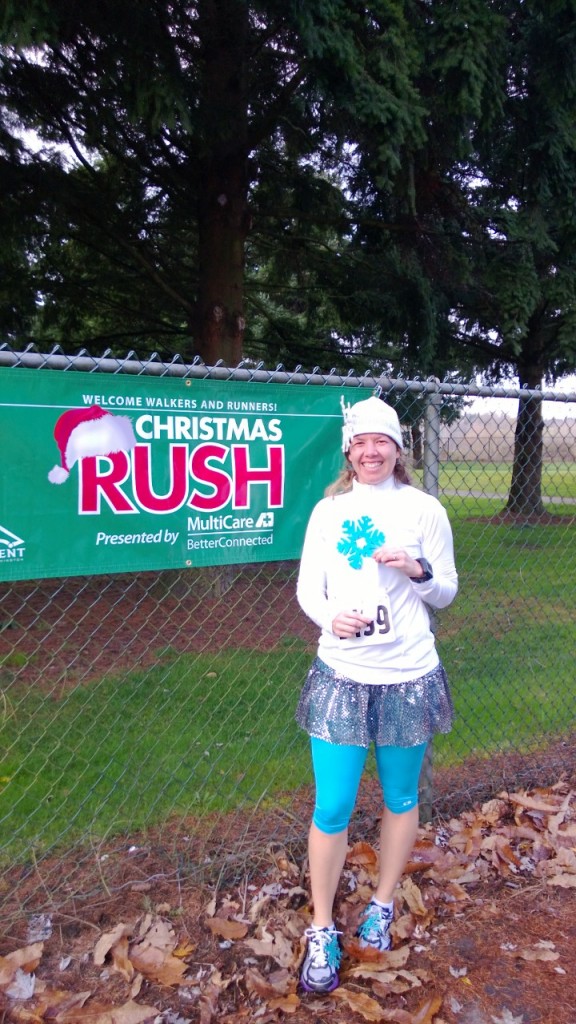 If you want to look fabulous and glittery while running, you cannot go wrong with a Sparkle Athletic skirt (formerly Team Sparkle).
As my dad used to say, "It's not if you win or lose, it's how you look."
Except I did win something at the Christmas Rush 5k: 3rd in my age group.
All I got was a ribbon. I felt pretty special carrying it back to my car, although my friends had gone home by the time I collected my piece of shiny white fabric, so I was only able to show it off to two women who I corralled into taking my picture in front of the race sign, and who possibly talked about what a no-friend loser I was while they walked back to their vehicles.
Know this: One must be brave to wear a sparkle skirt on a training run. If I get honked at in my ruffle skirt, I don't even want to know what drivers would do to me in a sparkly skirt.
Once, when I was running, someone (definitely a teenage boy who was in a hurry to restock his bathroom cabinet with acne cream) threw a Slurpee at me.
And I was wearing pants!
Slogans on Running Shirts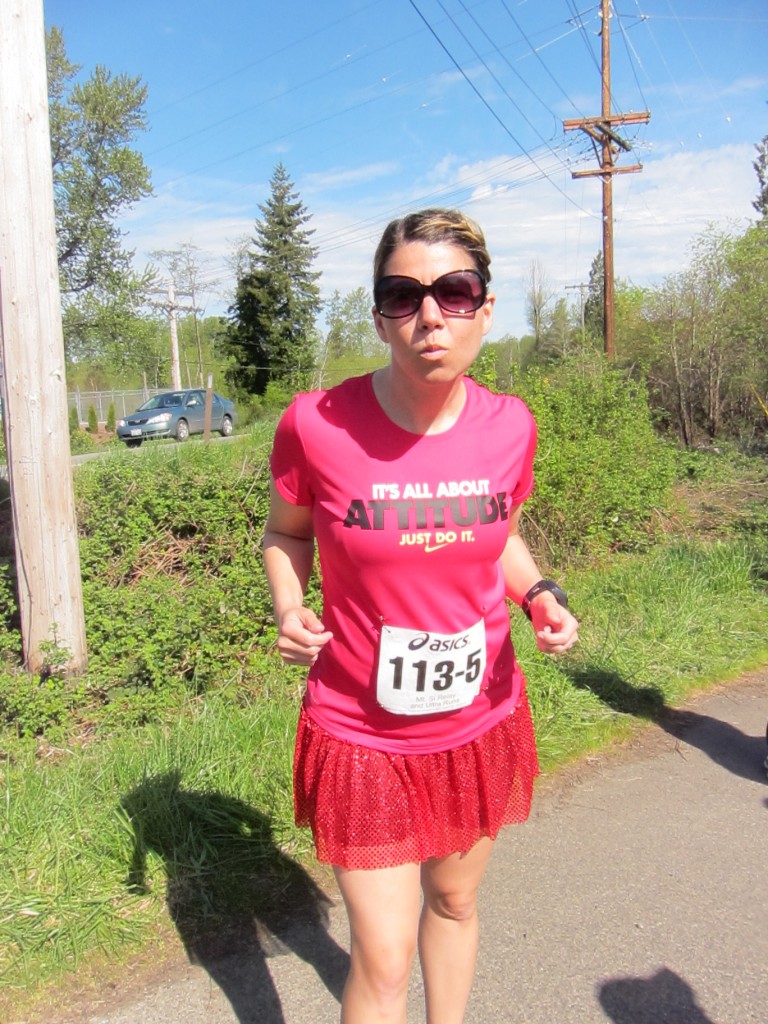 Sometimes you need to remind yourself of things while running. Like what your pace should be or that the Econoline with tinted windows and a camper that keeps stopping behind you is probably not following you.
That's why I love my running shirt from Nike that says: "It's All About Attitude."
It's also all about the sunglasses–my 3rd favorite accessory (after coats and shoes). I cracked the frames on the sunglasses in the picture above after I tried to shove them, my 1st backup, my 2nd backup and my 3rd backup pairs into my tiny cross-body purse that fashion magazines would describe as "on trend."
I cried.
But it's healthy to acknowledge your feelings.
And I think we all know that the best way to do that is by displaying those feelings on a t-shirt.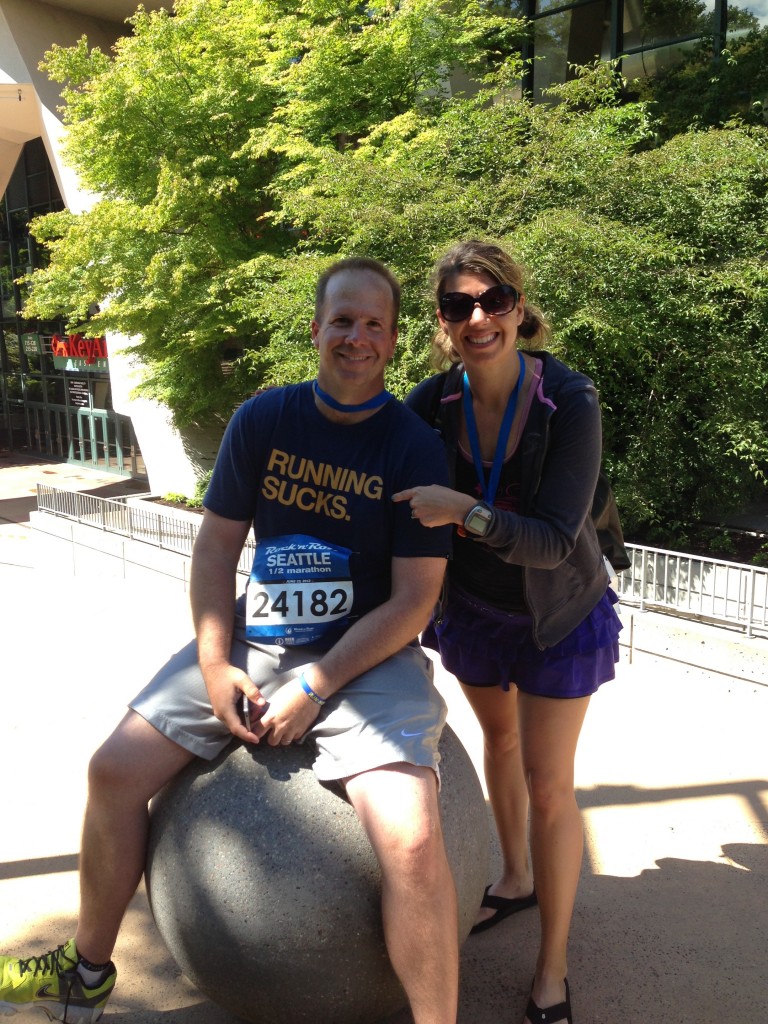 It's good to have a dose of both a good and a bad attitude when it comes to running. At least, that's what I always say.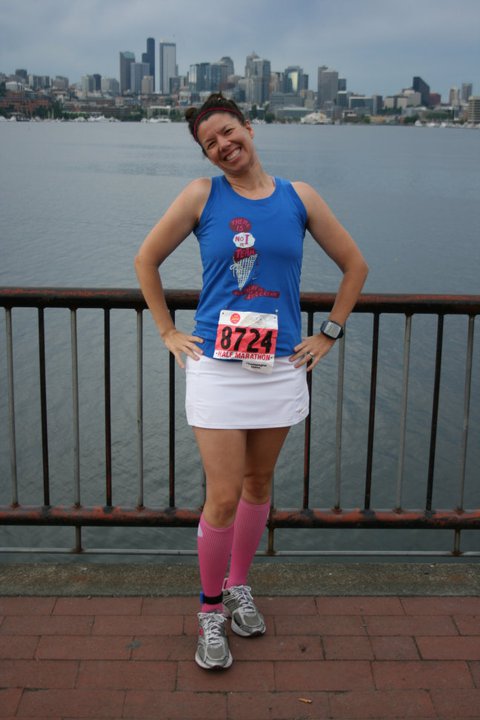 When I'm out running, I get all kinds of compliments…on my socks.
I have three pairs of compression socks from Running Skirts. I am not sure they're actually, technically, compression socks. But I am sure that they are fabulous. And that they are a bitch to get on.
These socks accomplish two goals for me. They improve circulation in my calves. And they give my running outfit that special school-girl je ne sais quois (actually, I am pretty sure I know the quois).
If I wore the socks and the sparkly skirt while running through town, do you think someone might throw some liquor at me? It's so expensive these days.
You know what else is expensive? Running clothes!
But who can really put a price on health and fitness?
Besides gyms…pretty much everyone at NBC…and husbands.