So, let me know if this has ever happened to you?
You're running along with a couple friends on a paved trail through the trees. You come into a clearing and out of the corner of your eye, you see an elephant.
No?
Yeah, me  neither, and you don't really expect to see those in Western Washington, which is why I let out a little gasp.
One of the reasons I love this blog is because I meet the coolest people from it. I mean, I met Zoe and Mel and Chelsea and Jill…and basically 99 percent of my running friends because of Mom vs. Marathon.
I met Melissa and her husband, Brian, at the You Go Girl half marathon in September. She recognized me from the blog and introduced herself as we waited in line for the potties at Tully's. Her hubs was there, too, and he took some awesome pictures of his wife, of course, and some members of Team Will Run for Ice Cream. In fact, the main photo on this blog is by him! I really love the picture because I'm smiling — I usually look like I'm going to die, and he caught me smiling as I crossed the finish line with a 1:52 PR!
This weekend, I knew I was going to be in their neck of the woods at a dog show. I threw out a notice on my Facebook page to see if anyone wanted to meet up for a run and they were game. I had to run in the afternoon because boxers usually show in the morning, and they were still willing to meet. In fact, they are rock stars because they ran in the morning, then came to the dog show, picked me up to take me to the trail and ran again with me!
I had a blast! I only ever looked at my watch to see how far I'd gone and they let me blab on and on the entire time. They essentially took me on a loop and, in about 6.5 miles, I saw the whole town by foot!
Including the elephant…and a giraffe.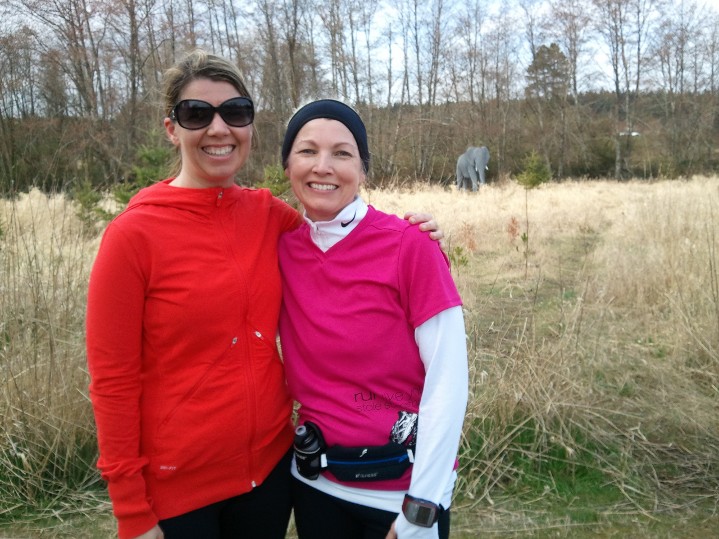 And there was sun, which was like the cherry on top. When I got back, I put a still-sick T Junior down for a nap, and refueled with a dark chocolate granola bar, cabernet sauvignon and college hoops in the motorhome. Then I set up a chair and soaked up the sun — well on my lower legs, feet and face anyway.
And, in case you are wondering, Bennie won both days, so he's officially half way to his championship. The only bad thing about this weekend was that T Junior is still fighting a fever and some really horrible congestion. The fever goes away usually during the day, but then it comes back at night, so he isn't sleeping well. (Doctor in the morning.)
Once again, thank you so very much to Melissa and Brian for hosting me in your town!
What's the strangest thing you've seen on a run? Do you meet up with other runners when you're away from home?