Lately, I feel like an imposter.
Many of you have told me that the way I set goals and accomplish them is inspirational. Thank you so much. And, yes, lately it seems I've been able to do this in my running.
But there is one big goal I've had for YEARS that I have not been working toward. At all.
I want to write a book.
Last year, I had a short push toward it, but it fizzled during a two-week vacation. I even had a blog to try to help me, but I ended up writing more on the blog than I did writing toward my book.
I don't know why it's so hard. Maybe because I can't decide what kind of book to write or what to write about? I love the "chick lit" genre, but I also love nonfiction books about running. Should I combine the two?  Mostly, though, I need to make time for writing. Just like I had to do for running.
Something occurred to me yesterday: Perhaps writing a book is like training for a marathon. What if I tackled the book the same way I trained for the marathon?
So I looked up a plan, then copied the time I would spend running to train for a marathon into time I will spend writing the first draft of my book.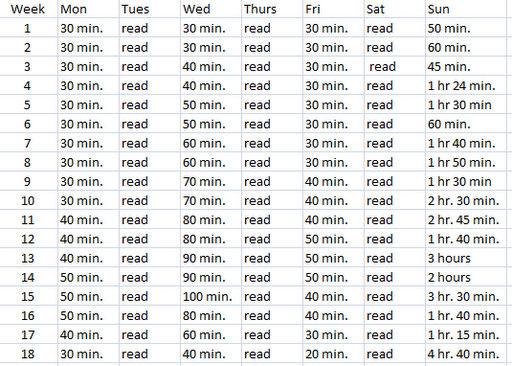 (And, yes, I also will keep up my running. I need running.)
For long runs…er, "long writes" on Sundays, I looked up my times for the distances listed on the training plan and inserted them into the chart. Rest and cross training days became days I step back from writing to read instead.
Like anything, writing is a habit. And just like running — it's difficult to get in the habit and so easy to get out of it.
So I'm taking my own advice:
Stop thinking about it and start doing it.