About a month ago while running with Mel (Tall Mom)…
Mel: Interested in doing a triathlon?
Me, laughing: HELL NO! NO WAY. I did one in the 8th grade. I'm good. NO NO NO NO NO.
A couple of days ago in the car with my husband…
Me: So, I might train for a triathlon. Just a small one. I can use my mountain bike. No need to buy a new bike or anything.
*crickets*
Yes, I've done a triathlon. IronKids in the 8th grade. Do you not remember the picture of me in safety-cone-colored shorts with the fantastic piece of toast? Here, let me refresh your memory: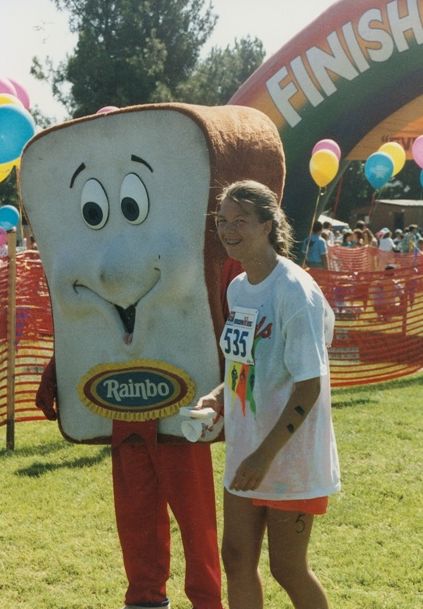 So, if I remember correctly, that race was like a 200-yard swim, maybe 5 miles on the bike (WHICH I HATED) and a mile run. I think.  It wasn't the best experience. I don't think I trained for it (unless you count being on swim team and track). I probably rode my bike once before the race (the day we bought it).
But this Run Less Run Faster training has me going to the pool (or at least thinking about it) and riding the bike (twice is good, right?). And then there's Jill.
That darn Jill (Running to Sanity) has got me thinking about it. She's just so dang excited about the triathlon and, well, it's a little contagious. I do like to swim. I do like to run. I'm beginning to enjoy the bike (just a little bit). And now she's texting me about it, too!
What, let's just say as a hypothetical, if I wanted to do a triathlon? Like a sprint one. Nothing fancy. Where would one look for a training plan for that sort of thing?