My last long run was Saturday. And, even though, I didn't feel like running in the pouring rain, I did feel like knocking out my final long run of the Run Less Run Faster 5K training plan.
It was 6 miles and I ran the groomed trail by my house — 3-mile gradual descent and a 3-mile gradual ascent. I banked time on the descent, but as it turns out, I didn't need as much of a cushion as I thought:
6 miles: 51:03; 8:30 average pace
1: 8:20
2: 8:11
3: 8:28
4: 8:36
5: 8:43 (the pace I was supposed to be running the entire time)
6: 8:45
I was very happy with this run given that I felt disconnected with my legs the entire time, and like the gravel on the trail was throwing me around — like it was in control and not me. But I did have my new Saucony's on, and they felt good. Gotta love new shoes! And being done with the final long run!
I really like the RLRF plan, I'm just burnt out on training. I always seem to get this way. I'm just ready to race the 5K and get this thing done. But after the St. Paddy's Day Run, then I need to start training for Seattle Rock N Roll Half. *sigh*
I'm not trying to PR, though, so it'll be a much more relaxed training cycle. I think I am going to use the awesome plan that Coach Mel (Tall Mom on the Run) made me for last summer, but modify it a little bit. It's a 12-weeker, so that means training won't start till Monday, April 2. I am totally on board with that! Especially since we have some out-of-town dog shows coming up.
(Saturday's dog show here in Seattle went well as Bennie won Winner's Dog and Best of Winners, and picked up two points toward his championship. Today, we were too prepared, and Mr. T and I did not argue pre-show, so we knew Bennie wasn't going to win…and he didn't.)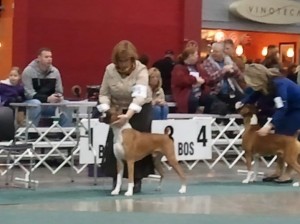 I'm going to be in the Bremerton coming up, and I am excited to run in a new area! And then, we'll be in Oregon in Kim's (Just Trying is for Little Girls) neck of the woods! After that, we'll  be in central Washington — more new places to run in (and maybe it'll be warm there)!
Do you run when you travel? Ever been to a dog show? Is it warm where you live? It's dreary here.