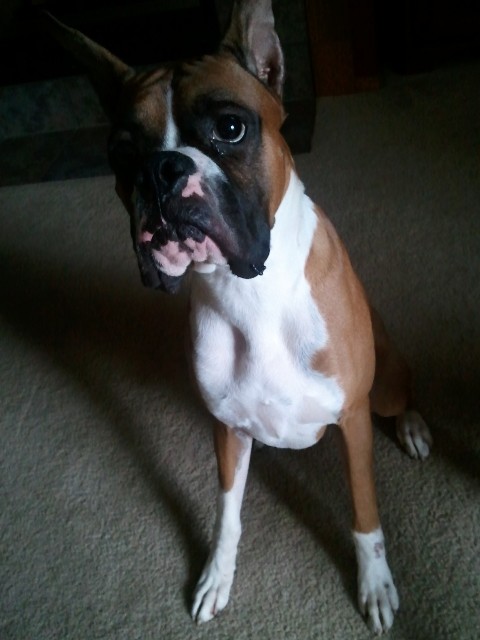 You never know where the day will take you…in fact, sometimes it takes you down.
Like sprawled on your stomach.
In the middle of the road.
And it's only 5:15 in the morning.
Early this morning I set off with Bennie (our 15-month-old, 65-pound boxer) for our fourth 15-minute run-walk this week. Monday was a little iffy, Tuesday was better, and Wednesday we walked for 30 minutes to give our running legs a rest. So we're getting into a little bit of a rhythm, Bennie and me. At least, that's what I was thinking when I got up this morning.
So when he tripped me up twice (I caught myself both times) within the first five minutes of our warm-up walk, I should've recognized the warning signs.
But I didn't. And along we went on our warm-up.
Soon, three women runners – one being dragged behind a barrel-bodied black lab as she commanded, "Heel…heel…heel…" – passed us going in the other direction as we were just about to get started with our first three-minute jog. Bennie didn't pull toward the group and so I praised him for being a good boy. Off we went on our first interval.
He was excited. He nipped playfully at the plastic bag (poop bag) I had tied around the handle of his leash, which was in my left hand. I felt more confident in him this morning. As we turned up the first cul-de-sac in my neighborhood, he was running out ahead of me, like he's supposed to do at dog shows, but not pulling on my arm. Good boy! Every so often, though, he'd see something exciting – oh, a leaf! – and dart to the left or right. He's a puppy, I thought. Gotta check everything out.
We reached the end of our three minutes and we slowed to a walk. Then we stopped so I could take off a layer. With capris, a t-shirt and a pullover, I was hot. I tied the pullover around my waist, we walked for about 30 seconds more and then began jogging again.
Since I was feeling more confident, and because I'd noticed the girl with the lab was being pulled running fairly fast, I decided we could step up our pace a bit. And since nobody was driving around, we ran in the road – asphalt is softer than concrete.
That's when I went down.
Tripped. Over the dog.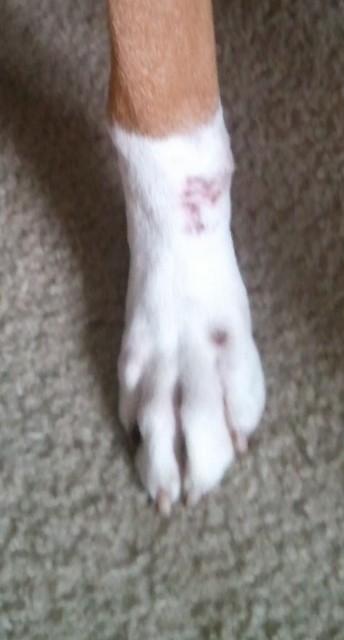 Bennie's bump.
I went down on my right side like I was sliding into second base…but on the blacktop. And, in the instinct to catch myself, I dropped Bennie's leash. He stopped for a split-second to see what happened, but caught sight of the crinkly white Safeway bag on the ground next to him…tied to him. And that's when he started sprinting away from me.
Scrrrrrraaaaatch went the plastic along the road behind Bennie, who was running as fast as he could from the bag while still keeping one round eye on it. But wouldn't you know it? The bag was as fast as he was!
All I could think is that I was never going to see him again. "Bennie!" I screamed in the street just feet from where people were sleeping inside their homes. "Bennie!" Luckily, I was at the opening of a fenced-in cul-de-sac, so he turned.
He turned into a yard and sprinted toward the front door of a house. I realized then that screaming his name wasn't going to work and I changed my plan of action: "Cookiecookiecookiecookie," I trilled while trying to keep the panic out of my voice.
Not sure why I only have
Barbie Band-Aids.
BAM! Oh my god, he hit the door. Then, he came back toward the street, but (I think) his paws were wet from the grass and he slipped on the asphalt. He slid on his side for 2-3 feet, which gave me enough time to sprint from where I stood to where he was getting up, stunned. Got him.
I ran my hand along his sides, his back, his head. "It's okay, you're okay," I said, calmly. His toenails were bleeding from sprinting on the serrated man-made surface, but I didn't see any other marks on him. I untied the bag and shoved it my waistband. Then I led him over in front of the house where he hit the door. I needed to be sure he didn't break their door. A glass door. Of course.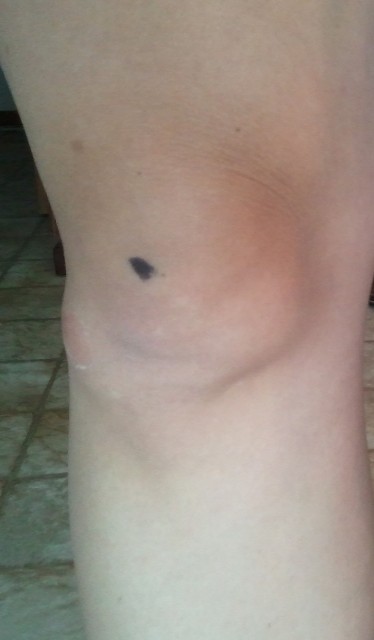 Big bump on outside
of knee. (The dot
is from my PT
appointment today.)
I saw the homeowner get up from his computer upstairs. I waited. He opened his front door and I explained what happened. He was nice and was more concerned about my dog than his door. But it was fine (thank goodness because we're having a string of bad luck as far as having to pay for unexpected things lately).
We walked home. My right palm stung, and then I noticed my right hip hurt a little and then I couldn't turn my head very far to the right, but otherwise, I was okay. Bennie seemed okay, too. He wasn't limping and acted normal. Well, his version of normal. (Later, before getting in the shower, I noticed some pain on my right knee and elbow. Oh yeah, big raspberries. Bennie has one on his ankle, too.) At home, I put the dog away, cleaned up some bloody pawprints on the carpet and went back outside for another mile – a quality one.
I just wanted to see if I could get the day turned around in the right direction. As in, upright.