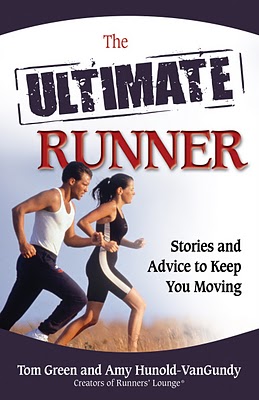 There are so many good running books right now. Or, have there always been and I just didn't notice because I was too busy sitting on the couch refreshing Facebook every 10 seconds a year ago?
When Tom Green and Amy Hunold-VanGundy, creators of Runner's Lounge, published The Ultimate Runner, I signed up for a review copy. Next to running, reading about running is pretty much my favorite pastime, which is why I still spend too much time sitting on the couch — reading blogs (while refreshing Facebook).
If you have this same addiction, then you will enjoy The Ultimate Runner, like I did. The book is essentially a collection of short stories written by various runners of all skill levels. 
The book is broken into seven sections: Why We Run, Emotional and Spiritual Insights, The Social Side of the Sneakers, Off the Beaten Path, Memorable Races, Running for a Cause, Must-Know Info.
Each story is special, so many are inspiring and a lot of them are hilarious. "Relentless Forward Motion on the White Line from Hell to Heaven," by Frank McKinney is eye-opening and "My Secret Weapon," by Sean Geary was freakin' funny. He thought he was eating an energy gel, but it was something else — you'll have to read it to find out! "F*#k Cancer," by Heather of Run Faster Mommy was, of course, great, too (and super cool because I was like, "Hey, I know who that is!"). In fact, reading The Ultimate Runner is almost like reading running blogs in book form.
I am going to admit, I skipped one section of the book. I was reading before bed most nights and when I got to Running for a Cause, I just couldn't do it. Some of the stories already had me in tears, and I knew I would not be able to handle this section. I will go back and read it during the day when I'm feeling strong emotionally.
The end of the book features several articles written by professional trainers and doctors with tons of helpful advice, from great stretches and what to do when injured (so timely for me!) to the importance of starting slow and training advice.
The Ultimate Runner is a great book for picking up when you have time. Get ready to laugh, cry, feel inspired and learn something!