I think so. I hope so. Here's why…
The smell of Vitamin C hung in the recycled office air. I looked at the festering orange Airborne bubbles in my white ceramic coffee cup. The slimy Airborne bubbles looked back at me.
Or, at least, they seemed to.
And then with six gulps it was gone. Airborne actually looks worse than it tastes, don't you think? It tastes like my mother's orange juice – she likes to fill her OJ with ice and then leave it on the counter until the ice melts, creating a very watered-down version of the stuff. I'm not sure why she doesn't just cut to the chase by filling her glass half with water, half with juice.
Anyway, it just, freaking, figures. I'm five days out from my longest run ever (20 miles) and I get a cold. Well, I think I have one. I'm not positive.
This morning, I sat on the side of my tub twice for a total of at least 15 minutes trying to figure it out. Small Brillo pad in my throat? Check. More tired than I should be normally am for six hours of sleep? Check. Wanted to wear my WSU RoseBowl sweatshirt from 1998 to work and baggy jeans (which I don't own – so sad because I would have so worn them)? Check and check.
And Mr. T had a cold last week. And T Junior, the week before. But all my fretting about the cold seemed minor in comparison to this: My left shin was aching this morning.
 Boo, Huskies*.
My thought process (while sitting on tub): Why am I so tired? Am I sick? I must be getting sick. Why is my shin doing that? It's not really my shin; it's on the inside of the leg. Yes, on the inside part. It's a muscle? It's a bruise? That's it. I bet Bennie jumped on it. When would Bennie have jumped on it? Hmmm. My throat feels a little scratchy. What would happen if I went back to bed? Oh, man. That sounds so nice right now. What am I going to wear today? I don't want to get dressed. I'm going to have to cancel my run with Mel because of this stupid shin thing. What the f*@# is it? I'm not even gonna take my running clothes so I can't be tempted. I'm too tired to run today anyway. Why am I so tired? 
And then I got up and blow-dried my hair. And then I sat down and did it all over again. And then I got up, got dressed and decided I would just effing go to work and see how I felt later.
And the answer is…not great. I'm really tired. I have tunnel vision (not really, but it feels like it). It took a lot of energy just to type this. And my throat is a teeny bit more scratchy, which is why I went to Target on my lunch hour and bought some Airborne (after checking out the workout wear, of course). Oh, and I can feel my heart beating in my ears. Is that okay?
The good news is that my shin achiness is mostly gone. And I think I know what it was from. And not my 65-pound (crate cover-eating…argh) boxer, Bennie.
Yesterday, I was also very low energy. In fact, I may or may not have taken a nap on T Junior's bean bag chair while he played trains in his room only to wake up when he yelled, "Wake up, Mom!" And, later, I was not jazzed to cross-train. Part of that was because it was pouring rain and I would have rather been outside, but I can usually get amped to do my Jillian video or something.
But not yesterday. I didn't wanna; I wanted to sit on my butt and read race recaps. The thing is, though, when I get like that, if I don't snap out of it, the whole day will go like that. I won't get jack done. No laundry. No dishes. No dinner.
I thought about that plan I made a couple of weeks ago, and I got dressed to walk on the treadmill. No clean sports bras? No problem. I wore a padded pushup that's too big for me anymore under a tank top. But at least I'd have some sort of support, right?
Guess what? Padded pushup bras do. not. breathe. Holy hot.
Then I set my computer up on my treadmill like so.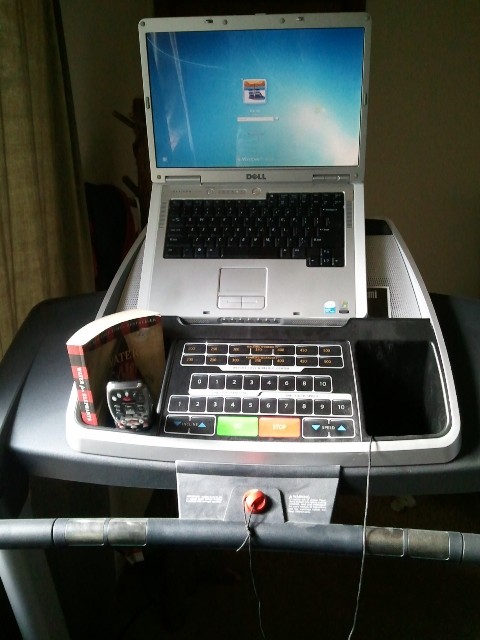 Not recommended while running.
Then I chose the 400 calorie "walk" option on my 'mill, and I Ron Popeilled that biznatch (set it and forget it).
The thing, though, is that there were a lot of hills in the 400 calorie "walk" option. Dude. Hills are not good for shin splints.
Oh yeah. I guess I need to just come out and say it: I think I have shin splints. Well, splint. In my left leg, which is the one I fractured last year. I'm pretty sure. BUT it's not in the same spot! I know shin splints can be managed. I had them all the time in high school. I just have to be smart about it. Not dumb like last year and pretend I didn't have them and just kept pushing, pushing, pushing it till I can't run.
Now is the time to be careful. I have a 20-mile run on Sunday. I plan on running it. If that means I skip my run today. So be it. If that means I skip my run Thursday. So be it. And I'll probably take several days off afterward, too.
I WILL be running that f@#$ing marathon at the end of June. (Sorry for all the cursing today; not sure what's gotten into me. I'll blame it on the maybe-cold.)
That leads me to this question: Do you think, if you are toward the end of marathon training, that it's better to miss your little runs and get in your long runs, or better to sacrifice your long runs and just focus on your shorter ones?
I can see why a runner would choose do either one:
Long runs teach your body to be out running and managing the physical (and mental) stress of it for longer periods of time (ie what it'll be doing in a marathon), but there's a higher risk of injury.
Shorter runs keep you fit and in running shape, but not to the level that a marathon probably requires. 
However, the risk of injury is much smaller.
What do you think?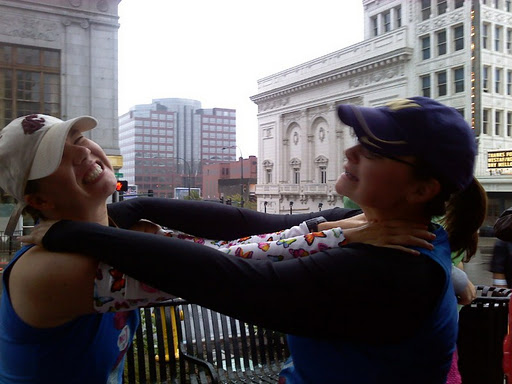 What you need to know:
Me, an Awesome Cougar. Go Cougs! Chelsea, a Boo Husky.
*And now for the meaning behind "Boo, Huskies": I went to Washington State University over in Eastern Washington (Pullman), land of crimson and gray. I am a Cougar. I live in Western Washington near Seattle, home of the University of Washington Huskies, and land of purple and gold (gag, gag). Cross-state rivals. Go Cougs! Boo, Huskies. I cannot say "boo" without the word "Huskies" popping in right afterward. And vice versa. It's like one of those psych tests where you're presented with a certain word and then asked to say the first word that comes to mind when you hear it. For example:
Red – Green
Tree – Leaf
Car – G
as
Run – Fast
Boo – Huskies