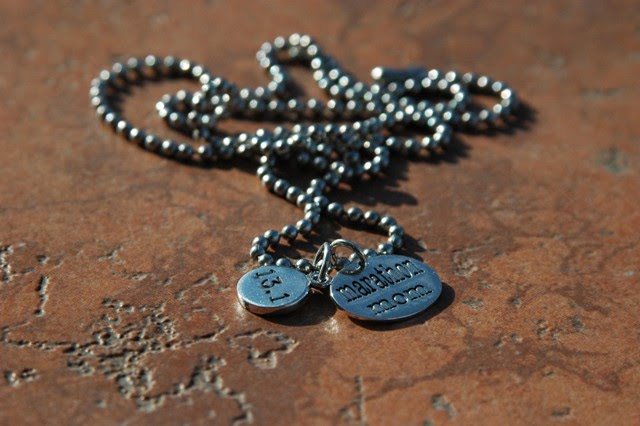 Several months ago, I won a Lift Your Sole giveaway. I got a Marathon Mom charm and 13.1 charm. I was planning on getting the 26.2 charm after NODM. But that didn't happen because the 26.2 didn't happen.
On June 3rd, I wrote, "It's Time to be Here, Not There," and I realized that I had not worn my necklace since my last really long training run, an 18 miler, on May 2nd. Normally, I wear the necklace at races or during long runs — whenever I think I need a little extra confidence — as a reminder of what I've done. On June 3rd, I guess I needed a little reminding.
After I finished writing that day, I thought about what I've done in the last 300 or so days: I've run two half marathons! That's pretty good. Half marathons aren't easy.
I'm a runner, I remembered. I should be proud of that. And maybe I don't have a full marathon under my fuel belt just yet, but I did complete three half marathons, a 10K and a 5K in less than a year. Not too shabby.
Recently, I realized I had been so focused on 26.2 that I forgot to celebrate 13.1. Basically, I'd been looking too far into the future. So, I went online and bought a cool 13.1 sticker to put on the back of my minivan.
And I wore my 13.1 charm during the half at NODM.
Do you have a "sticker"? How do you celebrate your accomplishments?
Maybe you need a necklace!
LIFT YOUR SOLE GIVEAWAY
This one is especially for moms! Win either the "One Tough Mama" or "Marathon Mom" charms (black stretch cord included). There are lots of ways to enter:
1. Visit Lift Your Sole here and look around, then leave a comment and let me know what you thought of the site.
2. Become a Virtual Running Buddy of Mom vs. Marathon; leave a comment.
3. "Like" Lift Your Sole on Facebook here. Leave me a comment letting me know you did.
4. Share this giveaway: tweet it, Facebook it and/or post it on your blog, then leave me a comment for each thing you did.
5. Leave me a comment and share how you celebrate your accomplishments. Do you have a "sticker"? A necklace? Do you treat yourself to new jeans? Let's hear it!
6. Become my friend on DailyMile here. (Leave me a comment below letting me know you did. Even though I will see the "friend request," you will still need to be counted for the giveaway.)
The giveaway will run through through Monday, June 21st. Even if you don't win the giveaway, you can still celebrate! There will be a special Lift Your Sole discount for Mom vs. Marathon Virtual Running Buddies starting at noon on June 22nd, so come back then for the details!