If you go into a Target store and walk into the women's activewear clothing section, you will see a rainbow of bright workout clothes from Champion. I love it.
And I felt the same way when Champion sent me two colorful bras to try on my own! My first thought was, "I should tone up my tummy so I can run in just a bra this summer." The colors are so fun and cute.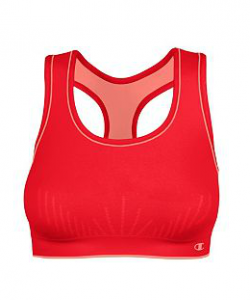 Champion Double Dry® Seamless Reversible Sports Bra in Papaya and Light Papaya.
Here's what Champion says about it:
Change it up! This versatile sports bra reverses in seconds to give you a fresh new look. It's like getting two sports bras in one — with double the "bounce control." (And, since both sides are seam-free and tag-free, you get double the comfort, too.)

• Ultra-soft two-ply fabric stretches for sleek compression.
• Double Dry™ fabric technology wicks sweat, keeps you cool and dry.
• Main side has knit-in textural accents, designed to flatter your figure.
• Reverse side provides knit-in strategic support.
• Wide knit-in comfort band stays put without digging or rolling.
• Supportive racerback straps allow flexible range of motion.
• NOTE: Fashion colors reverse to contrast side. Basics reverse to same color.
Of the two, my favorite is the Seamless Reversible model. It is so stretchy and comfortable – perfect for a woman who doesn't have a whole lot going on up top (like moi). But I can't speak to the amount of support for a gal with more to hold up there except that Champion says it has double the "bounce control."
This bra is so comfortable. Since I run on my lunch hour, I usually will put on pieces of my running outfit, like a sports bra, in the morning and wear them under my work clothes – makes for faster changing and more time for running! This is one of my favorites because it is so comfy, I forget I'm wearing a sports bra. I even wore this one to the hospital the day I had to get my bone density scan (I couldn't wear any metal).
The Seamless Reversible bra is also really easy to get on. Some bras are so stiff that you have to have moves like Jagger to get into them. And, of course, I love the bright color. But if I don't want it showing through a lighter-colored top, I could always reverse it and wear the softer color on the outside. Genius!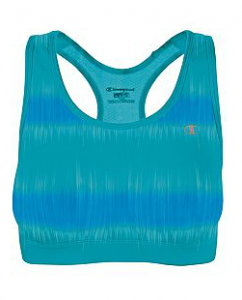 Champion Double Dry® Absolute Workout Sports Bra in Parakeet Blur Stripe/ Parakeet
Here's what Champion says:
Be supported in style! Wear this Absolute Workout sports bra to mix fun, fashion, and fitness.

• Silky high-tech fabric wicks moisture to keep you dry.
• Extra stretch provides sleek compression for Medium Motion Control.
• Double-layer design helps block embarrassing show-through.
• Mesh panel at back adds cooling ventilation.
• Details dial up the comfort: tag-free no-slip racerback; neat banded neck and armholes; non-chafe flat-locked seams.
I already own a similar-style bra from Champion. I love that one and wear it on long runs because I feel like it has a lot of support, but does not chafe. Unfortunately, this version has a tiny seam under my left armpit that does leave a little mark…and chafes a little. I simply put some anti-chafing lube underneath the seam and that does the trick. I wonder if it's just the bra I received – maybe a faulty one – since Champion says this model has flat-locked seams. Maybe the seam just came loose somewhere along the way?
I still really like it, and wear it often. I really love the design and colors. Again, wish that darn tummy wasn't so jiggly so I could just wear my bra with one of my running skirts when it's really hot this summer. Because it will be really hot in Seattle. It WILL. (Really hot, BTW, is 80.)
The Absolute Workout bra has less stretch as the Seamless Reversible style, but it has really good, firm support and, while not as stretchy as the other style I tried, it is also fairly easy to get into.
I definitely think Champion's got some nice stuff here, especially for the prices, which run anywhere from about $15 to approximately $30. Pretty inexpensive! All their bras are on sale right now at their site www.championusa.com, and of course, you can always stop by a Target for an in-person look at their C9 brand!
Now, who wants a free one?
Champion is giving away a Double Dry Seamless Reversible sports bra to one of you! There are multiple ways to win:
-Required: Follow Mom vs. Marathon by copying this link https://habitpoweredliving.com and pasting it into the "Follow" box in Google Reader (or in another similar blog-reader product). Leave a comment letting me know you did. (Note! My blog address has CHANGED! If you have my old "blogspot" address in your Google Reader, you will need to change it to the link I provided above. Thanks!)
-Extra entry: Like Mom vs. Marathon on Facebook, then come back and leave a comment letting me know you did.
-Extra entry: Like Champion on Facebook, then come back and leave a comment letting me know you did.
-Extra entry: Follow me on Twitter, @momvsmarathon, then come back and leave a comment letting me know you did.
-Extra entry: Follow Champion on Twitter, @ChampionUSA, then come back and leave a comment letting me know you did.
That's it! Make sure you come back and leave me a comment because that's how I'll count your entry when it comes time to draw a winner! Giveaway ends at 11:59 p.m. PST on Sunday, 5/20.