First of all, you can just think again if came here expecting to see me model a sports bra like another very brave, very bold blogger did (
here
).
For this review, what I actually want to do is back up…let's say…oh…15 years or so.
Remember that one post in which I admitted I had the same two sports bras since my high school cross country days. One of them gave out on me a couple of weeks ago. But this one just keeps on going: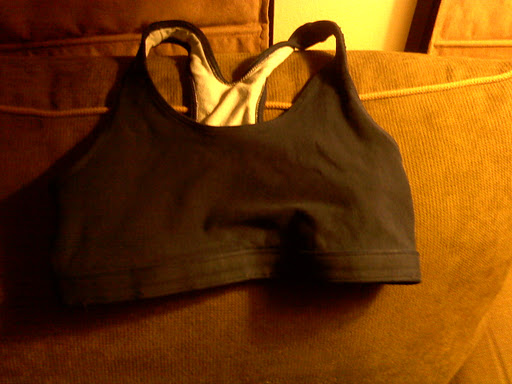 It's not made of fancy wicking fabric or anything, but it does what it needs to do. I wore it during the Seattle Half and it worked great. Now, it's a good back up because I have a brand new sports bra. Champion sent it to me to review, and it wasn't until I got the package with the new one in it that I thought to look to see what brand my old sports bra was — the one that was still supporting me after all these years.
I think we all know whose logo that is.
The new bra I got is a lovely light purple.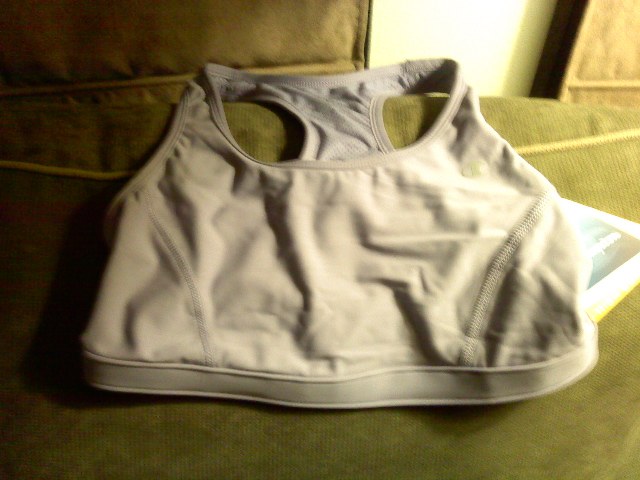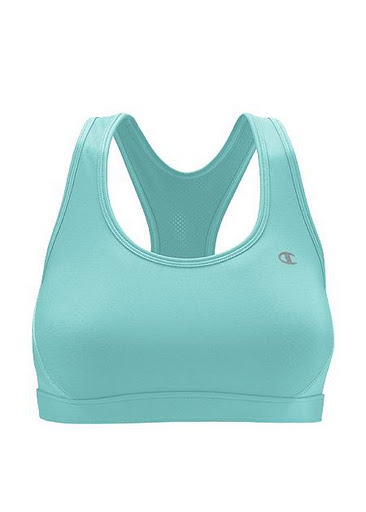 Here's what Champion's Web site says about it:
"At last…a compression sports bra that plays up your prettiest curves. Its secret? Contoured front seaming, designed to flatter your figure.

-Super-sleek stretch knit helps stabilize bust to minimize painful bounce. (High Support: great for high-motion workouts.)

-Double Dry fabric technology wicks moisture to keep you dry.

-Breathable mesh lining allows cooling ventilation.

-Mesh-covered keyhole back adds extra cool where it counts.

-Covered elastic bottom band gives added support and comfort.

-Tag free for non-chafe softness, with stay-put racer-back straps.

-Nylon/spandex

-Imported "
I was sent the large, which worried me because I just bought a medium bra from another brand. But the large is perfect! This bra does exactly what it says it's supposed to do.
The first time I wore it, I went on an 8-miler. It was raining and probably 45-50 degrees out. Muggy. I was dripping with sweat when I got home. The bra itself was wet, but I felt dry and that's what matters! I did get a little nervous when I went to take it off — let's just say they weren't kidding when they put "compression" in the name. I hope I have this bra as long or longer as I had the other one.
What I Like:
Nothing moves. (Not that I have a lot going on in that area.)
I didn't experience any chafing.
My skin stayed dry and cool.
Pretty purple!
What I Don't Mind:
Very tight (but not restricting).
A little high in the arm pits.
What I Don't Like:
Hard to get on and off.