Today was rough. It seems that overnight, my sweet, content, inquisitive baby boy has turned into a defiant, screaming, hitting, tantrum-throwing toddler.
I didn't want to leave the house today. I wanted me and T Junior to wear jammies all day while the rain washed any remaining summer dust off the windows. But by 2 p.m., I'd had enough. Enough of being hit. Enough of the Dr.-Jekyll-Mr.-Hyde meltdowns. Enough of "No!". I carried my 17-month-old son, fists swinging at my face and feet kicking in a bycicle motion, up the stairs to put some clothes on him.
Then we got in the car and headed to the Nike Outlet in North Bend (on recommendation from my bloggy friend, Mel at Tall Mom on the Run.) We parked and I saw there also is an Adidas store, so I stopped in there first. That was a waste of time. If you are a runner and a woman, don't bother going in there (although the woman who worked there was super nice).
T Junior had fun at the Nike outlet. For some reason, he thinks the Nike logo is the same as the Cougar logo, so he screams, "GO COUGS!" whenever he sees the swoosh. He got a little loud, but at least he wasn't crying.
And, just so we are all clear: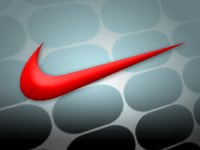 Nike logo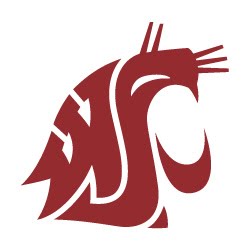 Washington State University (Cougars) logo
I found the running accessories I was looking for. While T Junior waited for me in his umbrella stroller, he pulled footballs off the shelf, yelled "Catch!" and tossed them to no one. So we had a little fun.
And I got a fuel belt for 15 bucks. Yeah, it's not all high-tech or fancy schmancy or anything, but it's a good tester to see if I can tolerate having something around my waist while I run. Hopefully, I'll get to test it out tomorrow on a 5-miler (pushing the BOB, though, ugh).
Tonight, I did 75 crunches on my exercise ball and three sets of 12 push ups, overhead lifts, bicep curls, rowing lifts, behind the back thingies, inner thigh lifts, outer thigh lifts, and three sets of 15 lunges. I stretched, too. I didn't want to do any of it. I wanted to go to bed, to just tuck this day in and wake up fresh tomorrow. But I talked myself into exercising.
Besides, I'm going to need the extra strength now that full-blown toddlerhood has set in.