Okay, first things first. (What kind of saying is that anyway? Of course the first things are first. How would anything else even be possible?)
Aaaannnnyway…
I had a 5-miler this morning and I was really hoping it would not rain. I woke up before the alarm clock went off at about 10 minutes to 6, and decided to just get up. Out-the-Door Goal Time: 6:15. Actual Out-the-Door Time: 6:22. Hrmph.
But I think I was late because I had put off washing the water bottle on my new Nike hydration belt, so I had to do that. Plus, I'm just super slow in the mornings. Sometimes I just wander around and forget what I'm doing.
Oh yeah, I also was late getting out the door because I wanted to take a picture of my belt and I couldn't decide the best way to do it. I ended up with this.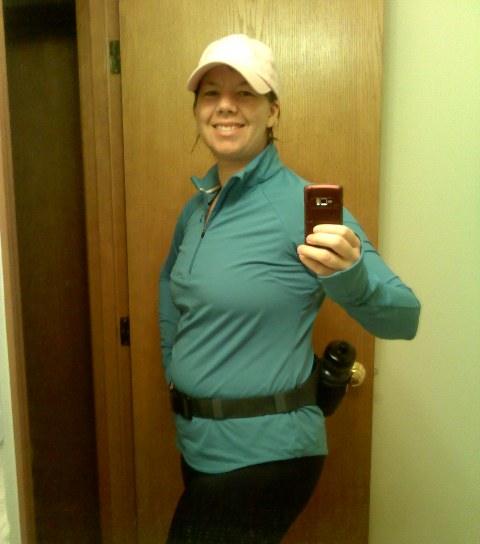 With the belt on, I can really see my…um…problem area.
And, why does my hand look like a giant paw?
After the first mile (on an unseasonably warm and NON-RAINING, but windy morning), I still hadn't decided whether or not I was okay with wearing a belt. It was bouncing a little. But then around Mile 3, I tightened it a little more and it stayed put. It was good to have and I think it'll be okay for what I need right now. And for 15 bucks, I'm cool with it.
But the most AWESOME happened on my run around 4.75 miles. I guess I had been letting my mind wander and suddenly my
NaNoWriMo
idea solidified in my brain! I felt like screaming, 
By Geowge, ahyve got eet!
(Okay, that was my lame attempt to write in a British accent. Luckily, my story will be in your basic American Teenager English.) The really good news is that I was almost done with my run, so I didn't forget my idea. When I came in the door, I scribbled what might turn out to be the first sentence on my sticky note pad. So, at least I have an
idea
of where I will be going Nov. 1-30.
Hopefully tomorrow I'll have some time to think through an outline or something close to one, or at least start one. Although, I know there are plenty of writers who don't use an outline. They just write. I'm not sure what kind of writer I am yet, though, because I've never written anything as long as a book (unless you count my
10K recap
).
So tomorrow's a scheduled rest day because on the plan for Sunday is a 10K race. Since I don't have a race, I'm thinking of doing a 3-miler and some strength training. I did some weights and crunches this morning after stretching, but T Junior woke up and I had to move on to Mom stuff: making eggs and wiping little hands and letting dogs out, then in, then out again. You get the idea.
And one more thing: I'm convinced my old 4-mile route in and out of cul-de-sacs through the neighborhood is actually more than four miles. I took a new more straight-forward route and I finished my five miles in almost exactly an hour, maybe a couple minutes before. I KNEW it didn't take me an hour to run four! Ha! (I need one of those Garmin watches. Santa, are you listening?)