I took this picture from my front porch as I stood there trying to psych myself out, like a kid at summer camp standing on the end of the dock.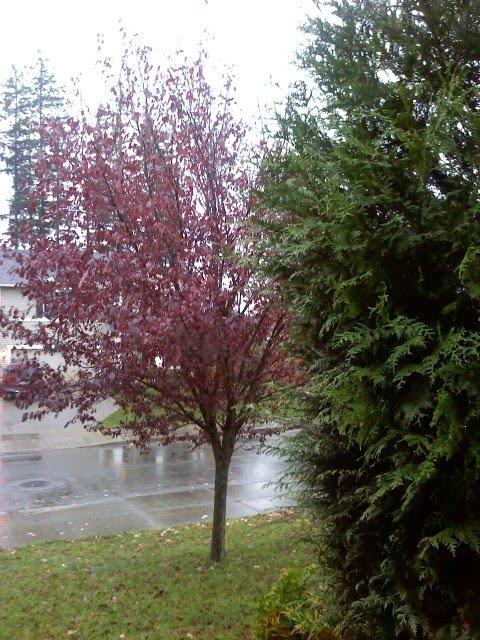 The picture doesn't do the rain justice. I opened the front door, drew in my breath and took a step back inside of the house. The rain was coming down in big, hard drops that bounced off the asphalt. Bounced, I tell you! At first I though it was hailing. I turned and looked at Mr. T on the couch. "I don't know about this."
He smiled at me from the comfort of his plaid fleece pants. "Just go as long as you think you can."
I whined.
But I had to go for a run today. There was no other option. I haven't run since Monday.
I stepped off the front porch, dipping my toe into the downpour. I sighed and then jumped in and started running. Thirty seconds later, I thought, Hey, this isn't so bad.
And it wasn't. Yes, I got wet. Soaked actually. Turns out the pink raincoat I own is probably more suited for a light drizzle. I didn't feel cold when I was out there, but as soon as I got home and took off my pink coat, I started to freeze. Why? My stay-cool REI shirt was completely wet, that's why. And my socks were squishy, which I suspected they would be, but my feet felt perfectly comfortable and warm when I was running.
Here I am before my run feeling not excited: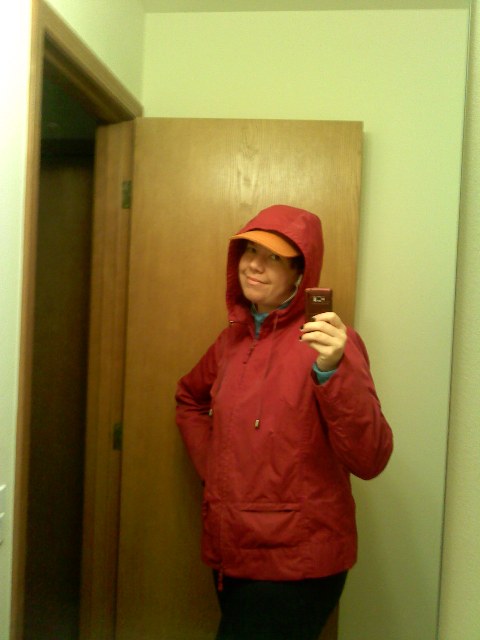 Here I am afterward feeling good, but a little like a drowned rat:
I didn't map out this run. I just kind of went and it ended up being 4.5 miles. I didn't look at the time either, so I don't really know how long it took. Oh well. I'm just glad I went and that it's over with.