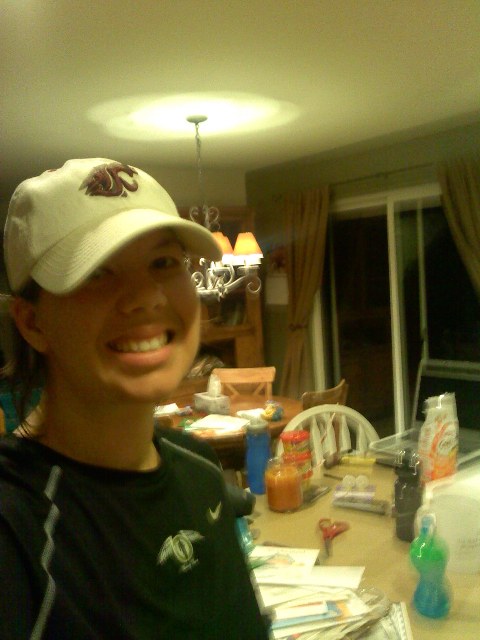 Me feeling a little guilty about going running
in order to avoid cleaning up the kitchen.
I often wake up feeling I can conquer the world. Or, at least, the laundry, cleaning, vacuuming, parenting, cooking, writing and running that has to be done.
And then I get disappointed in myself when I don't accomplish everything on my mental to-do list. Today, I checked off oil change, grocery store, return shoes to REI, vacuum, and laundry (which is waiting upstairs to be folded). T Junior napped from about 1-3 p.m., so I did some writing and pretty much zoned out for a while. I did NOT check off dusting T Junior's room and the master bedroom, de-cluttering every room, cleaning out the Odyssey and writing 5,000 words for NaNoWriMo (only made it to 700, but I did break 10,000 total!). And, I really wanted to run today. But…
I actually wasn't sure if I should since I had my 10-miler yesterday and am feeling a tiny bit tired today. I don't think I'm worn out from the run as much as I am from getting up twice in the night to sit in a steamy bathroom with a coughing 17-month-old who entertained himself by pointing out all the objects around us: "potty," "wower" (shower), "a dowr" (door), "a mama," "a but" (boat).
Anyway, technically it's a strength and stretch day, but with my work schedule, it's difficult to run Tuesday-Thursday. Plus, I have a Society of Chlildren's Book Writers & Illustrators meeting tomorrow night. I'll save S&S for one of those days.
Anyway, I went back and forth, like the hippo again. But after many, many toddler meltdowns and the need to avoid cleaning the kitchen, I decided we needed to get OUT.
It's kind of interesting how in trying to avoid writing, I suddenly feel the need to clean, but in trying to avoid cleaning, I suddenly feel the urge to run.
I put on my running clothes, then got T Junior bundled up and strapped in the jogging stroller. It was getting dark fast.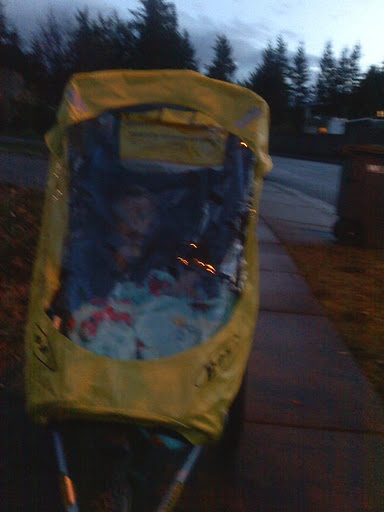 T Junior was all snug in the BOB. I wish I could ride around in a cozy stroller with my fluffy Elmo blanket, a fistfull of graham crackers, and my fave Disney tunes blaring. He was a good boy, he didn't complain about riding around in and out of cul-de-sacs in the dark. In fact, he's starting to say more than one word at a time more often these days and was really singing along with some Lion King songs.
But I cut the run short anyway to get home. It was too dark and didn't feel right. Even though my body was into the run, my mind was back home looking at the to-do list and shaking its head.
In the end, it was a fast 1.75 miles and one clean(er) kitchen.
PS: Sorry about the blurry pics in this post. Not sure why I was so shaky.