Yesterday, I decided I was going running during my lunch hour on Tuesday (today). So I contacted Mel – Tall Mom on the Run since we recently discovered we work only about 1.5 miles away from each other.
She was game.
I admit I was nervous as I changed out of my jeans and into my black tights in the office bathroom. I wasn't scared to meet Mel, but I was a little apprehensive about running with her!
The sun came out just before lunch, which was a blessing considering how ugly it was outside this morning. (I wore my new rain jacket just in case, but no rain, so I don't feel I can review it until I use it in the weather for which it was intended. I wished I hadn't worn it because I was hot. Yes, HOT. In Seattle. In November.)
Mel met me in the parking lot in front of my office and asked where I wanted to run. I shrugged. I've only jogged in the mostly industrial area a few times and wasn't really a fan of any route. We ended up taking off toward her office and, on the way, we discovered a nearby trail. At first it is a small meandering paved path along a river, and then it transitions into a raised, crooked aisle made of wooden planks, hovering just above the surface of a weedy marsh. It was fun to run on and reminded me of this place my mom used to take me and my sisters when we were kids.
It's called Fairytale Town and the park in Sacramento is still there! There's a slide made from the Old Woman Who Lived in a Shoe's …well… shoe. And, there's a big piece of swiss cheese for climbing on. I'm not sure what story that's from, but me and my sisters all had our pictures taken on it when we were young.
But the best thing Fairytale Town had, at least in my opinion, was this pale, yellow raised pathway made of concrete that went up and down and wound this way and that through a grove of giant, shady eucalyptus and oak trees. I don't remember how many times I sprinted that child-size road, but I do remember the way I felt running through there with strands of my long, baby-soft hair whipping me in my eyes and sticking in the corners of my mouth as I concentrated on sloping curves and fast straightaways.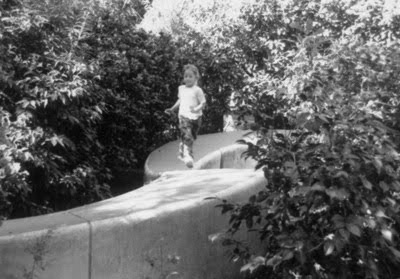 This is from Fairytale Town's Web site. Not me, but it could be.
The winding wooden section of the trail Mel and I discovered today made me feel like I was 9 again. Running for the fun of it even with a fast Tall Mom at my side pushing me to run just a liiiiiiittle bit harder than I normally do (although she wasn't trying to and probably didn't realize it).
But I learned today that I like being pushed a little. Thanks for the run and for the memory, Mel!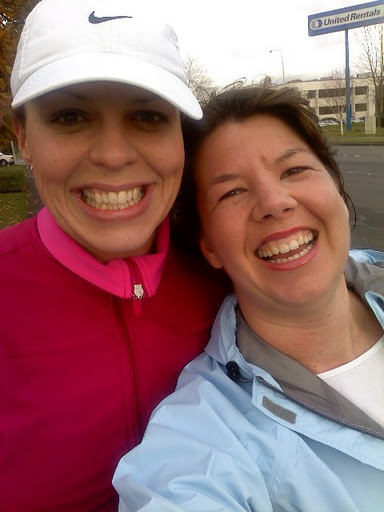 We ran three miles together at my pace, about
10:30-minute miles. Mel added on a couple-plus
miles by herself, before and after our run.
PS: I regretted not wearing my hat today as my bangs are in need of a trim in a major way and were driving me crazy!