Edited to add new photographs on 11/28/09.
It seemed like a good idea at the time.
The plan was to put T Junior in the backpack carrier so that I could have my hands free to peruse all the running goodies at the Seattle Marathon Expo. I even tried out putting it on (with him in it) all by myself Thursday night.
But first we had to get there. T Junior went down for his nap late and I worried that we'd even make it. Luckily, or unluckily, he woke up early.
I don't go to downtown Seattle a lot. I live out in the 'burbs. I'm more comfortable there. I get nervous on one way streets littered with bicyclists and busses and holiday shoppers and crazy people. I think this is what's scaring me the most about the half on Sunday. The driving/parking/arriving on time situation. Not the race.
Since I'm not familiar with the area the race is in, I was happy the expo was nearby to where we will be running. I loaded T Junior in the trusty blue minivan and we were off.
So when I got downtown, found a parking garage and a non-compact spot, I put T Junior in the pack, slid it on and texted Zoë from Run, Zoë, Run. "We're here!" We decided to meet at the expo, which was being held on the 4th floor of the Seattle Westin.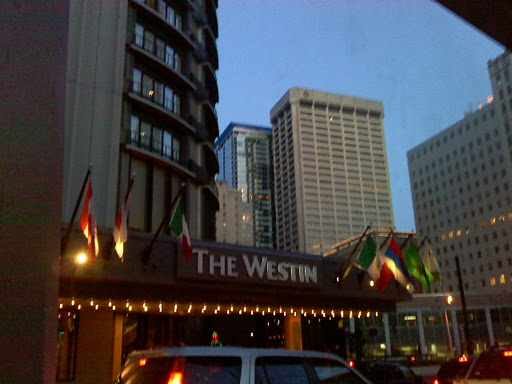 This picture was taken after the expo, it wasn't that dark this afternoon. In fact, it was sunny. Clear sky, sunshine; it was gorgeous! I wished the race was today.
As we walked along the city sidewalk from the parking garage to the Westin, T Junior was beside himself with all the busses.
"A BUS! A BUS! A BUS!" he screamed over and over again.
"Yes, yes, yes, a bus," I responded.
Then, we got into the lobby of the hotel. It was decked out for the holidays with probably 50-100 twinkling trees.
"A KISSMUS CHEE! A KISSMUS CHEE! A KISSMUS CHEE!" T Junior let the entire hotel know that, Hey, there are a ton of Christmas trees down here!
He calmed down once we got upstairs. Thank goodness, because my ears were ringing. Here he is chillin' while we waited for Zoë.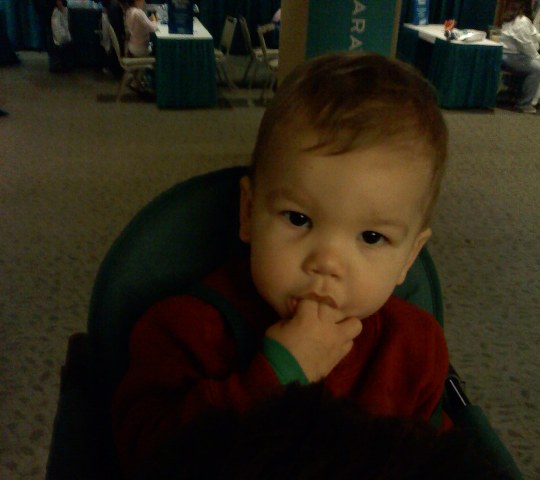 Zoë got there and we went to pick up our bibs and chips.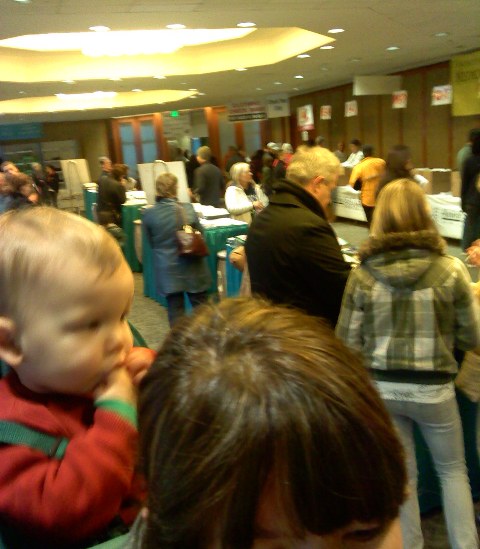 Next, we entered the Westin Ballroom, which had something like 50 vendor booths in it. That's when T Junior turned on me. It started with some gentle patting on the top of my head and pulling strands of my hair out of my ponytail, then WHACK!
I reached my hand up behind me and tried to grab his arm, but I couldn't get him. So staring straight ahead, I said, "T Junior. That hurts. We don't hit. You be nice to Mommy. Can you be nice to Mommy?" in my "mean" voice.
That usually works. And it did for a few seconds. But he knew he had me. I couldn't reach him and Daddy wasn't there to police for Mommy.
It was a little distracting, but I had fun checking out all the booths with Zoë. We tried these magnet things that are supposed to help you with strength and balance. They totally worked on the little test they had us do. I snapped a picture of Zoë.
By the way, doesn't Zoë look so cute in her chic coat, scarf and headband? I was sweating like a pig in a gray WSU hooded sweatshirt with a 30-pound child strapped to my back and nearly my entire ponytail pulled out. Awesome.
We also tried some cherry juice nearby. It was so yummy. "Like a shot of cherry pie," I told Zoë. Next, we got sucked in at the iFitness belt booth. We ended up getting matching black belts made of neoprene. This is Seattle after all. At least the guy working there entertained T Junior long enough to let me make a decision and sign the credit card slip.
Our hands were completely full, so Zoë and I agreed we needed to pick up our goodie bags. Then came the big decision. What size shirt did I want? After learning they were based on men's sizes, I went with a medium.
We made our way through the rest of the booths. T Junior was wearing me down, but when we saw this sign, we had to stop and snap a picture. It's too funny. A lady working nearby said, "That's been the most photographed thing all day."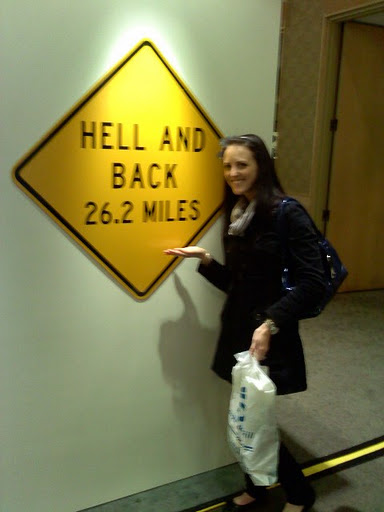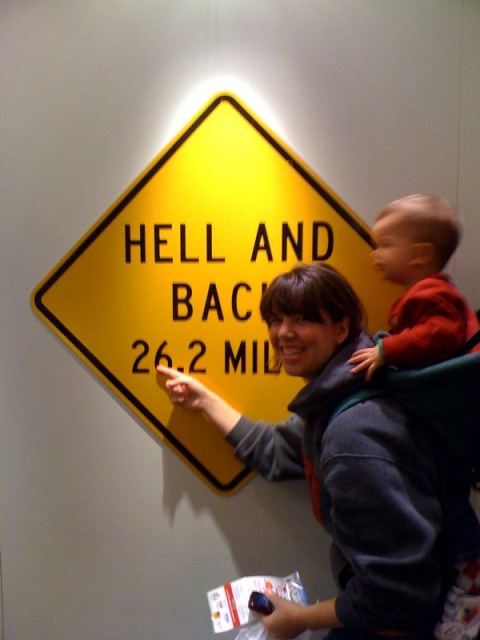 Oh and then right after that, we found the best race poster ever! Okay, maybe not EVER, but it's pretty funny. I had T Junior pose with it while he was still in the pack in the back of the van because I thought it would be cute. All the crap that's in the back of the van, though, is not cute.
That's so going in my cube at work.
By the way, the trip back to the van was exactly like the trip from the van, just in reverse. First, it was, "A KISSMUS CHEE! A KISSMUS CHEE! A KISSMUS CHEE!" Then, "A BUS! A BUS! A BUS!"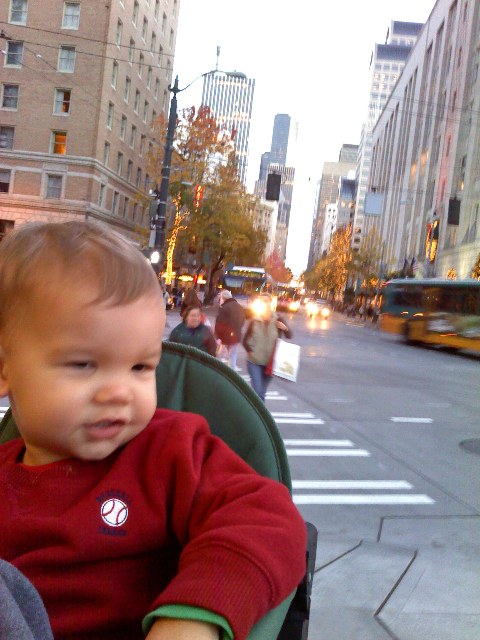 But on the way home, as we drove toward the freeway, it was my turn. "LOOK! LOOK! LOOK, T Junior! The Space Needle!"
(Don't worry, I was at a r
ed light.)
But he was fixated on the moon by then.
I'm so glad Zoë was able to meet me. I think it might have been miserable if I'd been by myself with T Junior smacking on my head, yanking my hair, and grabbing my cheeks to twist my face upward. It was worth it, though. I got my swag!