I just licked my fork and set my little blue plate on the end table. The cinnamon from a slice of Apple Cider Pie is lingering on my tongue.
It's definitely the holidays. Dessert every night. Carbs for dinner. I didn't feel so guilty about it last week, but today, I do.
It's been two days since the Seattle Half Marathon and my legs are just itching to stretch out for a couple of miles. Unfortunately, my blistered feet aren't up for it, which I found out at 6 a.m. when I tried to put on my shoes for work. Ouch-ouch-ouch! I had to wear my grubby old running sneakers (not the first time) and loosen the laces as far as I could without the shoes actually falling off.
Here comes a foot picture. Look away if you need to.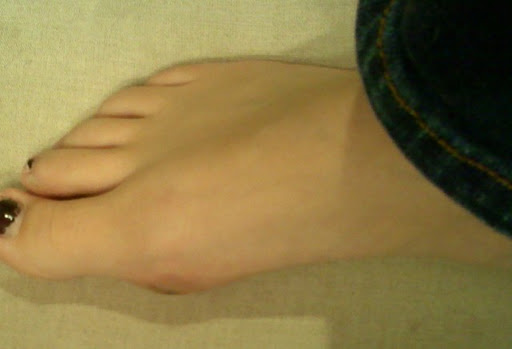 That's TWO blisters right there. A fresh one and an old friend…or foe. Whatever.
I decided I'm going running at lunch tomorrow whether or not the feet want to cooperate. If the weather is anything like today's sunshine and blue sky, then it's going to take a lot more than blisters to keep me inside. Besides, I've got Band-Aids, don't I?
My next race is the Jingle Bell Run & Walk 5K in Seattle on December 13. I have to say, I'm looking forward to the 5K. It'll be a nice change after the half.
But then it's right back to long runs and crazy adventures after the holidays because there's been some bloggy buddy talk today about the Mercer Island Half on March 21st and it's looking like it's probably going to be a go!
When I mentioned the March half to Mr. T, he said, "Why don't you run a full?"
Hahahahaha! Funny joke, Mr. T.
But he wasn't kidding. His face was serious. I love him for believing me, but…I'm a little scared of the full right now.
My original plan for 2010 was that the Rock and Roll in June would be my first 26.2. But I can't afford the high entry fee and, also, I don't think I will have made up my mind on whether or not I'm ready to train for a full by the time the race fills up.
What are your plans and goals for 2010?
Okay, gotta run (haha, thank you, I'll be here all week, don't forget to tip your waitress) and do some strength work while I watch The Biggest Loser. I should work off some of this guilt…er, I mean pie. Or…I could decorate the Christmas tree. Oh, holidays, how you thwart me.