I am lucky to live and work in a place where I can slip on a pair of sneakers and head out the door for a run without fear. Of course, I can't be stupid because there are bad people out there (and unpredictable wild animals, like bucks), but for the most part, I am safe.
I thought about this on my cold and sunny run during my lunch hour today. There's something about running that makes me feel free. Maybe it's being in nature. Or maybe it's the steady beat of my blood pumping through my body that reminds me I am alive. I'm not really sure I can pinpoint the reason, but I appreciate that I can go outside and get that feeling just about any time I choose.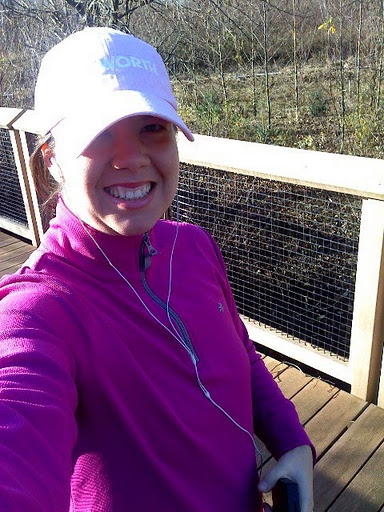 Soaking up some sun on my run today.
Safety has been on my mind since I walked in the front door after driving home from the Seattle Half on Sunday. Mr. T gave me a congratulatory hug and then told me about the breaking news unfolding on TV.
You've probably heard about it. Four Lakewood police officers were taken by surprise when a man came into a Tacoma area coffee shop and ambushed them, killing them all, and then fleeing. You can read more about it here. We have family and friends in law enforcement, so any time something like this happens, it hits close to home.
What I can't stop thinking about, other than the poor families of the 3 men and 1 woman, is when it happened; about 8:30 a.m. on Sunday. The same day and time as me and thousands of other giddy runners were flooding the streets and neighborhoods of downtown Seattle, which meant law enforcement had to be present in order to redirect vehicle traffic and basically watch out for our and the public's safety.
At 8:30, I was around Mile 5, just starting to feel and be mad about those darn blisters. The officers on marathon duty were probably hearing the news about their friends over their radios. The fact that they had to stand out there, exposed, knowing that some sick cop killer was on the loose must have been unnerving. Actually, I'm guessing they wanted to jump in their cars and go find the &@$#@&% that did it. Yet, they stayed where they were and protected us as we groaned about hills, tossed water cups toward the sidewalk and sprinted to the finish.
Thank you to all the police officers who helped at the Seattle Marathon, and to all the men and women in law enforcement and other public safety jobs out there who put themselves in harm's way every day so that I am free to run.