I just told Mr. T I was heading upstairs to work out with Dumb and Dumber, and Mr. Bouncy, but my tummy hurts, so I'm waiting to see if I feel better in a few. Meanwhile, one of my favorite holiday TV specials is on: A Charlie Brown Christmas.
I adore ol' Chuck and all his friends. My tree every year has tons of PEANUTS ornaments on it. We even named Annie's litter after the comic strip characters: Lucy (who you've met), Linus, Sally, Molly and Schroeder. We named the white girl Denali because she was special, but I always thought of her as Peppermint Patty. My favorite part of the movie is when Linus delivers the Christmas story at the end.
And just before I went upstairs, Mr. T and I had dessert* while watching the first part of the special. I love the Weight Watchers Smart Ones desserts. In particular, the Chocolate Chip Cookie Dough Sundae and the Peanut Butter Cup Sundae. They are so yummy and (mostly) guilt-free.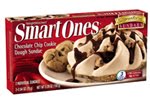 And I love lunges, and if my stomach would stop being weird, then I would do some. But I'm also looking for new strength exercises that benefit runners. Anyone have any favorites they want to share? They'd need to be done at home, not at a gym, and with some 5-pound weights and/or an exercise ball.
*My tummy was acting up before dessert.