There are not enough hours in the day.
So I went running after T Junior went to bed. Dinner for me and Mr. T had been prepped earlier and I fed the dogs before I ran out the door and into the glow of the Christmas lights. I actually reconsidered running at night after reading a recent post by Carolina Girl and a post by Zoë in which they said they enjoyed looking at all the festive houses during an evening run.
I hadn't thought of that. Tonight, I pulled on Mr. T's fleece hat, my running tights and zipped into my visible raincoat. Then I made Mr. T take my picture. Here are me and my girls: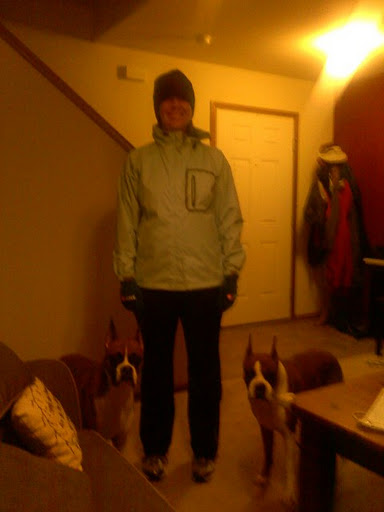 That's Lucy on the left and Annie on the right.
I'd completed one cul-de-sac when I stopped to re-tie my shoe. I heard a car approach (I didn't take my Zune) and then my name.
I jerked my head up. It was our good friend in her minivan and her two young boys in their matching fleece jammies. They live one town over, but they were driving through our neighborhood to look at the Christmas lights. We chatted for a bit before continuing. For the next couple of cul-de-sacs, we kept" meeting" and waving.
It didn't take long to regret the fleece hat. It wasn't that cold, maybe in the 50s, and so I got hot. But I didn't have a rubber band for my hair. Then, about 15 minutes into the run, it started to pour. Huge drops of rain splashed me in the face. I wished I'd worn a baseball hat. I was quickly getting soaked everywhere but under my rain coat. I toughed it out for another 15 and then headed home.
At first I was a little disappointed in my run because it wasn't very long, but now I feel good for just getting out there. I hadn't run since Sunday, so I was starting to feel anxious. I get really antsy when I don't run for more than a couple days in a row. I know how easy it is to get "out of the habit" of something and I'm notorious for doing that.
I guess I feel like I will loose momentum if I slow down too much. Know what I mean?