Did you watch The Biggest Loser Tuesday night?
I did…as I sat on the couch and ate the Rigatoni D Mr. T brought home for me. (I think I have leftovers for tonight. Score!)
In case you didn't see it, the contestants had to ride 26.2 miles on a stationary bicycle as a team. The team that reached the distance first, would receive immunity and the last two teams were told they'd be going home.
"How far do they have to go?" Mr. T asked because he wasn't really paying attention.
"26.2 miles, the same distance they had to go last season," I explained. The final four contestants had to run a marathon last season. "But this is on a bike. 26.2 miles is easy."
Today, I went to the Secret Gym, where I am now a member. It took me a few minutes to sign up, so I only had 20 minutes of actual work out time left. I changed into my capris and (magic) high school cross country shirt in the roomy (and very clean!) bathroom.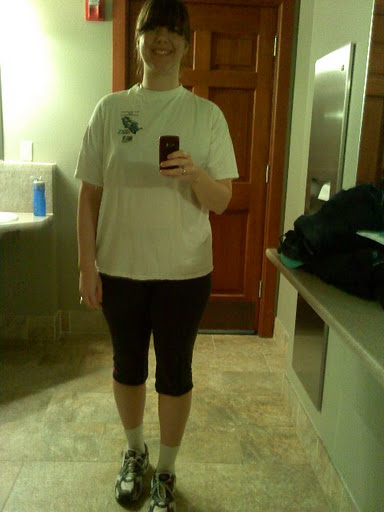 Since I had a limited amount of time, I decided to go for a spin on the stationary bike and start reading my book club book, The Book Thief. The bicycle is one of those where you sit back and your feet are more in front of you than below you. Does that make sense? Anyway, I got on, opened my book and started pedaling.
Hmmm. This is harder than I thought.
I pushed the "Decrease Resistance" button, but my legs felt no change. Then the screen flashed a large, digital 1.
Oh. It already IS on the lowest setting. I laughed out loud at myself since I was alone, of course, in the Secret Gym.
Suddenly, I had a flashback of Miggy on Tuesday's Biggest Loser episode. She pedaled hard for something like an hour. And, I mean hard. Her knees were pumping up and down fast.
If she can do it, I can do it for 20 minutes. C'mon wimp!
(Thank you, Miggy!)
My thigh muscles burned and my stomach fat squished up uncomfortably on every leg rotation. I could feel hot sweat soaking my cotton t-shirt where it was pinned between my back and the cushioned leather seat.
C'mon. Argh.
CLICK! The motion-sensor lights went out. But the room has a lot of windows and I could see fine. I didn't want to stop pedaling because I wasn't sure I would be able to start again. Besides, it felt cooler in there without the hot dots overhead.
After a few minutes, my legs were numb enough that they didn't really bother me anymore, and I settled into my book, which started out with the death of a child.
So there I was on my lunch hour, sitting on a stationary bicycle in the dark holding a book up to my face. Pedaling. Sweating. Crying.
Then my 20 minutes was up. I was nervous that I wouldn't be able to walk when I got off the bike. I could, but my legs felt like garden hoses full of Jell-O.
I've been running since July. I finished a 13.1 mile race at the end of November. A 5-mile run doesn't seem that long to me anymore. I'm scheduled for another half in March and a full in June. But I felt pretty weak on that bike. It was surprising. And eye-opening.
My hat's off to you, BL contestants, for conquering those wheel-less devils. Good job!