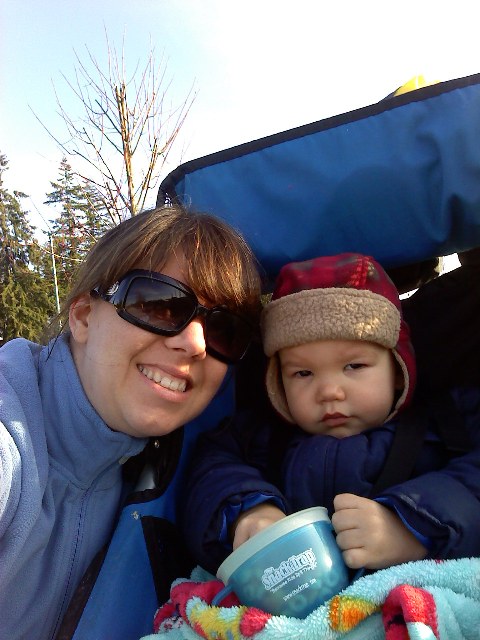 I haven't been told not to run (well, except by some of you and the Interwebs). But Brain is advising me not to and I'm being 6 about it — pouting and obsessing, even though running's not really on my NODM training schedule till Friday anyway.
DAY 200
My right foot was feeling normal yesterday, so I took a very sick T Junior (fever, extreme congestion, coughing, little sleep) for a walk in his jogging stroller – cross training. I was home from work with him because of his cold and the sun was out. When there's sunshine in the Northwest, you have to enjoy it. It's like a law or something. Everyone was outside and I pined for spring, which I usually don't do because I'm more of a fall girl.
On Tuesdays, I typically mix things up with the stationary bicycle in the Secret Gym on my lunch hour. But yesterday, I wasn't sure what to do since I was at home. I actually have a real bike hanging in my garage, but with nothing to pull T Junior in, that wasn't going to work. That's why I opted for a walk, which in retrospect, may have been a bad idea.
I decided to wear my Garmin because, like I told Mr. T, "Might as well track the mileage." I started out on my loop through town with T Junior and then turned onto the trail. A woman was just beginning her run and her daughter was riding along next to her on a mountain bike. I suppressed the urge to say, "Normally, I run," like she would care. Then Brain leaned over and whispered: What is wrong with you? It's not even a running day. Chill out.
Despite Brain, Body couldn't help itself. I wanted to test out my foot with a little jogging, and I caught myself looking around to see if anyone was going to catch me running as if I was cheating or something. Probably, if people were wondering anything (most unlikely), it was, What is up with the swivel-head running in jeans to the beat of classic Disney tunes and pushing a kid bundled in a parka and a snow hat when it's sunny and 50 degrees?
Don't worry, though, I didn't run for very long – just a short straightaway or two or three on the trail and sidewalk. And nothing seemed to hurt.
But in the evening, after I'd removed my Sauconys and had been standing in the kitchen to make dinner and empty the dishwasher (exciting life!), I noticed my right foot was sore. And when I stepped over the baby gate and landed on the ball of my foot, electric shocks shot from the pad to the tips of my toes.
After putting T Junior to bed and landing on my foot wrong again, I cried for about 30 seconds and then looked up podiatrists.
DAY 201
Today, on my lunch hour (because Mr. T stayed home with T Junior), I skipped out on the Secret Gym. I felt really guilty about it, but I thought it was going to take a lot longer to find a podiatrist than it actually did (seriously, 5 minutes). My appointment with The Pod is on Friday.
So, this evening, I did strength exercises at home in front of Modern Family: 75 crunches on Mr. Bouncy and I held the plank pose for 20 seconds three times (not sure how long you're really supposed to do these, but whatever). Then Dumb and Dumber kicked my butt with three sets of 15 bicep curls, overhead tricep extensions, front raises and shoulder presses (OMG, I could barel do these and only managed to eek out 3 sets of 10).
THE CONFESSION
Before you wander away, I have a confession: I am J-E-A-L-O-U-S.
Is everyone running the Seattle Rock and Roll Marathon? Everyone BUT me?
At first, I didn't mind because I was already set on NODM (and I am still happy with that decision). After the Seattle Half I had no desire to conquer the city's Emerald streets again. I decided I would be the bloggy cheerleader and stand along the course with clever posterboard signs while screaming, "Go, go, go!" to my running friends. But in my mind, I always had someone to do that with. Am I really going to be out there all by myself?
COMING UP
Tomorrow's a rest day, like I have anything to rest from. On Friday, I have an appointment at The Pod and a "piping" (you'll see) hot date with Mr. T depending on T Junior's cold, of course. I will postpone Friday's scheduled 3-miler until I hear what The Pod says. But I am hoping he/she tells me, "Stop being a big wimp, take some Ibuprofin and DEAL," and I will be able to complete my 6-miler on Saturday AND the Million Inch Run next Saturday.