I enjoy running alone…most of the time.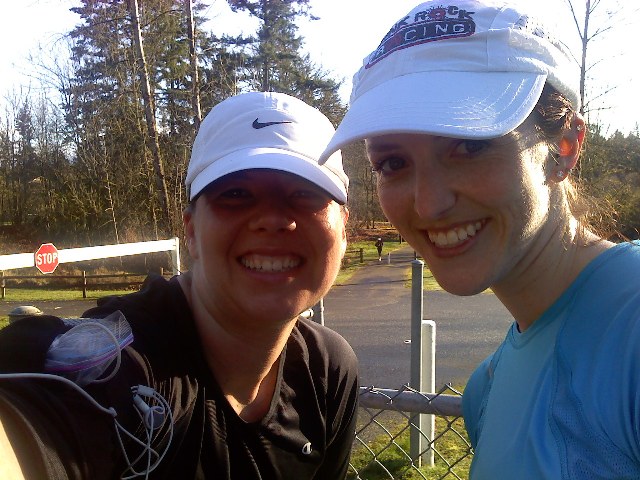 Nine miles – done! Me and Zoë post-run. Please ignore the rat's nest on my arm.
DAY 225
Saturday's 9-miler was not going to be one of those times. So I put out a Facebook distress call on Friday night.
Amanda was doing 15, but was going to be too far south. My friend Jamie was doing 4-5, but was going to be too far north.
Luckily, Zoë came to my rescue — which is nice since she only lives 10-15 minutes down the road. And it was extra nice since my pace is a lot slower than hers. And it was super nice because she suggested a new-to-me running trail that is gorgeous and very close!
I ended up wearing my new pink plaid Running Skirt again for my long run because my capris were still wet in the dryer when I woke up Saturday morning. I slathered on the BodyGlide, finished getting dressed and took Mr. T's black 'Bu with the heated seats to meet Zoë.
When I got there, she was parked in front of the trailhead parking lot becuase the gate was locked. Locked?! It was 7 o'clock and completely light outside! We tried opening it ourselves — maybe it wasn't really locked — but that didn't work. Finally, we parked on the street in the neighborhood across the road.
After we got on all of our equipment (I wore my Zune in case Zoë wanted to run ahead), we hit start on our Garmins and took off from our cars. One of the first things we did was run down a massive hill — the kind of hill that has hills within it.
"Here it is," Zoë announced. (Later she would explain she changed it's name from Hell Hill to Hell-Yes Hill because that's what she says when she reaches the top.)
"We're going to have to go up this after 9 miles?!"
We got really lucky on Saturday morning with the weather. It was cold at first, but the sun came out and warmed us up. We ran through forest, valleys, marshes and across country roads. There were little hills along the way, but that's good for training, right?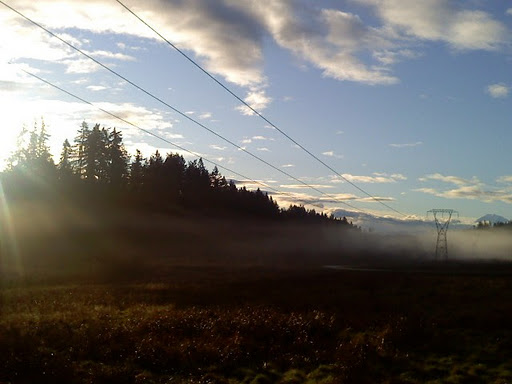 We stopped in one clearing to take pictures because the view of Mount Rainier was just gorgeous (it's in the far right of the picture — my phone makes everything appear farther away).
Then, at 5 miles, we stopped real quick to refuel. I hadn't been to the store to purchase any GU or Sport Beans, so that morning, I made half of a peanut butter and jelly sandwich, then cut it into four squares. I squished it into a Ziploc and then smashed it into the pocket of my fuel belt. When I took it out to eat it, it just looked so nasty. I almost didn't eat it, but I knew I better if I wanted to continue running.
I chewed up one of the squares. "Not bad."
Zoë scrunched up her face.
On the way back, I whined before every little hill and Zoë pulled me up mentally. We waved at all the other runners and walkers. We shared our favorite Jim Carrey one-liners. She gave me some great running advice and she suggested a name for my Garmin: AJ*.
I'm not sure she noticed, but tears threatened a little. Back to running…
Once again, the BodyGlide totally worked and I had no problems with wearing my skirt. I wore my black Champion Body Balance shirt and just rolled up the sleeves when I got too warm around 6 miles or so. Everything just seemed so easy.
And then we got to…dun-dun-dun…Hell-Yes Hill.
I huffed and I puffed, and Zoë told me to, "Get mad at it!"
When we reached the top, she yelled "HELL YES!" and threw her arms in the air.
"Hell yes," I squeaked and flopped my arms outward a little. A few steps later and Zoë's Garmin (Gus) alerted us to 9 miles. Mine was a little behind because I forgot to restart it after a cross-walk stop.
We finished and then did what running bloggers do best: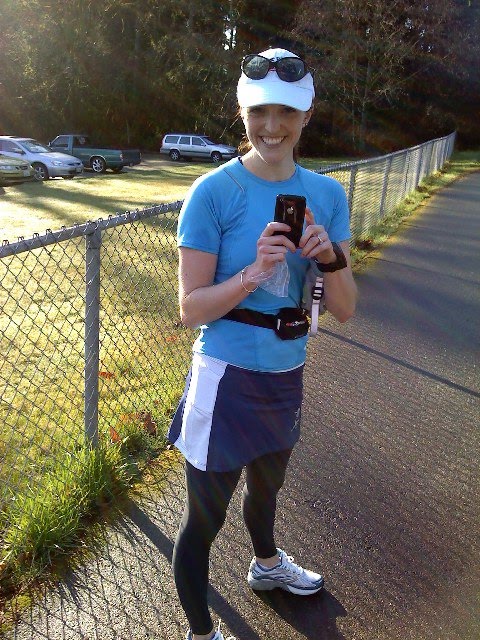 Document stuff.
2/27/10 – 9.07 Miles – 1:36:23
Average pace: 10:37
Mile 1: 10:35
Mile 2: 10:49
Mile 3: 10:45
Mile 4: 10:39
Mile 5: 10:34
Mile 6: 10:27
Mile 7: 10:25
Mile 8: 10:36
Mile 9: 10:42 (Hell-Yes Hill)
.07: 46 seconds (hey, I'm documenting here)
Thanks, Zoë, for running with me and keeping me so consistent!
DAY 226
Today was a rest day. I am not sore at all from yesterday's run. In fact, I wanted to go out and run today since the weather was so pretty again. But I didn't.
Is it me or does anyone else have absolutely no energy on rest days? I was so tired today, I felt like I could fall asleep sitting up.
I made some changes to my marathon schedule today. I wanted to "officially" add some more strength days and, since it's getting lighter out at the end of the day, I switched up my "running" days a little.
Later, we went to the grocery store for a couple things and left with three boxes of Girl Scout Cookies. Nooooooooooooooooooooooooooooooooo!
*You can read about AJ here and what happened to him here and what I did for my first half here. After much thought, I've decided to call my Garmin, AJ II. That way, like Zoë reminded me, he can always run with me!