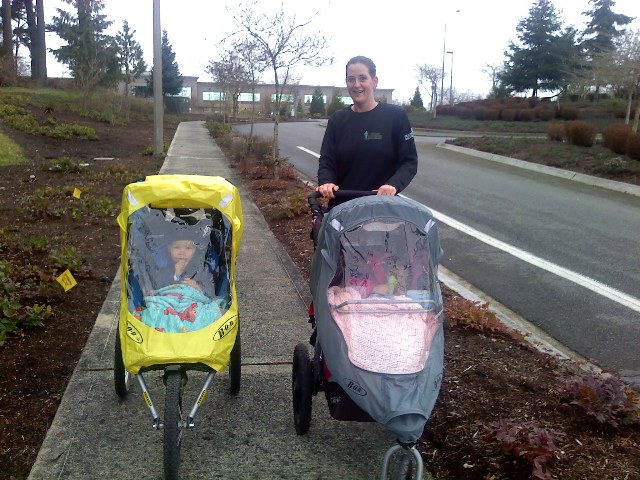 Kris with her daughter, Siena, on the right and Karsen.
And the kids in their jogging strollers. Ugh.
My new schedule calls for a 3-miler and hill repeats on Mondays, but I won't be able to run tomorrow after work because of a SCBWI meeting. So I had to get 5 in today.
Kris and I had talked over the weekend about running with the kiddos on Monday and we arranged to meet in the morning at Weyerhaeuser. The paper company's headquarters is surrounded by a beautiful tangle of trails.
Both of us had chaotic mornings and we ended up meeting a little later than we had planned. But that's the great thing about having a running buddy that's also a mom of a young kid. As I loaded T Junior into his stroller, I shivered. I knew it was going to be colder today than it's been in a while, which is why I brought the weather shield with me, but I was surprised that I could see my breath!
Kris and I set off once I got AJ II to find a satellite. I felt stiff, cold, tired. And I had to pee. It was not a good combo. The trails were beautiful, but some of them had deep gravel and jagged rocks. Not ideal with a jogging stroller. But Kris knew the area and she steered us to some paved roads (that rarely see cars) and some smoother dirt trails. We were a mile into the run when we got a surprise.
It started snowing.
That's right. It was sunny and 60 degrees on Saturday (I have tan lines from my arm band music holder thing), mid-50s with sun breaks on Sunday. Snow on Monday. No wonder I couldn't warm up!
I was so cold. Not my upper body, but my legs. They felt like stones taken from the bottom of a river in Alaska. And it didn't help that I kept stopping to take pictures of the snow. One time, I forgot to restart my watch. We probably went a half mile before I noticed. So we probably ran closer to 5.5 miles instead of the planned 5.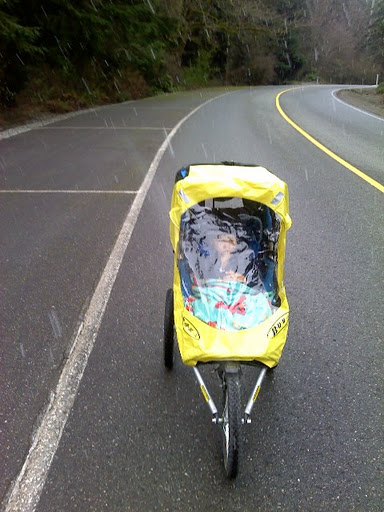 Don't worry — we didn't see more than 2 cars on this road!
This was a really tough run. I struggled big time. I think partly because my body was not completely rested from Saturday's 10-miler. Plus all the other factors I mentioned above. Why are there never any Honey Buckets when you need one?!
I tried GU Chomps before the run. I didn't notice any extra energy and they made my teeth hurt. I will try them again, though.
Both of us were glad to be done with this run!
3/08/10 – 5.07 Miles – 1:00:05
Average pace: 11:51
Mile 1: 11:44
Mile 2: 11:25
Mile 3: 12:00
Mile 4: 12:03
Mile 5: 12:12