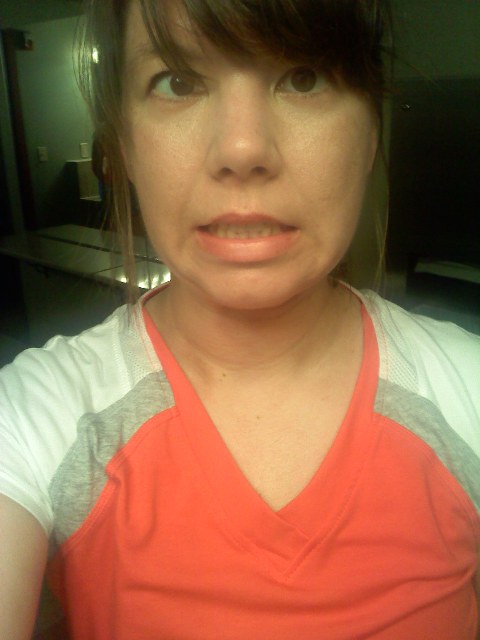 I am a Runner Girl with Bangs. An RGWB. This means I wear all sorts of head gear in order to keep them out of my face.
Several weeks ago, I won a BondiBand. The fashionable, thick, soft headband/handkerchiefs are an RGWB's best friend. They stay put, and you can slide the fabric over your ears to keep in your earbuds in or save your lobes from freezing. Since it is winter, though, I've been wearing a hat to keep the rain and, er, snow (on Monday anyway) out of my face.
But warmer weather is coming. I can see it in the cotton candy pink pedals on the trees that line just about every street in Seattle's suburbs, from Mill Creek to Maple Valley, and I can hardly wait.
Tuesday was cold and the clouds had gray bellies so I opted for the treadmill indoors. Since I swapped Monday's run with Tuesday's, that meant 3 miles plus hill repeats. Except I wasn't exactly sure how to do hill repeats on the treadmill. I was sure, however, that it wasn't going to be pretty.
My shins and calves were tight from Monday's run. My attitude was poor and I wanted a nap, not a treadmill. To top it all off, I'd packed my shorty short shorts on Monday night, thinking I'd give them another chance now that I had BodyGlide to protect my thighs.
I bought them at Old Navy last August because I didn't want to suffocate in my baggy black Adidas capris anymore. It took all of my guts to wear them and once I began running my bravery bubble popped as soon as I looked down and saw my dimply, white thighs rolling like ocean waves. And as if the shorts weren't revealing enough, they crawled up, forming a sort of confidence-draining running diaper. I swore that you would never – ever, ever – see me in the shorty short shorts. Ever.
And then I put them on yesterday in the restroom at the Secret Gym. They are too big.
Now, I haven't dropped much weight since I started running, but I've certainly lost inches, which is why I don't wear a size 16 anymore and am comfortable in my size 10 Calvin Kleins (that I like to find at TJ Maxx for $30). My thighs still roll, but I like the way my legs are shaping up. (It's the middle section I'm having a problem with. T Junior was totally worth it, though.)
Anyway, I'm not completely ashamed of what I look like anymore, so here I am in the shorty short shorts that I'll probably never wear again because they are too big now.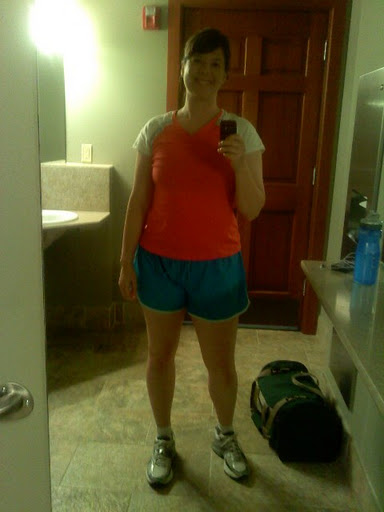 I was seriously worried they would fall down while running. It was annoying. But it wasn't the only thing bothering me on this (what turned out to be a) 2-mile run with three 'mill hills.
I didn't wear my BondiBand. WHY?!
I can't remember why. I guess I thought I didn't need it. Not only were my bangs sticking to my sweaty forehead, but since I actually took the time to blow-dry my hair Tuesday morning, I had a ton fly-aways tickling my face. One piece in particular was longer than the others and making me cross-eyed while I ran. I should've stopped the treadmill, walked over to my bag and slid on the BondiBand, but I didn't want to stop and start. It was hard enough already.
I probably would not have this problem if I paid for someone to cut my bangs instead of doing it myself with a pair scrapbooking scissors over my bathroom sink.
Secret Gym Treadmill Run – 3/09/10 – 2 Miles – 21:00 – 10:37 average pace
Three 'mill hills at 3.5, 4.0 and 5.0.