I had to take a picture of this guy along the Cedar River Trail.
He dresses up for all the holidays. It's hard to see, but he's got on a St. Paddy's Day hat.
I sort of wanted to skip my long run this week. Next Sunday, is my second half marathon and I thought maybe I needed a break. I've been feeling so tired lately.
I knew I'd regret it, though, so I got my butt out of bed at 6 a.m. Saturday morning. Got dressed and drove down the road to the Cedar River Trail by 7. I pulled into the gravel parking lot and the only other people there were someone camping in an old, rusty RV. Awesome.
Just before I turned off the car, the news story on the radio was about a female jogger in Malibu, Calif., who threw herself down a cliff to get away from an attacker. Fabulous.
Not to mention, my sister gave me a lecture the night before about not at least carrying pepper spray when I run alone. So I guess I will be getting some.
The Cedar River Trail, however, runs parrallel with a busy highway. I feel safe on the trail. The sound of the cars can get annoying, but I'll deal in the name of safety. There are parts of the trail that disappear from the road, but I did something different this time and didn't go that far.
On this run, I decided to do two out-and-backs. Two reasons: 1) I didn't want to run the part of the trail that is hidden from the highway, and 2) I didn't want to run slightly downhill for 5.5 miles and then slightly uphill for 5.5 miles.
Instead, I ran 2.5 miles slightly downhill, then turned around and ran back slightly uphill. I rarely looked at my watch. I just ran. Then, I stopped at my car and had some water from my big water bottle, even though I had on my fuel belt. Last weekend, I ran out of water and I didn't want that to happen again. (Although, it was 60 degrees last weekend and yesterday I started in 38-degree temps.) I also had some Vanilla Bean GU. Yum!
On my way back to the car, I decided I needed something else to listen to. I was bored of my playlist. So, before I started running again, I put on my Legally Blonde – The Musical soundtrack. It's good and it was surprisingly great for running to.
I headed slightly downhill for 3 miles this time, having to disappear from the road for about a half mile. There were lots of people on the trail by now, though. The parking lot was busier when I took my water stop. Lots of bicyclists and other distance runners with fuel belts.
I turned around and headed back for 3 miles slightly uphill. But my plan worked! It wasn't as hard as last week's 10. In fact, I felt like I could run more, but I had to get home because we had to get to the dog show.
11 Miles – 3/13/10 – 1:56:27
Average pace: 10:35
Mile 1: 10:28
Mile 2: 10:23
Mile 3: 10:56
Mile 4: 10:53
Mile 5: 10:51
Mile 6: 10:31
Mile 7: 10:24
Mile 8: 10:26
Mile 9: 10:24
Mile 10: 10:41
Mile 11: 10:22
Seattle Kennel Club Dog Show
Lucy became a champion almost a year ago. Around that time, we retired AJ from showing, as well. Annie's been a "couch dog" for a long time now. So, we were missing the shows and our dog show friends. We decided to enter Lucy at the Seattle show. (Champion dogs only show in the Best of Breed competition, so it's really just for fun for us.)
The Seattle show is not that big of a dog show, but it gets a lot of spectators. It's held in the Qwest Field Event Center and they charge admission and parking. (Most dog shows only charge for parking.) We got there early so Lucy's handler could groom her, even though Mr. T was taking Lucy in the ring. But we got there too early.
Boxers were showing at 12:45, but after 30 other dogs from different breeds. The judge was slow. T Junior missed his nap. I felt bad for my sister (T Junior calls her Auntie Pit) and her boyfriend, who are not crazy dog show people. But they were good sports. T Junior was not.
By the time Lucy and Mr. T went into the ring, he was tired and cranky. Poor guy. Actually, he was pretty good most of the day, though.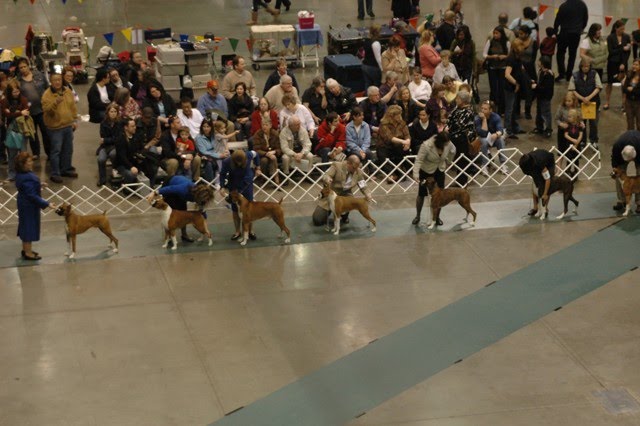 No ribbons for Lucy on this day. We had fun, but were all exhausted by the time we left at 3 p.m. That means we were all standing or walking for about 3-1/2 hours (and, for me, that was after running an 11-miler that morning!). If only we could all sleep in the car!