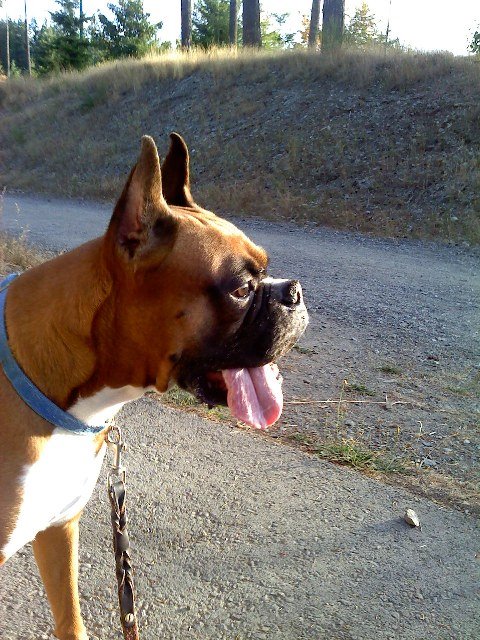 I must love punishment.
I went running with AJ this morning at about 6:30. And, big surprise, it was a lot like running with Annie. Actually, once we we got about half way into the 1.5 miles, things calmed down.
It's just that right when we got on the trail, a pair of women went jogging by, and I was just starting my warm-up walk. AJ really wanted to run with the joggers. I slowed my walk down in order to let them get farther ahead of us, but then one of them stopped running and started walking. Ugh.
"AJ. Slow down," I said through clenched teeth. "AJ. Eaaaaasyyyy."
So, until I started jogging, it was a struggle with AJ, who so badly wanted to visit with these ladies. When we finally passed the strolling woman, I was trying to make the dog heal.
I smiled in defeat at the walker. "It's like running with a two-year-old."
Once we were past her, things got better. AJ stopped tugging on the end of the leash and could do a quick walk while I jogged. But then, as we were making our way through the area on the trail with the deep gravel, I noticed he was limping. I stopped.
"AJ, are you okay?" I wondered if it was the sharp crushed rocks. I let him run in the soft weeds on the edge of the trail, even though I didn't want to because he has allergies. Yes, it was the gravel that was affecting his gait. Poor guy.
We had to get through that spot on the way back, too, so again we slowed down through there. But, the remaining 3/4 mile, I alternated shuffling with sprinting.
The whole run seemed way longer than 23 minutes, though. Glad I got it over with this morning.