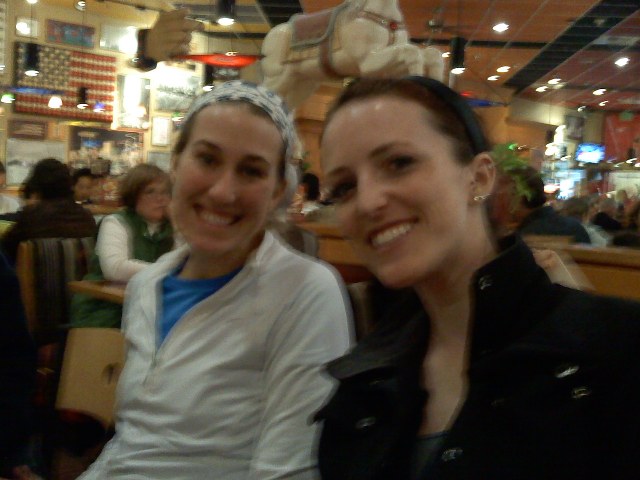 Amanda and Zoë – blurry, sorry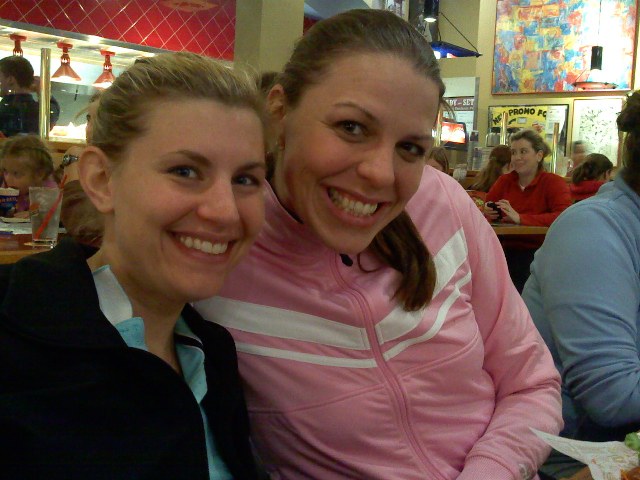 Zoë and me – blurry again
Immediately following the Mercer Island Half Marathon (recap here) Sunday, a bunch of us local bloggy runners assembled at a nearby Red Robin to celebrate Amanda's birthday. Besides the smell of sweat wafting from our table, you would never have known we all just completed a half marathon. We were some loud and happy bloggers!
Seriously, we are a boisterous bunch – Amanda (aka PR Princess) and her friend Jessica, Mel, Zoë, Jill, me and Amanda's adorable Little Buddy who just took everything in stride (no pun intended). At one point, I told Jill my face hurt from laughing so hard. Never mind the sore muscles from running 13.1 miles!
And, we all had eyes that were bigger than our stomachs. Zoë and I were the first to arrive, so I ordered waters for the table and fries to get us started. Then, Jill and I got the most amazing restaurant chain hot chocolate I've ever had. It had a perfectly shaped hat of whipped cream that was dotted with chocolate sprinkles. The topping oozed down the side of the beige mug and I caught it with my finger. Yum! It was the fatty fat whipped cream – no fake stuff here! Oh, and the hot chocolate was good, too.
I ordered a huge burger and only managed to eat half of it. I didn't even finish all my fries! I couldn't believe it. After being so hungry toward the finish of the race, here I was with all this food and I couldn't eat it. Mr. T was happy for the leftovers, though.
Amanda's Little Buddy completely outfitted his mama in perfect PR Princess style!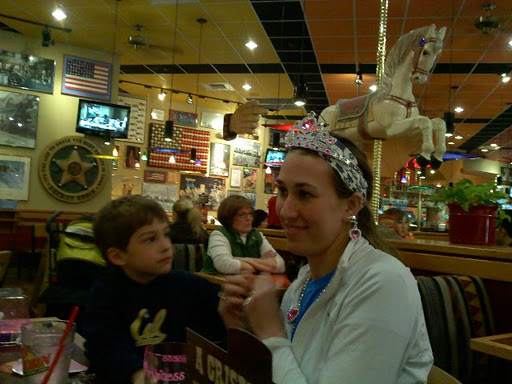 And her friend, Jessica, made her an amazing cake that rivals any Martha Stewart creation I've ever seen. It was pretty and delicious!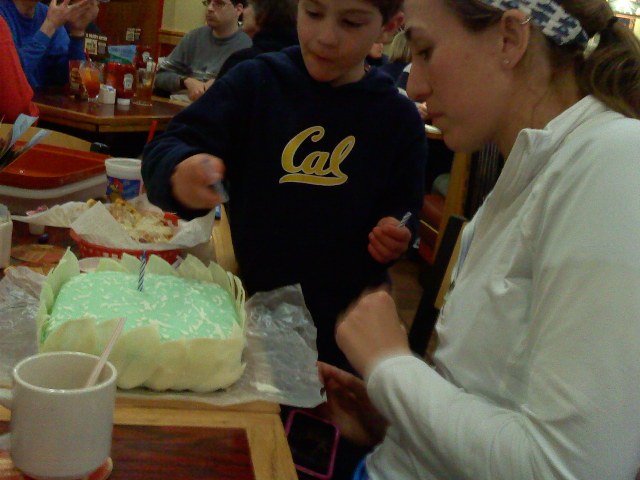 Mercer Island Half Marathon Observations
The following didn't fit into my recap:
1. We ran all the way around an island, but I could never tell what direction we were headed. When Zoë pointed out the Seattle skyline, I couldn't believe we were already back on that side of the island. I guess that would be the west side.
2. The race course was beautiful. No stinky freeway tunnels like the Seattle Half or underpasses or on-ramps. The Mercer Island course wound along the side of a hill most of the time, which made for amazing views of Lake Washington. Evergreens and spring's budding trees towered over the road alongside million-dollar homes. The downside of running on a street cut into the side of a hill is that the road was not entirely flat. Much of the time I was running with one foot slightly uphill from the other.
3. The weather ended up being perfect. Overcast and cool with only some misty rain at the very beginning. I still got hot in my running sleeves and I eventually peeled them back to ¾-length.
4. Zoë and I hammed it up for the first race photog we saw on Sunday, flashing cheesy grins and peace signs. I hope the pictures turn out! I've yet to order race pics because a) I'm not usually in very many, and b) the ones I'm in typically show more of some other person than me. This time, I tried to smile big and make myself visible for the photogs that I noticed. I also tried to do something good for the finish line, although I never actually saw the finish photographer. So we will see.
5. I really, really liked running with someone. It definitely helped me with the mental aspect of the race. I was less stressed and had more fun. I didn't get angry or annoyed like I did during and after the Seattle Half. When people stopped in front of me, I simply went around them. The only thing that irked me was the hula-hooping woman who almost tagged me with her swinging circle as I sped to the finish line. Jill said she was nearly taken out by TWO hula-hooping women. Can someone clue me in to the hula-hoops? What gives?
6. I'm not very sore from Sunday's race. After the Seattle Half in November, I could barely walk. Going up and down stairs was torture. True, I was stiff immediately after the race on Sunday afternoon, but by the evening, I felt pretty great. Monday, I was a little tired, but running actually sounded pleasing. I didn't go because I thought I didn't have to, but I should've looked at my training plan because I did have a short run scheduled and strength training. Oops!
7. Despite completely covering my toes in BodyGlide, I still managed to bring home blisters. Mel is always saying that I shouldn't get blisters, but I don't know how to avoid them. Well, I do know that I should try some different socks before I completely give up on blister-avoidance techniques. Really, though, I think it's because my toes overlap. Therefore, they rub. Always have. So far, they've never been bad enough to bleed, but I imagine they might during a full marathon and that scares me a little.
8. Going to Costco Sunday after the race turned out to be a really good thing. They were having a demonstration of some leg and foot massage machines, and I tried one out. Wow! My feet felt amazing afterward. I tried to convince Mr. T that we should spend $350 on one (and that we should buy a spa), but he just laughed. What? (By the way, I never got that nap T Junior offered me.)
9. I need to lose weight. I'm not sure if anyone noticed, but I've been posting my weigh-ins every Friday in the sidebar of this blog. I've only lost 7 pounds (because I gained some last week while my sister was visiting), since I started running in July 2009. Luckily, I lost 8 or so before that through Weight Watchers Online. But I quit WWO when I started running seriously because I thought the pounds would simply melt off my body. That's not happening. I definitely look and feel better than I did a year ago and I have lost inches, but I'm about 25 pound
s from where I want to be. I need to get serious. I'd like to lose at least 10 before my marathon in June. The less I have to carry around, the better. I especially noticed the extra weight in looking at those group photos that were taken after the race on Sunday. All those skinny, fit girls (and guy), then me. I don't think I look horrible; I'm just not where I want to be. I'll be doing some calorie calculations and really figuring out how much I should be eating for training and weight loss. I know that can be tricky and I definitely want to be safe.
10. I had another drenching night-sweat episode in the early morning hours on Monday. It's so annoying! I changed clothes and settled in on the couch because there was no way I was getting back into my soaked sheets. The drenched t-shirt, which I simply threw on the floor of my room in the dark, was still very wet when I put it in the laundry last night. Ew! (I'm definitely not pregnant, so don't get any ideas.) Monday night, though, I though of something. I asked Mr. T to take the heavy comforter off of me before he went to sleep (he usually falls asleep a while after me), so I just had the sheet and one other blanket on me. That helped! I woke up around 1 a.m., my heart racing after a strange and scary dream. My shirt was damp, but not drenched, so I changed my PJs. The sheets were not wet, and I was able to crawl back in and toss and turn, and try to forget the nightmare. Maybe it's not my hormonies after all.
11. Running makes me feel young again, and it makes me feel better about myself. I'm in my early 30s, and I know I'm not old, but I'm past the age of hanging out with girlfriends until the wee hours of the morning. When I'm racing with friends and even running by myself, I forget for a little while that I'm a wife, mom and a responsible (sometimes) adult. It's a nice release. It recharges my human being batteries and makes me a better person.