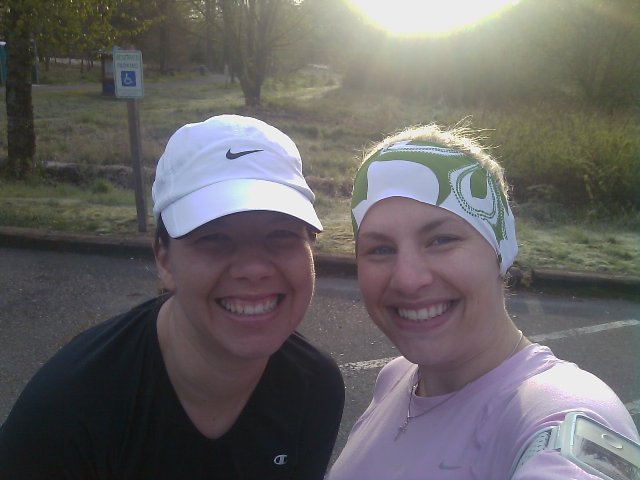 I never would've finished my 15-miler if isn't wasn't for a running buddy. It was around 12-13 miles that my body just started to hurt. All over. Every joint ached, my feet felt like they were breaking every time they hit the ground, and when we had to make up some mileage after we passed by our cars at the end, my mind sunk in self-doubt and frustration.
Thank goodness for Jill. Overall, Saturday's 15-miler was a great run with a friend.
My run started the night before with a steaming plate of whole wheat spaghetti and a side of broccoli and half a dinner roll. Yum!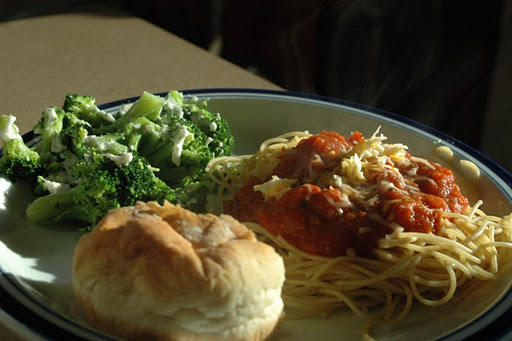 I like mayo on my broccoli. It's a family thing.
Before bed, I made a PB and J sandwich because I forgot to get some more GU. I only had one left and you need more than that for 15 miles.
Then I had a freak-out because I couldn't find my black capris. I knew I washed them, but they were nowhere to be found. Finally, I looked in the dryer. They must've fallen out when I took them out earlier and then got tossed back in with another load. So they were double-clean. Finally, I went to bed until the alarm clock woke me up at 6:30.
Since we're moms, Jill and I agreed to meet early at the Soos Creek Trail, a scenic route running buddy Zoë introduced me to — it's not a path along a highway with car noise and wind.
But, brrrr, it was cold: 32-degrees Fahrenheit. Jill and I shivered next to our cars as we finished getting ready. A couple friends came over to wish us a good run.
Then, pre-run pictures: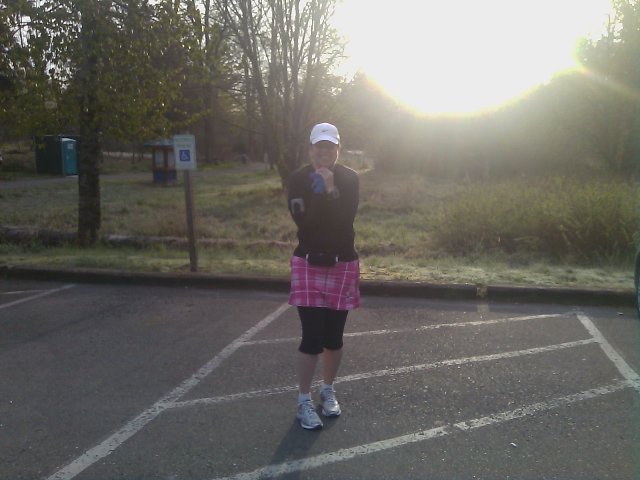 Brrrr.
Okay, we couldn't stall anymore, so we hit the trail, heading down Zoë's aptly named Hell-Yes Hill and thinking about running up it at the end of 15 miles.
Because for both of us our goal is to finish a marathon, we tried the Jeff Galloway style of running: run five mintues, walk for 1. We started that after two miles and I think it really helped, especially toward the end when I was struggling. Just five minutes, then I can walk again. I wish I would've done this during the Million+ Inch Run.
Jill and I just talked and talked. About everything. And the time and miles passed quickly and we warmed up, too. I ditched my free Smurf-colored gloves near a bench around Mile 2 (and picked them back up at the end of our run).
Once we started our 5:1 routine, the five minutes seemed to fly by. And one minute walking went by fast, too. But it helped break it up.
When I looked up the Soos Creek Trail on the map on Friday, I thought it had said the trail was about 7.43 miles long. But we got to the end somewhere around six miles. We spotted a school across the road and I had an idea. "I wonder if they have a track?"
Giggling, we ran-skipped over the wet, muddy grass field. "What are we doing?" I laughed. But there was a track, so we ran around it until we reached 7.5 miles, then headed back to the asphalt trail.
Around Mile 10, we were still feeling pretty good. In fact, I confessed that it had only felt like we'd run 6 or 7 miles. But then we started to hit the hills. We didn't remember going down so many. Or at least I didn't.
Jill is an amazing hill runner. She just charged up those things like they weren't even there. I lagged behind. I have hill issues.
Around Mile 12, we made a pit stop, which meant stopping. I definitely didn't mind that. I stretched my hips by putting each leg up on a picnic table bench. I ate more PB and J and drank almost all of my water. (I need to get another pod for my belt. Luckily, Jill had extra water and gave me some.) But I was really tight.
It was extremely hard to start running again. I felt like I was 90. "Ouch, ouch, ouch, ouch," I grimaced with each step as we began to run. "It's gonna take me a sec to loosen up."
It got better, I warmed up, but the pain totally took over. The 5:1 routine changed. Five minutes seemed like 20 and one-minute felt like 1 second. Still, I hoped our one-minute of walking would come right at the base of Hell-Yes Hill, or at least in the middle of it. But of course, it didn't. And the alarm to run five minutes went off right at the beginning of it. Argh.
Jill cheered me on and charged up while I dug down as deep as I could. But I was slow. At the top, we realized we were too close to the parking lot with not enough miles. "What happened?" both of us kept asking. We got back to our cars at about 13.75 miles.
I like to be done at my car. So does Jill. We were a little frustrated, me especially because I tend to get a little angry toward the end of long runs anyway — Why can't we just be done?
We headed through a nearby neighborhood. Jill wondered if the street circled around to the road that would lead us back to the parking lot. "I don't know," I puffed, "But do you really want to find out? I don't." I was cool with an out and back. I couldn't stop thinking about my water bottle and a banana waiting for me in the car.
During the last mile, Jill suggested skipping the one-minute and just run and get it over with. She seemed to have a lot of energy left where I just wanted to lay down in the street. She kept me going and finally, finally, we were back at the car!
And then we did lay down on the asphalt for a fun picture!
Fifteen miles done:
Next week, sixteen.
*Jill called me in the car on the way home. She figured out
why our mileage was short. Although we had run the "out" part of the track to equal 7.5 miles, we didn't run the "back" part of the track. We should've doubled our track mileage. Oops!
COMING UP:
-The painful drive home and a Polar Bear bath.