Is it odd that I couldn't wait for my 8-miler last night? On a treadmill?
Of course, T Junior was doing everything in his toddler-power to push bath and bedtime back as far as he could. He's a master staller.
After kissing and hugging a fuzzy blue blanket, a Pooh Bear, a Tigger and, of course, my warm and sleepy child good-night, I hurried down the stairs to gather the necessities for the gym: Clif Shot Blocks, Nuun, music, phone, keys, BodyGlide. I was smart again and put on all my running clothes earlier in the evening. Then, I gave Mr. T a kiss (after explaining that, no, I didn't already do my mid-week long run on Monday), and I was out the door, heading to the New Gym at a quarter to 8.
The leather seat of the Odyssey was cool against the back of my bare legs. I switched on the butt-warmer. The temperature in the New Gym requires a running skirt and tank top, but I zipped into a hoodie for the short drive so I wouldn't be tool cold because it's still chilly in Seattle.
When I walked in the glass doors of the gym, the sharp smell of sweat and metal stung my nostrils. I didn't hate it. I told the woman behind the counter my membership number, then wandered toward the lockers.
I like to think of myself as confident, but I felt timid last night. A new kid at a new school. I tried to look around without being obvious.
Tank-topped men with enormous shoulders cascading into arms like rolling waves lifting weights in front of a mirrored wall. There was laughter and conversation between good friends and "Hey, how are ya?" greetings between casual gym acquaintances. The whir of probably 15-20 elliptical machines, all in use, was audible even with Steve Miller's Jet Airliner playing over the gym's sound system.
I was relieved to spot a couple of the TV-treadmills open. I know I can rack up the miles when there's a tube in front of my face, but I have my doubts if I'm staring at a Bank of America parking lot.
The first mile, I was stiff. My calves ripped apart with each step. I forgot to stretch after Monday's impromptu 4-miler — I was in such a hurry to rescue T Junior from the day care. Luckily, I had the TV to take my mind off the pain. First, I watched the baseball game (Mariners), but Fox Sports Northwest was fuzzy, so any time the ball was hit, I couldn't actually see where it went. That got tedious. Plus, it was 0-0 for two miles.
Next I tried E!, but it was some crime show and that's not my thing. Bravo had the Millionaire Matchmaker. I gave it a try. This is a show I cannot stand to have on for more than 30 seconds at home, but for some reason, it was great for passing the time on the treadmill. Commercial breaks were difficult, though.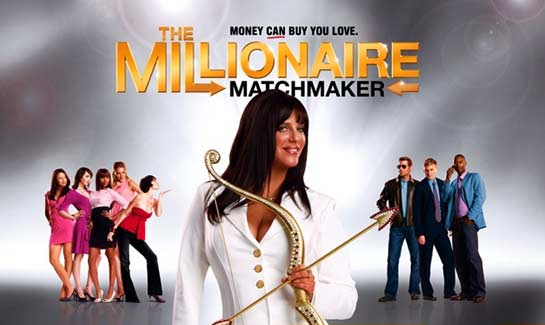 Maybe it's because the characters are so odd, but before I knew it, my 60 minutes was up and I had to restart the 'mill for 2.4 more miles. I guess I just like trash TV when I'm at the gym in the same way I prefer junky music for running outside.
I got a kick out of people starting and ending their runs or walks on the treadmills beside me. I outlasted them all, except one small and determined woman who must've walked to Egypt and back. She was still going when I finished and she started before me!
While on the treadmill last night, I felt at home, but once I got off, I again was out of place. Should I get my bag now or wait till I'm done stretching? And, where do I go to stretch?
To be honest, I was sort of out of it. A little dizzy from being on a moving belt for almost an hour and a half. My $7 orange Walmart tank was a shade darker in the front from my sweat. I touched my face and it felt wet. I took off my BondiBand then saw the dark window's reflection that my bangs were standing straight up, Something About Mary-style.
As I drove home in the dark, I thought about how I could've been running cul-de-sacs, straining to see the small dips, cracks and obstacles in the sidewalk in front of me. Yeah, that's not fun. Watching millionaire chauvinist men* make asses of themselves on TV. TONS of fun.
I'm looking forward to next week's nighttime treadmill 8-miler already.
Monday's impromtu 4-miler
44 Minutes/10:28 pace
Tuesday night's 8-miler
1:25:12/10:39 pace
*Just to be clear, I don't think all millionaire men are chauvinists, just the ones they picked for that particular MM show.