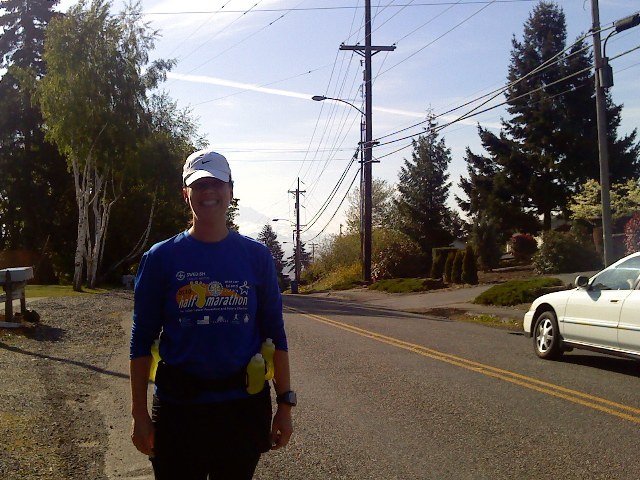 I'm sort of blocking the view of Mount Rainier. Oops.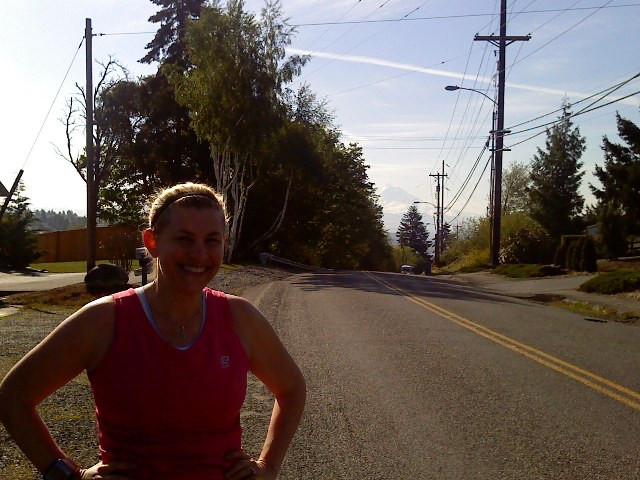 Jill showing off our Mount Rainier view a little better.
I got my long run done early last week. But getting it done early meant paying a little money for day care and rushing around to try to get T Junior there on time so I could meet Jill in her neck of the woods on time.
Even though I got most of my things ready Thursday night, I was still hurrying around Friday morning. I mean, you can only get an almost-2-year-old to eat his waffles so fast, especially when a puppy is nipping his toes and licking his feet.
As I hurdled the plastic baby-puppy-divider-fence between the living room and the kitchen, when the sole of my Saucony clipped the top.
Down I went onto the hard linoleum: right knee first, right hip, right elbow, shoulder and finally my head. I wasn't expecting to fall so fast. I was surprised I hit my head. And I wasn't down for a complete second and the puppy was jumping all over my face and eating my ponytail.
I started to cry. Mostly because I was surprised. Next thought: Oh my god, I hope I didn't injure myself four weeks before the marathon.
But then from underneath the table, I could see T Junior's blank, surprised face twisting into a scared wail. That sobered me up.
"I'm okay, honey. Mama's okay." I stood and went to him. "I'm okay, honey." My knee hurt and my head, but I knew they would, in fact, be just fine.
T Junior sniffed. "A Mommy a fall down a kitchen."
"Yeah, but Mama's okay."
"A Mama cwying."
"Yeah, I know. But it's okay. Mama's all better."
So, I didn't get the best start on Friday. And despite being fine after the fall, my muscles were tight. Everything felt knotted. On top of that, my legs had been tight all week. I wondered aloud to Jill if maybe it was from missing my mid-week long run.
But what a beautiful day for running, and it was even better because it was with an upbeat friend who kept my spirits high and encouraged me to keep going when I really just wanted to park my rearend on the curb and call for a cab.
We started off waaaay up high with a breathtaking view of Mount Rainier. You'd think we'd be going down the whole way after that, but no, we had to go up the road Jill called "Mile-Long Hill." But she said it'd be the only big hill on our 14-miler.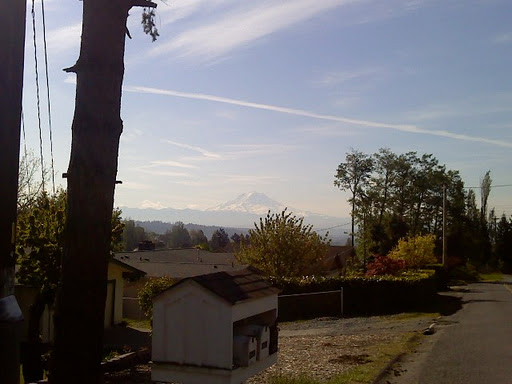 Except we took a trail she'd never been on before and it had lots of hills. Jill felt bad and kept apologizing, but how was she supposed to know!
"You don't need to apologize," I kept saying.
The views were amazing. The sky was blue. There was an occasional cool breeze. I wish I would've been feeling better.
In addition to clenched muscles all over my body (and unfortunately my back, which had me a bit worried), I also had a "womanly" cramp that nagged me the entire way.
Somehow, and probably because I had Jill mentally and probably a little bit physically pulling me along, we finished. We even ran up an inclince Jill calls "Nice Hill." Trust me, it's not nice.
Gotta love a running buddy. What would we do without them?!
14.21 Miles – 5/7/10 – 2:37:47
Average pace: 11:34
Mile 1: 10:27
Mile 2: 10:20
Mile 3: 11:39 (Mile-Long Hill)
Mile 4: 10:48
Mile 5: 10:52
Mile 6: 10:59
Mile 7: 11:25 (I'm hurtin')
Mile 8: 11:34
Mile 9: 10:45 (Got through it)
Mile 10: 10:53
Mile 11: 11:03
Mile 12: 11:14
Mile 13: 11:26
Mile 14: 12:03 (Nice Hill)
.21: 10:33 pace