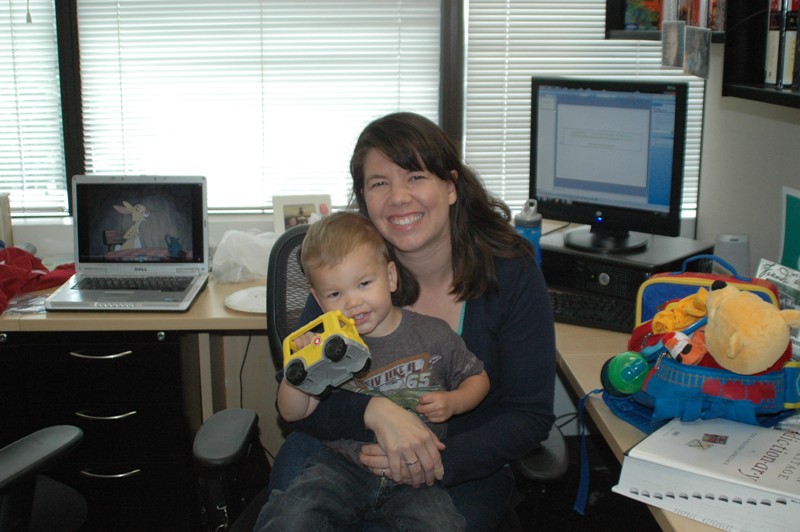 Wednesday was about the longest day on the job I've had since I began working about 17 year ago.
The company I work for had take-your-kid-to-work day and toddlers were invited. For some reason, I thought this was a great idea. Doable, even. After all, I've worked at home before.
Here's me working at home: I'm in a seafoam green velour sweatsuit sitting on our deep-back moss-colored loveseat with my feet on the floor and a silver laptop melting the tops of my thighs. A 32-inch TV five feet to my right blasts, "Sunny days, sweeping the clouds away!" while, 12 feet to my left, the toenails of two dogs and one puppy tip-tap on the linoleum at the sliding glass door to go out…again, and one toddler, directly in front of me, cranes his neck around my screen and uses his whiniest voice to demand a show — Thomas the Tank Engine. No, Elmo. Wait. No, Thomas. No, not THIS Thomas. A different Thomas!!!!! Somehow, I write pages and pages of passable copy for the box that will hold a film about marine life…or a hidden object game…or I edit a proof for an educational software box.
But I was not prepared for Wednesday. Mentally, that is.
I did bring T Junior's Pack 'N' Play (a portable crib, for those of you who don't have kids), and an extra wooden baby gate that's been living in our garage because AJ was so afraid of it that it caused him to have those fainting spells he used to get before the one final big one that took our buddy too soon. And, I brought snacks and my laptop, and Nemo and Peter Pan and Winnie-the-Pooh.
But I was not prepared for the noise — oh, the noise! My office-mate has a 1-1/2-year-old girl. We locked 'em in because of two unguarded staircases. Our little corner office looked like a bomb built by some sort of deranged toddler went off — crayon, donut and Cheerio shrapnel covered nearly every inch of the floor and desks.
And I was not prepared for the proximity, I suppose. We were all stuffed in there because of that darn gate. (Although, my co-worker and I decided we might leave it up to keep the designers out! Ha ha!) Kids that did not belong to us congregated in our office, too, which was fine, but distracting, of course. Somehow, I managed to get several projects crossed off my to-do list.
The kids had a great time. T Junior wore his running shoes and put them to good use in the company warehouse where, later, a soccer game broke out, and I could barely peel my kid away from the sidelines to go eat some lunch.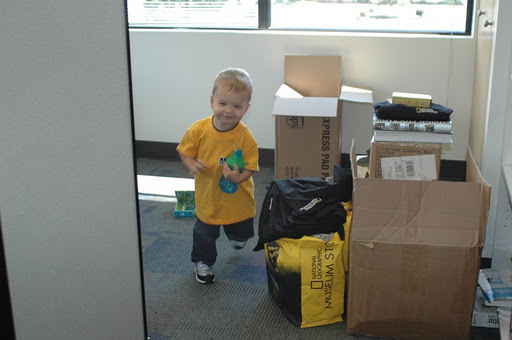 I almost took T Junior to day care, though, around 11:30. We were down the street in the minivan. We were on our way. But the idea of an hour of driving suddenly did not appeal to me as I sat in traffic. Plus, I felt a little sad that he was going to miss out on the rest of the day. I turned around.
Instead, I made him go down for a nap in a darkened conference room. That gave me 60 minutes to try to do some stuff, even though other children were still swirling around me, asking me questions and telling me stories, as I worked.
T Junior and I pulled into the garage at 5. We went inside and let the dogs out, then got our bathing suits on and put the dogs away. (Poor doggies.) Then, we left around 5:40 for swimming lessons. We were home at 7 to eat dinner and then it was bedtime. After T Junior, Tigger and Pooh were all tucked in, I fed the dogs and finally sat down at about 8:15. I skipped my core workout…for obvious reasons…in favor of a cup of decaf with cream (-1) and a thin bagel (-2) WITH butter (-my self-worth). Weight Watchers fail.
But I only had a limited time to relax because I needed to get my gym clothes ready for Thursday morning and get to bed so I could get up at 4:30.
Summer is exhausting.
COMING UP: The Summer of Weight Loss begins!