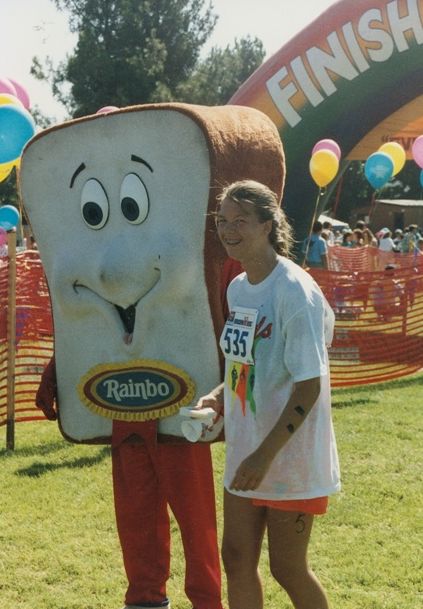 My mom made me pose by this big piece of bread. I guess I was too tired after the race to protest, or to point out that we never got to have our PB&J on coveted white Rainbo slices. Mom would only buy whole wheat or the heavy kind with seeds in it.
I was in the 8th grade, I think, when I did the IronKids Triathlon in Sacramento. I remember being particularly nervous for the biking portion of the race.
Me and Mom picked out a crimson 10-speed a few weeks before the event so I could practice. I liked to lean forward, resting my forearms on the ram-horn handlebars. I thought I was cool.
But I wasn't a biker. Before the lightweight racing bicycle, the ride I owned was purple, sparkly and had a white plastic basket fastened on the front. It was the kind you pedalled backward in order to brake.
I don't know why I'm telling you this. I guess I've just been waiting to use this picture for something. I am, after all, proud of myself for completing the race. And I'm glad I have proof…even if, in it, I am standing next to a corny life-sized slice of toast. Thanks, Mom.
Today was a rest day, so I have nothing to report. I didn't even take T Junior for a walk because I am officially sick. And I'm tired from getting up at 5 a.m. And I'm a little worried about my training. What if this burning, tickling throat turns into an annoying cough and sidelines me?
What do you do when you're sick? Do you keep running? Do you do the mileage any way you can?