Hey, guess what?
I'm not doing any exercise today. Yeah, that's right. I'm blowing it off. (Well, not really, since I'll probably just do my stretching and strengthening tomorrow.) Instead, I'm watching other people work out on TV. Is it me or does that Tracy character have the fakest fake cry you've ever heard?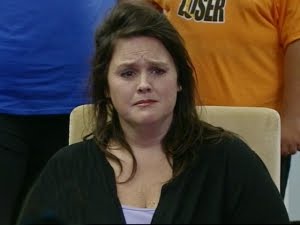 It's like Geez, lady, if you're gonna whip up some faux tears, at least put a little effort into it. I like The Biggest Loser, but sometimes I feel like they lay the drama (and the piano music) on pretty thick.
Anyway, my brain's been on overload. Tuesdays are my Mondays. It's always tricky to get back into the swing of things, you know. And then the fact that I signed up for NaNoWriMo last night isn't helping.
National Novel Writing Month challenges the world's biggest procrastinators wannabe authors to write a 175-page novel (50,000 words) in one month: Nov. 1-30. Needless to say, my thoughts are all over the map, dreaming up possible fiction I could write.
During my lunch hour, I jotted down three plots I could explore starting the morning after Halloween. I'm sure I'll be adding more ideas in my notebook over the next week or so. I may be asking for your input.
Okay, gotta run…er, sit and watch TV.