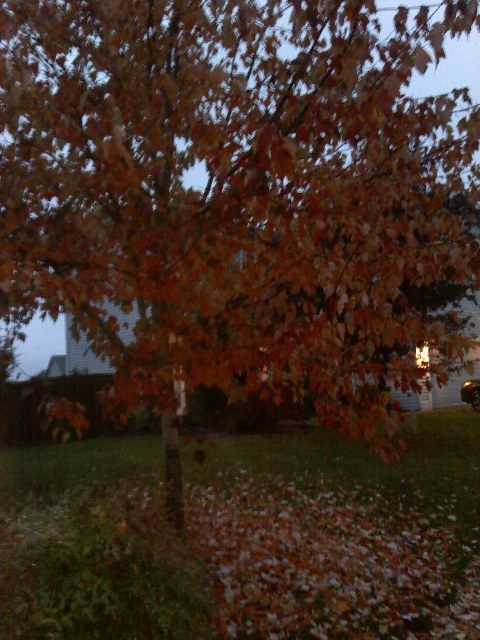 The rain kind of blurred this picture of one
of our pretty fall trees (taken after my run).
Running in the rain. Sometimes it can be kind of fun.
And sometimes it can be kind of…miserable.
So, I wasn't sure what to expect this morning when I was pulling my new blue poncho over my head. I could hear the rain outside. I wore my REI running shirt and my tights underneath. I put on a hat and cinched the poncho's hood over it. That should be pretty good. I was out the door by 6:30 for 4.5 miles.
(By the way, I held a heated debate with myself about whether or not I should even go when the alarm clock went off at 6: 09 — for the second time. I actually stood next to my bed for a couple of minutes. I felt like I needed more sleep, but I didn't know when I'd get to run later in the day. Plus, I didn't feel like dealing with the BOB and the rain cover, AND getting soaked myself. I also thought about the blog. If nothing, I will have something interesting to write about.)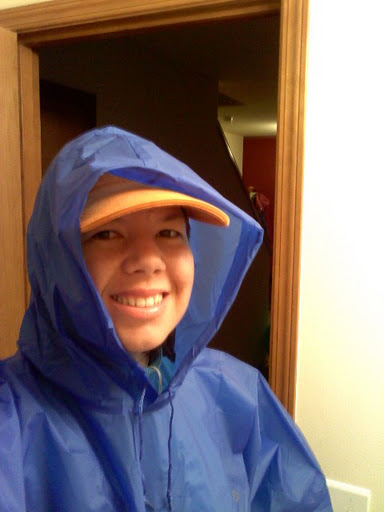 Before the run — feeling like Violet turning violet.
Under cover on the front porch, I tied my key in my shoelaces (a little trick I learned from Heather), pushed the button on my playlist and ran away from the house. I yanked the poncho hood off about 30 seconds into it. The material is crinkly, so I couldn't hear my music. Besides, I didn't have any peripheral vision, which I need when I run in the dark through the neighborhood.
I pulled my arms inside to keep them dry. It wasn't just raining, it was showering. It was like running through misters. Water saturated my orange GAP baseball hat until delicate droplets dripped from the bill while I splashed across wet asphalt and dodged slick piles of yellow leaves.
My tights did pretty well keeping me warm considering the rain slid off the poncho and drenched my lower legs. And I was surprised about my shoes. I thought my feet might get soaked because the material looks meshy, but even when I accidentally stepped in a deep puddle (we need more street lights here) and felt wetness on my socks, my feet stayed warm. I could tell they were wet, but they didn't get cold or feel uncomfortable. Yay shoes!
Round-trip of my first rain-run of the season took exactly one hour, and it didn't turn out to be miserable, but I wouldn't call it fun either. It was sort of somewhere in the middle.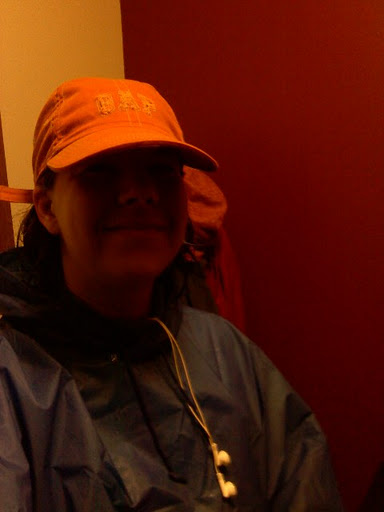 After the run — not giving a damn if I look
like Violet turning violet.