The last few days, I've been on an emotional rollercoaster.
Day 174
Thursday was rough, making the realization that I did. Admitting it. I felt down.
But that night, I was free! I didn't have to write a blog post! First of all, I shouldn't feel like I have to write a post, right? That's like work. Second, who said I had to? Um, nobody. Just me.
What did I do with my free time?
Vacuum. T Junior was so excited. He looooves the Dyson and crouched down and watch the wheels sweep over the carpet, which was littered with fake Christmas tree needles.
Then on Thursday night, I was excited to see an e-mail from the people at Champion, asking if I'd be interested in doing my own little version of their Champion Athleticwear Innovation Test Lab that's going on at the Walt Disney World Marathon today. The "Perfect 17" (people who have participated in the WDW Marathon for all 17 years that it has been around plus other participants from all skill levels, from runners to walkers to wheelchair athletes), will be testing Champion products. It's a pretty cool idea, I think, and I'm excited to be a part of it. Although, I wish I was one of those "Perfect 17" at Disney World this weekend!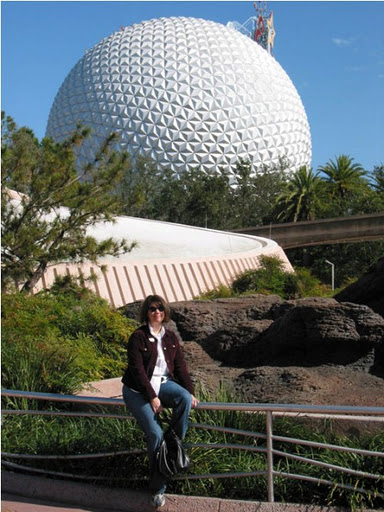 Me and Mr. T went to Disney World around Christmas in 2004 and I have been begging to go back ever since! I can only imagine how fun it would be to run a marathon there, stopping to snap a picture with Mickey along the way. How cool!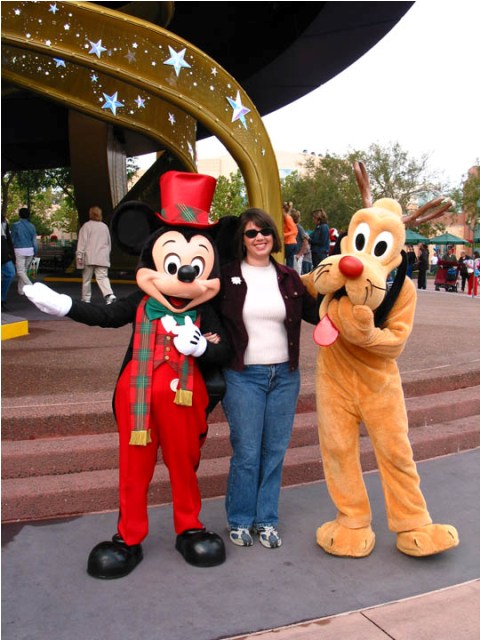 I cried when I saw Mickey in 2004. True story.
Meantime, I'll be snapping pics in some Champion products as I test them out in my own little version of the Champion Innovation Lab. It sounds like there will be a giveaway on the horizon, too, so stay tuned for that!
DAY 175
On Friday, I skipped an early morning run. I thought it might be a nice change of pace to push T Junior in the BOB. I was, after all, just planning a 3-miler. Besides, I wanted to get to REI and pick up my new fuel belt earlier in the day so we could be home for T Junior's nap. I had some money left over on my REI gift card that my mom gave me for socks and a fuel belt. The belt was on sale and I was able to get two new pairs of socks, which I'm loving.
I quickly picked out a bunch of sports bras at REI. T Junior sat in the shopping cart as I tried them on in the dressing room.
"REI!" he kept shouting. "Costco! Grocery Stowa!"
He's goofy. (See how I'm tying in the Disney references? Hint, hint, Mr. T.)
My favorite (most comfortable; most support) sports bra was Moving Comfort. At about $44, it was the most expensive. However, the straps did not criss-cross in the back and I knew that over time, the straps may not stay up on my shoulders. Nothing makes me crazier than bra straps that fall down. I couldn't take that risk. I went with the Nike Core DryFit bra that was on sale for $20. I even had another dollar left over on my card!
Afterward, we went to Southcenter for lunch and T Junior ran around in the big play area. He had a blast playing and I had fun watching him explore.
What a great morning!
The second half of the day was a different story. T Junior took a 2+-hour nap. I got dressed for our run while he was sleeping, but I should've been getting the stroller ready and setting out a snack for him and all the other things I need for a run with a toddler.
When he woke up, he was all wet, so I had to change his entire outfit. We went downstairs and I got his hat and jacket on. Then I remembered my phone upstairs. When I came back down, I remembered my socks…upstairs. When I came back down again, I remembered a blanket for T Junior…upstairs. I was running up and down and up and down the stairs for about 45 minutes because that's how long it took to get ready to go on a 30-minute run. Still determined, though. Still, smiling!
I enjoyed the contrast between my outfit and T Junior's. He had on a onesie, a fleece sweatshirt and his puffy jacket. I had on a basic t-shirt, my capris and Moeben fleece arm sleeves (a Christmas present from my mom). I figured, I'd get hot with a long-sleeved shirt.
But the run did not last long enough for that.
As I'd been getting ready, I kept one eye out the window. It was growing darker and darker with clouds. But it was not raining. I was trying to beat the weather.
At the last minute, I decided to put on my rain jacket because it was cooler outside than I had anticipated. Then, we set off on a run through the neighborhood. At about 2 minutes into the run, my phone rang. I was waiting to hear back from the babysitter, so I answered it. It wasn't her. It wasn't anyone. Just air. About 3 minutes into the run, I was hot and took off my rain jacket, shoving it into the back pocket of the BOB. At about 5 minutes into the run, it started to pour. Big juicy drops soaked my cotton t-shirt.
It got colder. The rain turned icy and it stung my face.
I gave up. We turned around in one of the cul-de-sacs and ran home. When we got to the garage, I was just .3 miles shy of one mile. I parked T Junior in the garage and ran down the driveway and sidewalk and back, just to get to at least one! All that planning for an 11-minute run. *sigh*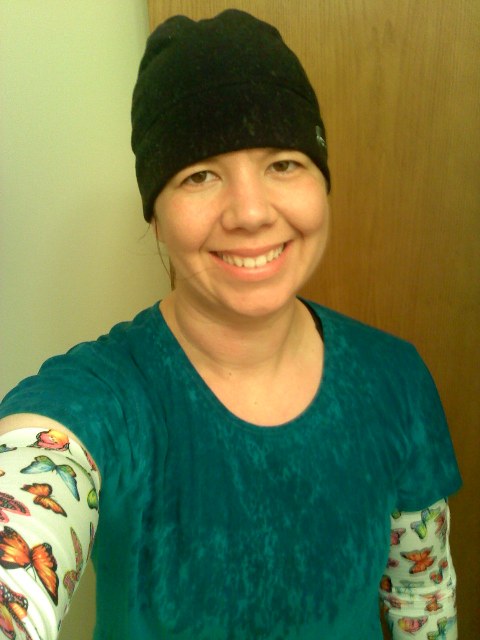 DAY 176
Saturday morning, I woke up not feeling good. My throat hurt, I was nauseous and I had a headache. Afraid I was getting sick, I skipped the morning 5-miler I had planned in the hopes I'd feel better later in the day and could run during T Junior's nap.
We had some errands to do, and while we were on them T Junior developed a runny nose. He sneezed a lot. It was sunny and warm, and I held out hope that it was allergies or something. Me and Mr. T were scheduled for a date night: dinner and my first hockey game!
We got home and T Junior went down for a nap. I was feeling better, so I got ready for my run: capris, Issaquah Salmon Days t-shirt, my fleece arm sleeves and hat and new shoes!  Here's T Junior modeling them.
I also wore my new Amphipod fuel belt, packed with some orange Jelly Belly Sport Beans (we went to the Jelly Belly store in California and I got a bag of the messed up ones for a buck), Burt's Bees lip balm and my phone. I only filled up one pod with water since I was jsut going 5 miles. I don't always bring fuel on a 5-mile run, but sometimes I wish I had it, so I decided to bring it with me.
Since the weather was beautiful, I felt brave, and took the trail. It's been months since I've been on it. As soon as I started running down the dirt path, I realized how much I missed it. Such a welcome change from the normal concrete and asphalt!
There were tons of people out. So many, that I refrained from taking photos because I felt dumb.
The Amphipod belt works pretty good. It's a good happy medium between my first belt, the bulky and inexpensive Nike one, and my iFitness belt, which doesn't hold fluids. (By the way, I wore my iFitness belt on that really rainy run last week and my Zune did not get wet at all!) The Amphipod belt rides up to the smallest part of my waist (above my belly button), like my Nike one, but it's not nearly as heavy and so it doesn't annoy me.
Plus, it came in handy when I needed to take my sleeves off. I tied them around the belt. Voila!
My run was pretty good. I felt good. Before I left the house, I took some of my sport beans and drank some water, and I think that helped. The only thing that really irked me was the people I said "hello" to on the trail that didn't even acknowledge me. C'mon, people. Are you really that rude?
My new shoes felt pretty darn good on my run. Since I was on the dirt trail, I didn't hear any slapping sounds. I think the sound happens on the cement because the shoes are 10-1/2s.
Stats for my mostly flat trail run 1/09/10:
Total time: 51:48
Avg pace: 10:20
Mile 1: 10:16
Mile 2: 9:56
Mile 3: 10:12
Mile 4: 10:54
Mile 5: 10:26
Turns out, T Junior did have a cold and we had to cancel date night. Up and down, up and down.
Over the past few days it has been difficult for me not to blog. It had become so much a part of my life. I don't know if that's good or bad. I feel a little off. I do think I was addicted. Maybe I'm going through blogging withdrawals. I really appreciate all of the nice things everyone had to say on Thursday, and welcome new Virtual Running Buddies! Thanks for sticking with me while I try to find a happy balance between life and blogging!