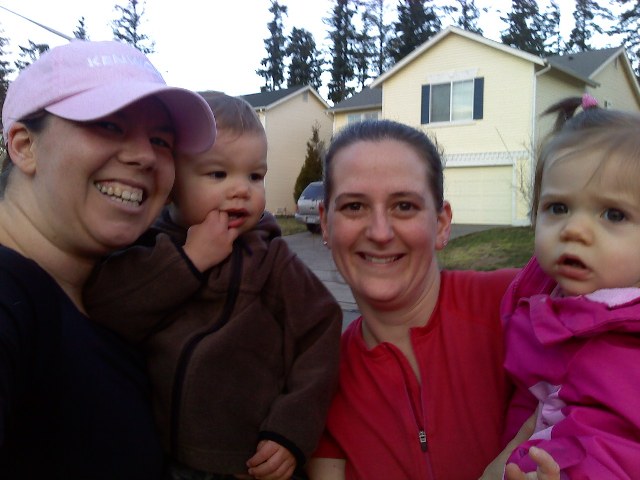 Me, T Junior, Kris & Siena…after our run.
DAY 191
I took it easy on Sunday. My feet, ankles and behind were sore from Saturday. I've never had sore ankles before. What causes that exactly? Please don't say shoes.
DAY 192
I didn't feel good due to girl stuff Sunday night and I wasn't any better on Monday morning. In fact, I woke up at 4:23 and never could fall back asleep. I tried for an hour and then gave up. I didn't feel good enough to go running so instead I moped in front of my laptop. I typed up a woe-is-me post about writing, but I'll never publish it.
I did a little public whining on DailyMile and Facebook. Luckily, my friend Kris (Sleepless with Siena) offered to run with me later in the day. This lifted my spirits! (Thank you, thank you, thank you, Kris!) I had not seen her (in person) in a very long time, and I also wanted to meet her daughter, who is just 6 months younger than my son. We decided to meet after naps.
That morning, I took T Junior (20 months) to his first Story Time at the local library. We've never been because it was always during his first nap. Now, he only needs one nap a day. Story Time was in a large meeting room. All the tables and chairs were removed so there would be space for all of the parents and kids to sit on the floor. When we came in, there were already three moms there with their children.
They sat cross-legged on the carpet with their shy toddlers in their laps. (Oxymoron?) Shadows from Evergreen-filtered sunshine made the setting peaceful. I sat down, but my kid did not join me. He was too busy circling the perimeter, pointing out each "dowa" (door) and telling us whether or not it was "ope-n" or "cosed." Then he took full advantage of the big, empty space and ran and ran, criss-crossing the room, and nearly colliding with the other mommies while doing a funny high-step gait and yelling "Ex-Er-Cize!" He likes to put a lot of emphasis on each syllable.
We got home in time for lunch and a nap.
Kris and Siena arrived around 4:15 for our run. It was so nice of her to come to us. I was so discombobulated on Monday. We put the kiddos in their jogging strollers and stashed the rain covers. It had been sunny most of the day, but of course, it turned overcast and looked like rain as we set out on the trail next to my house. We started too fast.
Well, I started too fast. Kris is a stronger runner than I am. And pushing the stroller across the dirt and gravel trail was more difficult than I remembered. It's been a while. The first 2.5 miles were decent and the kids were angels in their BOBs. Then we turned around.
The kids were still being good, but I thought I was going to die on the second 2.5 miles. Yet, somehow, I managed to talk most of the time (like son, like mother). I paused every now and then to let Kris say a few things. We chatted about marathons. Her first was the North Olympic Discovery Marathon, the one I'm hoping to run in early June. Or am I?
One of the reasons I picked that marathon is because the entry fee is much cheaper than the Seattle Rock & Roll race as long as I enter before Jan. 31st. But I got to thinking the other day: Even though the peninsula isn't that far, it's far enough.
It's far enough that we'd need to get a hotel room. It's a couple hours away. Originally, I was thinking we'd have a shiny new RV (which we are getting mainly for dog showing) by then, but now, I'm not so sure.
Kris and I ran and discussed this. She told me I may be alone quite a bit on the course at the NODM, but the scenery is beautiful (ocean and rainforest — it's in Twilight country), and some of it is on trails. The Seattle race will be crowded, on city streets and probably hot. As far as scenery, it can't compete, but there will be a lot more spectators. I was so confused.
Either way, I have to figure out my shoe situation. Should the little toes on my right foot be in pain while I'm running?
Yeah, I didn't think so. I wonder if I need high-arch shoes. Should I go back to Road Runner again?
1/25/10 – 5 Miles – 55:33
Average pace: 11:05
Mile 1: 10:19
Mile 2: 10:24
Mile 3: 10:57
Mile 4: 11:43
Mile 5: 12:02
DAY 193
I didn't have to worry about the shoe situation on Tuesday because it was time for cross training on my lunch hour!
I opted for the stationary bike and set it on "random" (on the lowest level, thank you very much). I pedalled as hard as I could all 30 minutes, which turned out to be 10.1 miles. I don't hate the bike anymore.
In fact, I kind of like it. My favorite part about it is that I get to read while I'm working out! (This is why I posted this yesterday.)
DAY 194
Can't read while doing crunches on Mr. Bouncy, though. T Junior kept me company as I struggled to do 50. But what do I expect when I haven't done crunches since before Christmas? How did I space on strength training so bad?
My sister called right when I was about to start lunges, so I just did them while we chatted on the phone. It was kind of nice. Took my mind off of them. Except I can't count and carry on a conversation at the same time, so I'm not sure how many I did. I think 15 minutes of lunges maybe.
Can you say jelly legs?
COMING UP
Thursday is supposed to be a rest day, but I'm going to have to do my arm workout because I didn't get it in tonight. First, though, I have dinner with friends scheduled. Yay! Friday morning, I will drag myself out of bed for a 3-miler. And, then Saturday. Oh, Saturday. Long run. I may head over to Tall Mom's neck of the woods and be a training bandit with Zoë. Well, not exactly with them because they are super fast, but I may see them at the beginning and the end. Also, Saturday is the day before my real training starts for NODM.
Because, yes, I am choosing NODM. Me and Mr. T talked about it and that will be it. My first marathon.