DAY 195
Thank goodness for rest days. I was so sore on Thursday from my 15-minute lunge/chat with sister session the night before. I hurt so bad that I even avoided the stairs at work, choosing to fill up my water bottle in the sink rather than the filtered cooler on the first floor. That's why I posted this.
That night, I went to dinner with a couple of good friends. I ordered a hamburger, but was very happy with myself when I substituted a dinner salad for the fries. I was even more proud of myself for cutting the burger in half and only eating one of them. I did steal a couple of T Junior's fries, but just a couple. I swear!
DAY 196
I was so tired on Thursday night. I knew I needed a good night's sleep, so I didn't set my alarm clock for an early run. I only needed to do 3 miles, so I decided I could deal with pushing the BOB.
It was nice to get up at 7:30, have coffee and relax. (I forgot I'm supposed to be posting my weight on Fridays — goals — so here you go: 176, down .8 from last week.) My legs still hurt from Wednesday's lunges, though. After T Junior had breakfast, we went Road Runner Sports and I exchanged my New Balances for Sauconys (AGAIN!). This time, I got the ones with more arch support: Saucony Hurricane 11s.
I took my NBs back because I still had foot pain from MONDAY's run. That's not right. Not to mention, I had really sore ankles after running in them. I've never had soreness like I had after Monday's run. Something wasn't right. So I took them back.
It was difficult trying on shoes with T Junior running around the store, doing his high-knee arm-flailing routine, and shouting, "Ex-Er-Cise!" When he got on one of the treadmills, I had to run with one untied shoe on and one sock to remove him. I was really sweaty and frazzled when we left.
I texted Mel and Zoë to tell them that I got new shoes again. Zoë said, "But third time's the charm!"
Man, I hope so, I thought.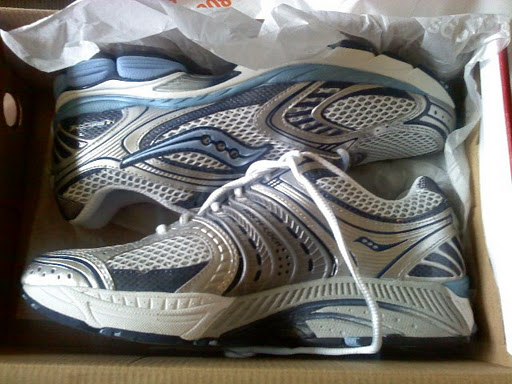 I had been promising T Junior a trip to the pool all morning. At 11:30, we got home and changed into swim gear — not easy with a toddler. We managed to get back in the car about 25 minutes later. I was working fast because public swim begins at noon. Then, we drove to the pool (about 10 minutes).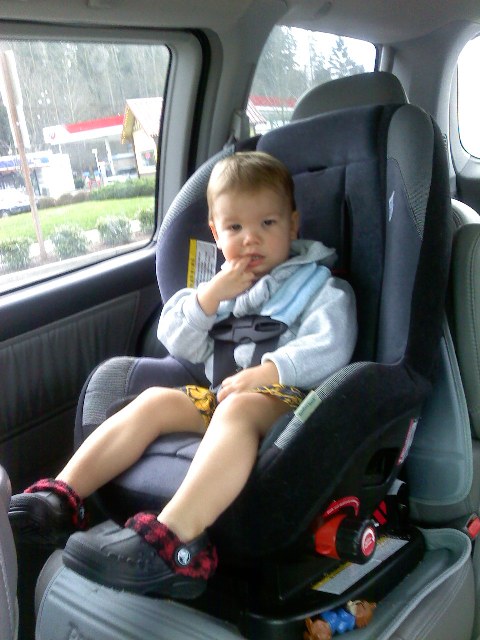 Excited to go swimming in January.
I got my kid out of his carseat, we walked up to the door and saw the orange note: "Pool closed at 10:30 a.m. on Jan. 29 for diving meet."
I tried to keep my cool, but I was fuming inside. I'd even checked the pool's Web site that morning just to make sure it would be open. T Junior cried and cried as I buckled him back in his car seat. His tears made me want to cry, too, and I'm surprised I didn't sit down in the parking lot and bawl my eyes out.
We made it home, had lunch and then T Junior took an extremely long nap. I'm talking 1:30-4:15. Crazy! I was walking around in my running clothes for hours. He woke up in a good mood. I'd prepared all of the BOB necesseties while he was sleeping, so we were ready to roll.
New BOB organizer. LOVE it!
I just took the trail by my house even after Monday's tough run. Today, was different. I couldn't slow down! I knew I was going fast. The way out on the trail is slightly downhill, which is why I couldn't speed up on the way back — slightly uphill. Ugh. But my new shoes felt good!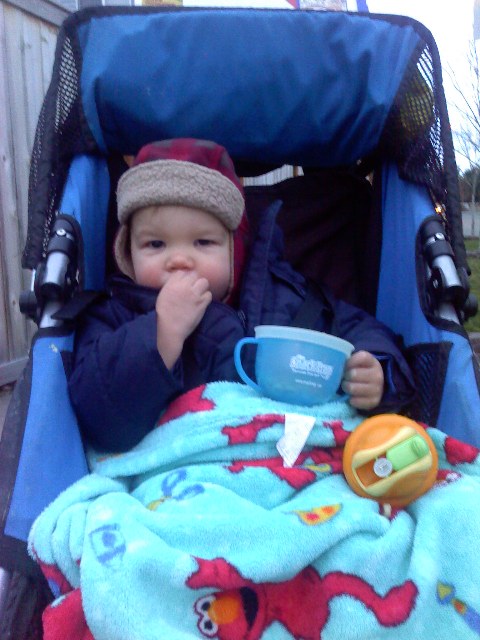 T Junior enjoying his "yeeyos" (Cheerios).
1/29/10 – 3.03 Miles – 31:42
Average pace: 10:28
Mile 1: 9:56
Mile 2: 10:10
Mile 3: 11:19
.03: 9:45
DAY 197
My alarm clock went off at 6:20 on Saturday morning. I popped right out of bed. I was excited to be a "Ninja Bandit" with Zoë at Mel's Fleet Feet training group run. (Read Zoë's recap here.) Unfortunately, my quick start didn't help me get to Zoë's house on time. I was almost 10 minutes late!
This meant that we were just getting out of the car when the group took off. Poor Zoë had to sprint for a couple of miles to catch up with Mel. I was still hooking up my Zune and adjusting my fuel belt as I got started. The two Speedy McSpeedersons were doing 11. I decided to do 10. That way they wouldn't have to wait too long for me to finish.
The paved trail left town and wound between some cow pastures. Stinky! But then it hugged the edge of a beautiful river. It was raining ever-so-slightly and misty outside. Typical Northwest weather, but I like it. I was wearing my black Brooks pants, new Champion stay-dry fleece with my stay-cool Moeben arm sleeves underneath and my new flourescent green tank that I bought for running in the Secret Gym. I had on my Amphipod fuel belt with one bottle filled and with orange sports beans stored. Oh and of course, the new Sauconys.
At Mile 3, I felt sluggish and I had 4 beans and some water. It helped. Then, I got hot. I peeled off my arm sleeves and tied them to my belt. Next, a long hill. Yikes. But I was happy about the hill because I'm sure we're going to see plenty of them at Mercer Island. And at NODM. On the way down, I couldn't help thinking that I was going to have to run up it again. I chatted with another runner from 4.5-5 miles. She stopped at a water station while I turned around.
Around Mile 6, I thought I heard Mel's voice behind me. I turned and saw Mel, Zoë and another FAST runner, Janna.
"Don't pass me!" I yelled over my shoulder and I unzipped the pocket on my fuel belt to retrieve my phone. They laughed. I held up my cell. "Gonna sprint up!"
I sped up, then stopped, turned and SNAP. Got 'em.
Janna, Zoë and M
el
Then they passed me. I took 4 more beans and some more water. Then, up the hill.
There were a lot of people on the trail and it really helped keep me going. Target Practice. My cross country coach used to tell us to imagine a target on the back of the person in front of us. It's a good trick.
I definitely ran faster on the way back using Target Practice. I never walked. Not even to eat my beans and drink my water. My shoes felt pretty good until about Mile 7-Mile 8. Blisters. Perhaps, it's a sock problem.
After the run, we took our picture and Zoë gave us gifts! She had a running skirt for me and this cool little device that holds your purse for when you're eating out. Thanks Zoë!
Mel, Zoë and me
Later in the day, my pinky toenail hurt. What the heck?
1/30/10 – 10 Miles – 1:45:46
Average pace: 10:34
Mile 1: 10:07 (Yikes! I knew I needed to slow down.)
Mile 2: 11:10
Mile 3: 11:05
Mile 4: 11:10
Mile 5: 10:42
Mile 6: 10:38
Mile 7: 10:03
Mile 8: 9:55 (woohoo!)
Mile 9: 10:21
Mile 10: 10:25