I'm a little behind on my up-"day"tes.
DAY 209 & 210:
Thursday was a rest day and I made Friday a rest day, too, ahead of the Million Inch Run. Glad I did. I needed every ounce of energy.
DAY 211:
Saturday's Million Inch Run turned out to be a Million Inch+ Run. But I did it: 16.3 miles. Read the recap here. After the run, I removed my socks, which revealed lots of blisters. Sore thighs made going up and down the stairs difficult.
DAY 212:
Sunday, I was still very sore. The tops of my thighs screamed at me every time I went to sit down, climb the stairs or walk. Other than that, I felt great.
I also realized that my left pinky toenail that looked grayish to me a few days ago is, in fact, turning black. What does this mean? Why does this happen?
I sort of wanted to go running Sunday because I thought it might make my legs loosen up a little, but Mr. T and my aching feet talked me out of it. I decided to wait till Monday morning. Sunday night, I set my alarm clock for 6 a.m.
DAY 213:
I woke up at 5:55 a.m., shuffled to the bathroom, then shuffled to the alarm clock and reset it for 7 a.m. Screw a morning run. My legs need to sleep.
I don't know how my legs needed more sleep, but I actually remember saying that to myself. At 7 a.m., I was full of regret because I get punished when I skip my early morning run. My punishment? Pushing the jogging stroller.
T Junior was in desperate need of some clothes, so I made up my mind that we'd head up to North Bend for some outlet shopping and then find a trail near there to run. I looked it up and found one quickly: the Snoqualmie Valley Trail. After hitting up Osh Kosh B'Gosh, Children's Place and Carter's, we found the trail quickly, too. But I was soon disappointed.
Gravel.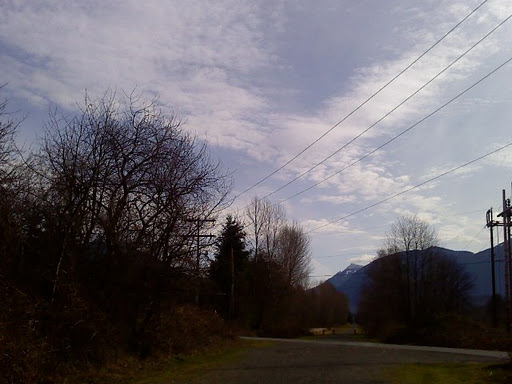 Ugh. If I wanted to run a gravel trail, I might as well have stayed at home. Boo.
But I decided to make the best of it since it was a gorgeous day. Sunny and about 50. I wore my capris underneath my size 12 Calvin Kleins (can't believe I can do this, by the way), so I stripped off my jeans as T Junior waited in his car seat. I transferred him to the BOB, armed him with a few graham crackers and started up his favorite Disney tunes.
I strapped on the Garmin and we took off going east on the straight gravel trail. My surroundings were beautiful. If only there was no wind. We were headed into some strong gusts and with sore legs and sensitive feet, I could only manage that for a half mile. I decided to turn around and we would do the rest in the other direction.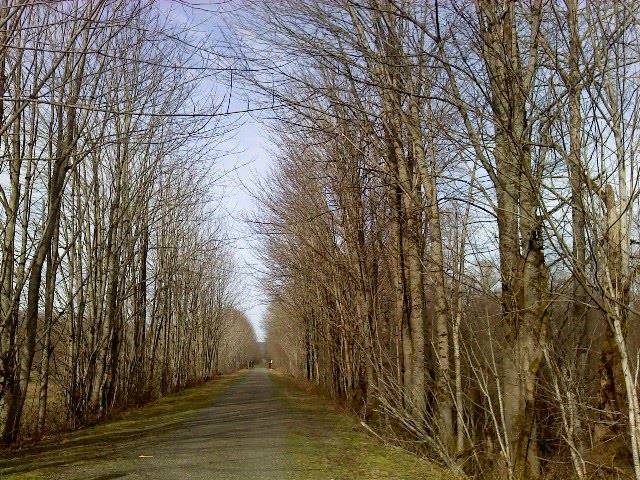 That was better, but I still was sluggish. My legs actually felt fine after a mile. My feet, though, hurt pretty bad. At one point, we went over a cement bridge and that helped, but once we got back to the gravel, I knew I'd never make it to the scheduled five miles.
I turned around at a golf course and headed back into the wind, which was so strong at times that I had to push the stroller with both hands. Running without swinging my arms is difficult for me. I just wanted to make it back to my minivan and go home.
Luckily, I looked at my NODM calendar this morning and noticed I have a short "long" run on Saturday. I told myself I'd try to make it to at least three miles and then tack on a couple extra miles on Saturday to make up for it.
I stopped the Garmin at 3.35 miles (sorry, Mel, I missed 3.33 again!).
Back at  home, I plugged in my Garmin and saw just how slow I was going. I'm just glad I got some miles in. Looking forward to strength and cross training tomorrow and Wednesday!
2-15-10 – 3.35 miles – 38:23
Average pace: 11:26
Mile 1: 11:28
Mile 2: 11:04
Mile 3: 11:43
.35: 11:39
Look at Mommy's phone, look at Mommy's phone, look at…oh, well.