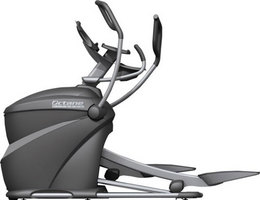 DAY 221
I am addicted to adventure. Well, small adventures anyway. It's not likely I'll be trying out for Amazing Race any time soon.
So when bloggy friend and Virtual Running Buddy, Lisa (Lisa Runs? Wait…What?) encouraged me to give the elliptical machine a try, I knew it would at least make for a good blog post if nothing else. Lisa has been injured and the elliptical is one of the ways she is staying in shape while waiting to heal. She raves about it. So does my long-time friend, Nicole, on Facebook.
It's just that the elliptical machine has always scared me. It's got those crazy poles that fly seemingly uncontrollably back and forth right in front of your face! But I was feeling inspired by Lisa and Nicole, I decided to give the elliptical a try Tuesday on my lunch hour — cross training day — at the Secret Gym.
The nice thing about the Secret Gym is that it is small. My lunch hour starts earlier than most of the working world, so I am usually the first one in the gym and a lot of the times, the only one. Occasionally, there are a couple of other women I see in there on a regularish basis. One of them, a blonde who is probably in her mid- to late-50s, uses the elliptical every time.
As usual, I walked in the gym on Tuesday and the lights switched. I turned on the ceiling fan and set down my big green gym bag. I put my phone, my water bottle and a book on the elliptical, and stepped up onto the machine.
At first, I felt a bad getting on the machine. I didn't know if the Elliptical Lady would be there or not, but if she did show up, I knew I'd be on "her" machine. Then, I figured we all pay for the little gym, so I am entitled to use whatever piece of machinery I want. She doesn't own the elliptical. It doesn't have her name on it.
It took me about 5 minutes to figure out how to turn it on, but I got it set on intervals and then put the resistance on 10 (which what I think Lisa told me to do). I started to move my feet and tried desperately to hold onto the crazy poles. It took me about 3 seconds to figure out reading my book was not going to happen. I needed a magazine. Something that could stay open on its own.
I got off the machine and found a trashy tabloid dated the beginning of February. Even though it was a few weeks old, I learned tons. For example, did you know celebrities are just like us? They go grocery shopping and feed parking meters, too! And, I also am glad I found out that Jessica's Simpson's boobs are looking bigger lately. I was wondering about that.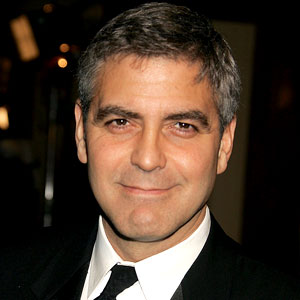 Soon I was engrossed in whether or not George Clooney looks better with or without a beard (without, duh) and started to get the hang of the elliptical. It was a little dicey every time I had to let go of the poles to turn the page of the magazine, but otherwise I really liked it. (Hold on to the middle handle for page-flipping or checking your text messages or getting a sip of water.) I felt like I sweated a lot and had a great workout, but didn't have the impact on my knees and ankles that I usually feel a little after running.
I was about half way done with my 30-minute workout when I saw Elliptical Lady get out of her car in the parking lot. Crap!
She's a fast changer and was in the gym in no time at all. I heard her behind me lifting some weights on the weight machine and wondered if she was swearing at me under her breath. From what I could hear, she didn't seem very dedicated on the weights and I could sense she was killing time while waiting for me to get off the elliptical.
I tried to ignore her back there and I concentrated on a critique of Tina Fey's Golden Globe gown (too young for her, said critics – What? What-ever!).
I was really huffing and puffing toward the end of my workout, and when I finally got off the elliptical my legs were wobbly. Elliptical Lady was probably laughing at me in her head. Stupid girl. That's what you get for stealing my machine.
I'm glad I tried something new, though. I was a little bummed that I couldn't figure out how to see my "results" from the elliptical machine, especially since I took the time to enter my age and weight, and all that.
But I really like switching things up. Thanks, Lisa and Nicole for inspiring me!
Trying new things in your workout routine is also good for weightloss, if that's a goal for you. If you haven't already, you should check out three posts on RunnerDude's blog:
Sprint & Lift
Running, Resistance Training & Weight Loss
So How Many Calories Do I Need?
DAY 222
Surprise! My arms were sore from the elliptical on Wednesday morning. Really?
Wednesday's schedule called for strength and a 2-miler, treadmill-style. At lunch, I walked out into the parking lot with a co-worker. "Sunshine," I said before driving the 60 seconds it takes to the Secret Gym.
When I got into the bathroom to change, I saw that I had a text from Mel (Tall Mom on the Run) saying her and Amanda (5 Miles 2 Empty) were headed toward my office in 15-20 minutes.
The message was from 15 minutes earlier!
Ack! I quickly texted back that I was at the gym, but then I thought, It's a quick drive back, I'll just return to the office and run to meet them. I texted Mel again: "let me drive back – b there in a sec."
I finished getting dressed, ran to my car and found a spot back at the office. The sun was gone. I sprinted upstairs and exchanged my gym bag for a pair of sunglasses. I was wearing my new BondiBand, but I really could have used a baseball hat in case of rain. That's why the sunglasses.
I flew out the front of my building and took off across the plank bridge toward Mel's office wondering where they were since I hadn't heard back from them. I held my phone because I hadn't planned on running outside and didn't have any pockets in the outfit I was wearing. I was lucky as it was that I had my Moeben sleeves in my gym bag. I would've been freezing without them. But the pocket is just a teeny bit too small for my big "texting" phone.
When it started to lightly rain, I grabbed a plastic doggie bag out of one of the pet-friendly trash cans along the plank bridge. I put my phone in it and continued on.
I felt pretty good and I was excited to see some bloggy friends. The only weird thing was that I didn't have my Garmin on. It was sitting at home on my mantle (out of T Junior's reach). So strange to run without it now.
I never saw Amanda and Mel. But I did see this.
An ominous cloud threatened and then opened up when I was still about 10 minutes from work. I needed windsheild wipers on my glasses! I felt like a drowned rat when I walked into the lobby of the office.
But the worst part was that my hair got wet! "I have Tonya Harding bangs," I whined to my office mate.
I'd just sat back down at my desk when Amanda texted me and said she'd be stopping by. Yay! Somehow, she liked the name I suggested for her Garmin (G. Money) and I won a prize! She gave me a cute DryFit Nike baseball hat in white and a bottle of wash for running wear. Can't wait to try both of them out! Thanks, Amanda!
Since I didn't get my strength training done at lunch, that meant I had to do it at home. I got out the exercise ball and did three sets of 30 crunches on it. On the first set, T Junior screamed out the numbers with me before getting bored and playing, instead, in his Thomas tent. I was resting for a minute after my second set and he ran over to me, pushed me in the stomach and yelled, "ONE! TWO! ONE! TWO!" I guess I have a trainer in…well, training.
After he went to bed, though, I did arms, legs and thighs/glutes. First, a continuous circuit for arms: three sets of 15 lifts — bicep curls, two-arm tricep extensions, shoulder presses and upright rows. Next, curtsy squats and lunges. Again, I did them continuously: 3 sets of 10 curtsies and 3 sets of 12 lunges. Then, continuous leg lift circuits: 3 sets of 15 glute kick-backs, "dog peeing on a fire hydrant" lifts (not sure what they're called) and outer thigh lifts.
So, I got in about 2.5 miles and had quite the adventure again Wednesday. I love it. I'm addicted.
COMING UP: I have no idea.
Only a few hours left to enter the Nuun Giveaway. I will announce the winner tomorrow evening.