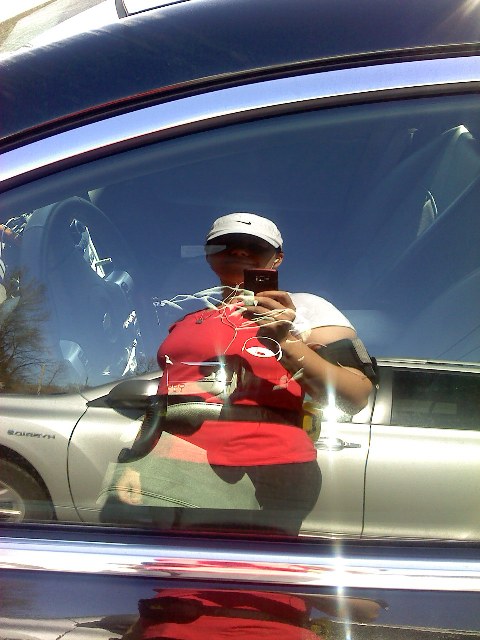 DAY 232
I don't know why, but I felt like running my 10-miler on Saturday alone. What an idiot!
I wouldn't say I regretted the decision instantly, more like around .25 miles when I got bored and realized I had 9.75 miles left. Ugh.
And if ever there was a day to wear a running skirt, Saturday would've been it. Clear sky, bright sun and close to 60 degrees. Why I wore capris on the warmest day of the year yet, I do not know. With my capris, I sported a new short-sleeved orange/pink shirt from Walmart's Danskin line.
It cost me $7. I like that it has the moisture-wicking thing and it's flattering cut — body-skimming, not roll-hugging. I also got a tank in the same color for $7.
My goal for Saturday was to try to keep my pace at 10:30 or below. After last week's 9 with Zoë, I felt like I could step it up a bit.
I felt really good for the first 5 miles. Running felt easy, except for my fuel belt, which I couldn't get to stay put. I think I had it too high because I finally got it secured around my hips at about Mile 4. Oh, it needs to be under my stomach roll!
I think the first 5 felt easier because I was running into the wind. It was keeping me cool. The weirdest thing, though, was when I ran into the shade, there was this coolness behind me that pushed me forward, like a man's large cold hand on my lower back. Creepy!
But on the way back, I was sort of wishing for that. The second 5 miles were long and hot, facing the sun. No wind. The water looked so refreshing.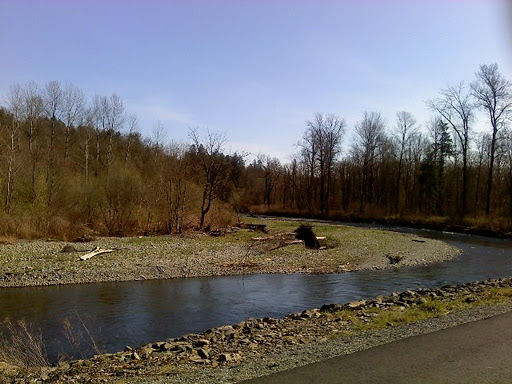 Then the toes on my left foot started to rub around 7 miles (I didn't apply my BodyGlide carefully) and my Morton's Neuroma in my right foot started to hurt. That's when it became a mind game.
Why am I doing this? This is so dumb. Maybe I can downgrade my NODM to 13.1 instead of 26.2. Why do I feel the need to run this far? Maybe I should quit running…for good. I'm never going to be able to run a full. Who the hell am I kidding?
The really annoying thing during the second 5 miles was that I couldn't keep a consistent pace. I was running along and I'd glance at my watch: 9:15 pace, so I'd slow a bit: 11:12 pace. What? I didn't slow down that  much! Then I would get to a nice 10:20 pace and I'd be truckin' along and decide to check my watch: 12:30. WHAT?! Or I'd look down and see 8:46. What, WHAT?!
The other annoying thing was that I ran out of water. The two 8-ounce Amphipod bottles are not enough for a warm day. Good to know, though, although I was a little worried when I got back in the car to drive home and I felt woozy. As soon as the A/C hit me, I felt better, so I think it was just because I was hot.
Of course, like that famous quote, I don't regret the run. And I was really surprised at my average pace when I came home and looked at AJ II's stats.
3/6/2010 – 10 Miles – 1:43:39
Average pace: 10:21
Mile 1: 10:17
Mile 2: 10:19
Mile 3: 10:12
Mile 4: 10:16
Mile 5: 10:10 (there was sort of a scary, smelly man I had to pass just before and then after my turnaround, which is why my time's a bit faster)
Mile 6: 10:39 (this is where you can see that I'm having consistency issues)
Mile 7: 10:18
Mile 8: 10:27
Mile 9: 10:33
Mile 10: 10:21
In regard to the second 5 miles and the inconsistent pace…I just looked at the elevation of the trail on AJ II and discovered it's the same situation as the trail by my house: the first 5 miles were slightly downhill, which means the second 5 are slightly UPhill! Started at 320 feet and turned around at 120 feet just before Mile 5. That makes me feel so much better!
DAY 233
Today was a rest day, and tonight I had a glass of white wine with a bowl of microwave popcorn for dinner while I skipped around the Oscars with my TiVo remote. Favorite dresses: Cameron Diaz, Sandra Bullock and Kate Winslet. And I don't usually like gold! And I also loved Queen Latifah's gorgeous purple gown — classic Hollywood glamour!
COMING UP: Two weeks till my second half marathon! Commence freak out…sometime next week.