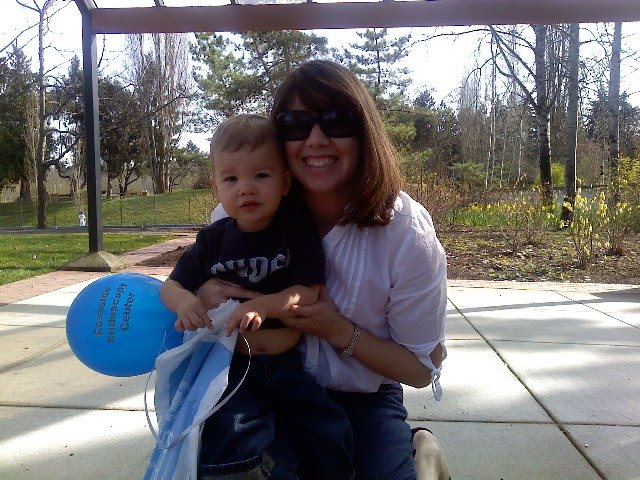 Me and T Junior at the park next to the Mercer Island Half Marathon expo location.
DAY 245
Um, yeah, Friday? Let's not talk about it. I had a rough morning as a mom. It got better, though.
DAY 246
This morning, I woke up at 3 completely drenched. I even wondered if I took a shower in my sleep with my pajamas on and then crawled back in bed because I was soaked from head to toe. My sheets, too.
I got up, peeled off hot, wet pajamas and put on clean, dry ones. There was no way I was getting back in my swampy bed, so I grabbed my pillow and tried to get comfortable on the couch in the living room. I got a few hours of intermittent sleep before the day began.
I focused on drinking water today and enjoying the beautiful weather (which sounds like it will be gone just in time for tomorrow morning's race start — rain in the forecast — yay). I hung around outside with Mr. T and T Junior until his nap. I pruned rose bushes while he slept.
When he woke up it, was time for the race expo. Mr. T will be dealing with T Junior (aka the new face of Age Two) for probably half of the day tomorrow (read: not able to get anything done), so I took him with me to the expo while Mr. T spent some time rebuilding his vegetable garden (and making dinner!).
It takes about 40 minutes to get to Mercer Island from my house. But it seems longer when you have to listen to Colonel Hathi's March from Disney's Jungle Book (the elephant marching song) on repeat the entire way there. Then, the traffic situation was freakin' crazy.
It started with the freeway exit. If it's this bad during the expo, imagine what tomorrow morning's going to be like. It continued with parking.
The main lot said it was full, so I followed the car ahead of me down a winding, twisty hill to the overflow lot, which was crammed with cars, SUVs, minivans. Luckily, Amanda texted me and said the "lot full" sign up at the main lot was lying. I drove back up the hill and into the lot where Jill and Amanda spotted me in my mom-mobile and waved me over.
I only had a minute to chat with them out of my window. They already had their race bags and I still needed to park.
The parking lot was narrow and full of rude drivers. I was hot and not just because it was 70 degrees outside (yes, that is hot to me). Finally, I came upon a car backing out of a spot, so I flipped on my blinker and waited. And waited. And waited. Seriously, dude. Can you go any slower?
Luckily, he made it outta there before the race started and I pulled in. That's when I realized the person (in the end spot) had parked completely crooked. You effer, I thought. It's the END spot! It took me six times to park in a way that would allow both me and T Junior to be able to get out. As I was walking away from my van, the crooked parker was returning. I came this close to giving him a piece of my mind. Instead, T Junior said, "Hi!"
Inside, I ran into my friend Bev, who was holding her baby boy, and was with her husband (a friend and co-worker of Mr. T's). We chatted for a minute, then I took T Junior's hand and led him around the gym. Next, I spotted Heather and her son, J. We talked for a little while in the gym, then decided to take the kids to the park next to the overflow parking lot. I picked up race packets for me and Zoë, and then we headed down the hill via steep steps, cutting across the twisty road.
I stepped carefully down the stairs with T Junior on my hip. My clothes stuck to my lower back as the 28-pound toddler in my arms tried to beat on the "babboon" he received at the expo. I felt frazzled. But I relaxed for a little while the boys played. T Junior was especially excited to run. "Am running!"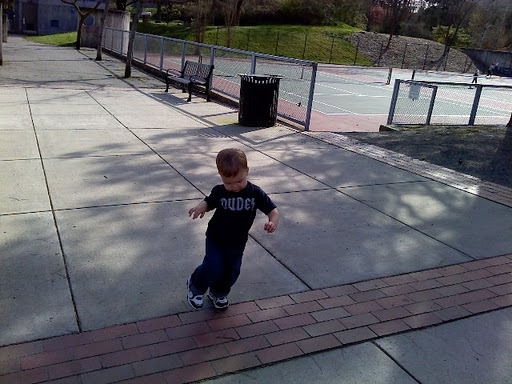 But then it was time to go. Me and Heather herded the boys back toward the parking lot. I was chatting with Heather at her car when Mel and her hubby walked up. It was nice to finally introduce Heather to one of my bloggy buddies.
Next stop, REI. I needed GU.
Unfortunately, I let T Junior walk instead of locking him in a shopping cart. Huge mistake. He took off running across the store, laughing. I strode after him while other shoppers handed me empathetic looks. I caught him and popped him in a cart while he continued to laugh. "Hahaha. A funny!"
Seriously, I think the race tomorrow is going to be easier than the expo was today. I probably sweated out all the water I drank. And I'm still not feeling quite right.
But I'm looking forward to the race (and then a birthday lunch for Amanda afterward!). Zoë's going to run with me, so hopefully I can pull off a PR. If not, though, I really don't mind. I'm not nervous. The only thing I'm worried about is parking.